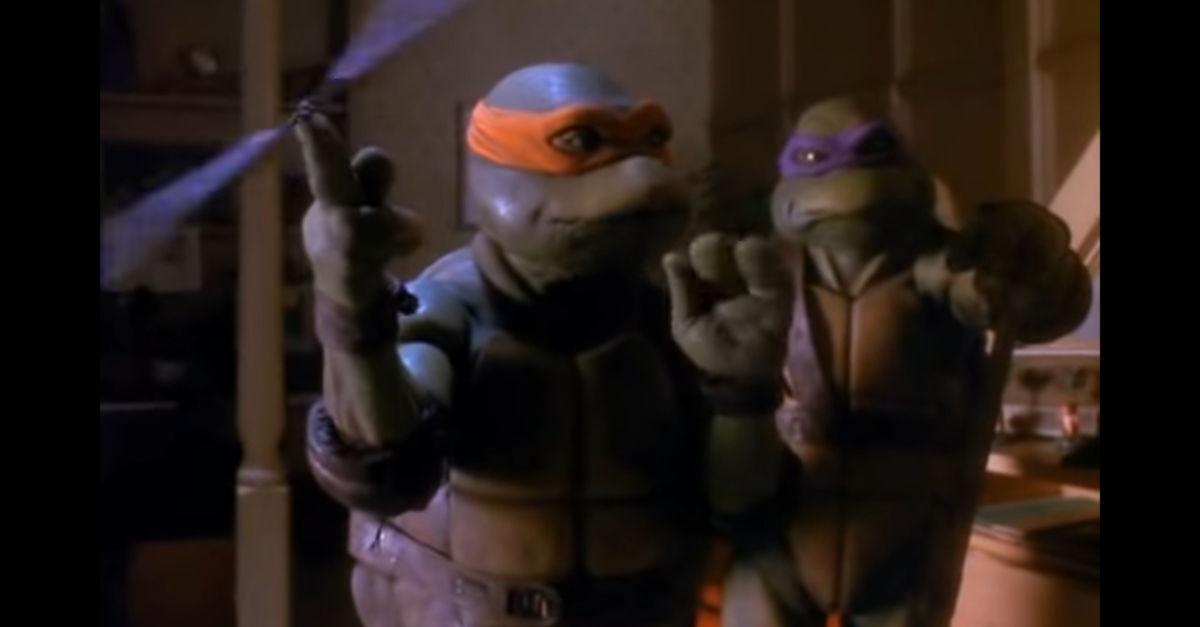 A federal judge in Brooklyn has ruled that New York State's longstanding ban on nunchaku–or "nunchucks" as they're more commonly known–is unconstitutional under the Second Amendment's right to bear arms.
Since 1974, the Empire State has banned the possession of "chuka stick[s]," a martial arts weapon initially popularized by films in the genre made famous by Bruce Lee and later reintroduced to a new generation of youth via the Teenage Mutant Ninja Turtles. In between the time of Lee and the Turtles, however, New York State legislators and district attorneys stoked fears of "militants of a Marxist group called the National Caucus of Labor Committees," and how "Committee youths assigned to 'security' sit at the door twirling nunchaku stick."
The now-extinct law on point here described nunchucks as:
[A]ny device designed primarily as a weapon, consisting of two or more lengths of a rigid material joined together by a thong, rope or chain in such a manner as to allow free movement of a portion of the device while held in the hand and capable of being rotated in such a manner as to inflict serious injury upon a person by striking or choking.
Under New York law, possession of nunchucks previously constituted a class A misdemeanor. Until James Maloney came along.
Maloney is an attorney and martial arts practitioner. In 2003, he filed a lawsuit against the District Attorney of Nassau County seeking a ruling that New York State's prohibition against nunchucks is unconstitutional. He faced an uphill battle in the courts.
The nunchucks lawsuit was initially dismissed in 2007 by U.S. District Judge Arthur D. Spatt. Maloney then appealed. That dismissal was affirmed by the same court in 2010. But Maloney fought on–all the way to the U.S. Supreme Court. His timing was all-but expert.
In early 2010, the nation's high court had the opportunity to issue a landmark Second Amendment ruling known as McDonald v. City of Chicago. This was actually only the court's second attempt at interpreting the Second Amendment in the modern era. During the summer of 2010, by a vote of 5-4, the Supreme Court found that the right of an individual to "keep and bear arms," as protected under the Second Amendment, is incorporated by the Due Process Clause of the Fourteenth Amendment–meaning that such protections are bound to be respected by each and every of the several 50 states and not just by the federal government.
The Supreme Court vacated Maloney's lawsuit and remanded the case down to a lower court for reconsideration with their ruling in McDonald. Maloney filed a second amended complaint–part of which was tossed in 2015. Maloney, however, continued to press his case.
In a 32-page ruling, U.S. District Judge Pamela K. Chen struck down New York's decades-old ban on the famed martial arts implement as unconstitutional. In reaching her decision, Judge Chen revisited the previous public safety outcry about nunchucks' alleged criminality, and ultimately found such evidence lacking. The decision notes:
[U]nlike a sawed-off shotgun, gun without a serial number, or pipe bomb—weapons that courts have found to be outside the ambit of Second Amendment protection—nunchaku have no special propensity for unlawful use. In fact, its intended use as a weapon for recreational martial arts practice and training appears to greatly outstrip its use in crime.
"Furthermore, although the criminality associated with a weapon is not the only relevant inquiry, here, there is virtually no evidence that nunchakus are associated with, or have been used to engage in, criminal conduct since Section 265.01(1) was amended to include nunchaku over forty years ago," the decision notes. "The only evidence presented by Defendant as to the unlawful use of nunchaku are five nunchaku prosecutions, two cases of assault and three cases of possession."
To solidify the unconstitutional nature of the ban, Judge Chen also went beyond what was asked of her and found that New York's prohibition against manufacturing, transporting, or disposing of the weapon was also in violation of the Second Amendment. In an email to the Associated Press, Maloney said that the additional rulings were "perhaps the most amazing thing."
[Image via screengrab from New Line Cinema's Teenage Mutant Ninja Turtles]
Have a tip we should know? [email protected]