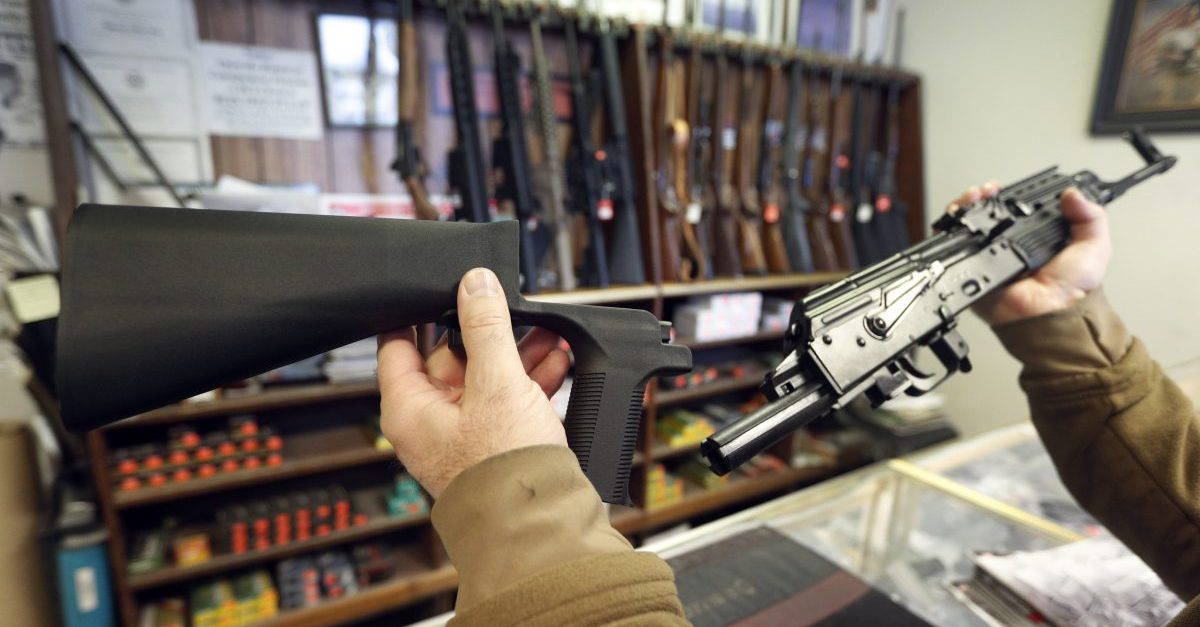 A federal judge has allowed the Trump administration to move forward with its ban on bump stocks, devices that attach to semi-automatic weapons that allow them to fire rapidly like automatic weapons. Gun rights groups challenged the move, which came after Stephen Paddock used the device as he killed 58 people in Las Vegas on Oct. 1, 2017.
In a 64-page order, Judge Dabney Friedrich denied a request for a preliminary injunction against the Bureau of Alcohol, Tobacco, Firearms, and Explosives (ATF), which added bump stocks to their definition of "machine guns." As a result of this new definition, bump stocks will be banned as of March 26, 2019.
The groups who sued over this raised a number of claims, including the argument that the ATF didn't follow proper administrative law procedure in creating what they believed to be a new rule. Judge Friedrich disagreed, saying that well-established court precedent allows government agencies "to reasonably define undefined statutory terms."
The terms at issue here, the judge pointed out, were "single function of the trigger" and "automatically." In 1986, Congress included in their definition of "machine gun" any device that lets a firearm shoot "automatically more than one shot, without manual reloading, by a single function of the trigger." Judge Friedrich said that ATF's inclusion of bump stocks under this definition works. The devices, which attach to the back of semi-automatic weapons, uses the weapon's own recoil to bounce back when pressed against a person's shoulder, allowing a person to fire off multiple rounds when they only physically pulled the trigger once.
The plaintiffs also challenged ATF's action by saying it came under an illegally-appointed Attorney General, echoing arguments that had previously been made against President Donald Trump's appointment of Matthew Whitaker as Acting Attorney General after Jeff Sessions resigned. They claimed that Trump's appointment of Whitaker, who had not been confirmed by the Senate, violated the Appointments Clause of the Constitution. Judge Friedrich disagreed, saying "that theory is foreclosed by Supreme Court precedent and historical practice, both of which have long approved temporary service by non-Senate confirmed officials." Whitaker remained in office until the recent confirmation of new Attorney General William Barr.
While the case is not over, it's a strong indication that the Trump administration will ultimately prevail. Should ATF's ban of bump stocks take effect on March 26, people who already own them will be required to either destroy them or turn them in at an ATF office.
Guedes v ATF order by on Scribd
[Image via George Frey/Getty Images]
Have a tip we should know? [email protected]