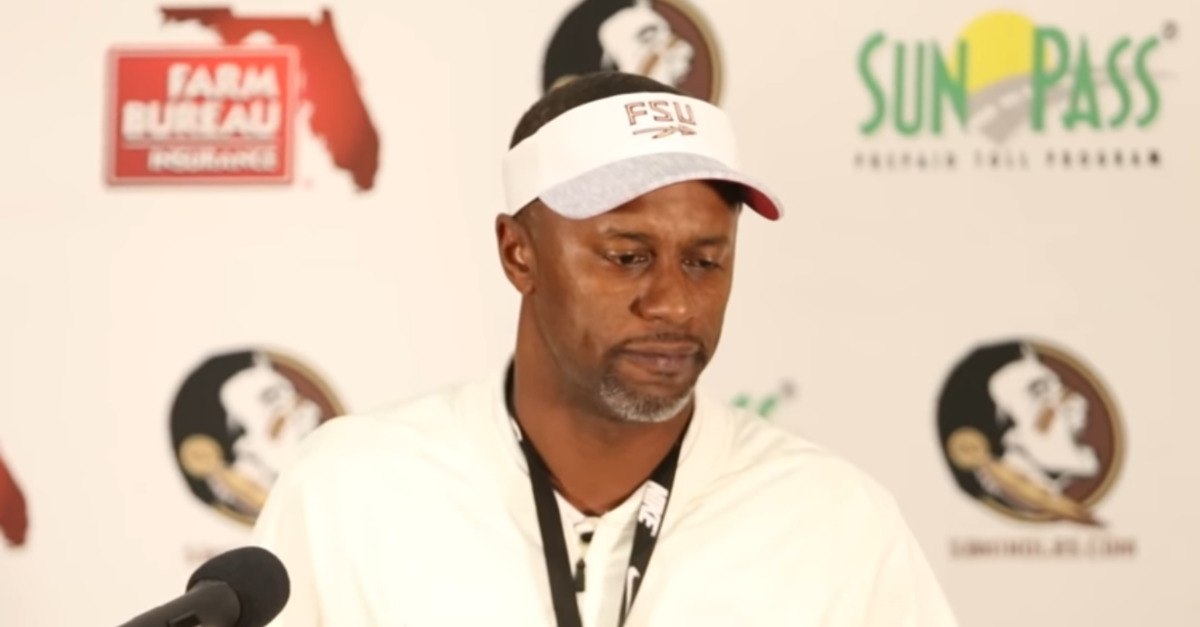 Florida State University football coach Willie Taggart has been embraced by the warm hands of Seminoles solidarity–even after an unexpected losing season–due to a lynching threat recently posted to social media by a white football fan.
The fan has been identified as Thomas Shand from Windermere, Florida.
The lynching post features a black-and-white photograph of a man being hanged with Taggart's head superimposed on the other man's body and is captioned, "Believe In Something, Even If It Means Sacrificing Your Rep," an obvious play on the anti-racist Nike slogan and ad campaign popularized by former NFL quarterback Colin Kaepernick. The original post also contains the hashtags #justdoit, #FIRETAGGART and #LETHARGICSTUPIDITY.
Five minutes after Shand posted the lynching meme, another Facebook user asks, "You serious? [What the fuck] is wrong with you?" To which Shand replied, "I'm dead fucking serious. This is how far I'm willing to go to get rid of this clown!!!"
The pro-lynching message was apparently posted in response to Florida State's devastating 41-14 home less to their storied in-state rivals, the Florida Gators. Capping an ignominious end to Taggart's first season at the helm of FSU's football program, the lopsided defeat marked the first losing season for the Seminoles since 1976–and the first time FSU would fail to play in a bowl game since 1981.
Social media criticism of Taggart was predictably instant and withering. The pivot from sports tears to racist violence, however, was a bit too much for the official FSU community to take in stride. Now law enforcement is involved in the matter.
"A recent racist social media post aimed at our football coach is ignorant and despicable," FSU President John Thrasher wrote on the school's official Twitter account. "I speak for the entire FSU community in expressing our disgust and extreme disappointment, and I am glad the state attorney is investigating. Coach Taggart has our full support and as true Seminoles know, he is a respected member of the FSU family."
Shand's lynching post has since been removed and his Facebook account is no longer public. The quick removal of Shand's message and at least one aspect of his online presence hasn't stilled his critics though. As is often social media's wont, call-out campaigns quickly metastasized into a small movement to have Shand fired. According to a LinkedIn page cited by social media sleuths, Shand works as a club counselor with timeshare company Hilton Grand Vacations.
On Sunday morning, Sharon Nefertari Thomas posted the following call-to-action on her own Facebook page:
Tom Shand who now works for Hilton Grand Vacations posted hanging of FSU coach. Let us drag Shand out of his job with emails and tweets. You can be bold in your racism but it's time to remember these names. If he offers a vacation, opens a business or anything Tom Shand and many others should not be patronized.
Law&Crime reached out to Shand for comment on this story, but no response was forthcoming at the time of publication.
[image via screengrab/Noles247]
Follow Colin Kalmbacher on Twitter: @colinkalmbacher
Have a tip we should know? [email protected]