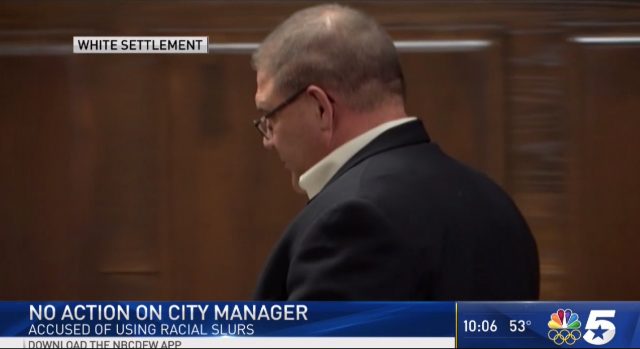 The city manager of a Texas town will not be punished over allegations that he referred to residents using both the N-word and a class-based slur for poor people.
White Settlement City Manager Jeff James will keep his job and will not be sanctioned by the town's city council. The body met on Monday night in a closed-door session to discuss the issue for approximately 50 minutes.
The nearly hour long discussion was prompted by accusations from the city's former fire chief, Russell Shelly, who says he heard James use the N-word on multiple occasions.
According to Shelley, while meeting with James in his office, the city manager referred to resident's alleged lack of gratitude by describing them as "white trash" and then using the N-word.
James' alleged turns of phrase are also noteworthy due to the racial and racist dimensions of White Settlement's own name. The small Fort Worth suburb was founded–and christened–based on the blood-soaked victories of white settlers over the former Native American population there.
James, for his part, didn't appear to dispute Shelly's account of his racially insensitive language. After the council decided not to move forward on the matter, he said:
If I get into this, it's two wrongs don't make a right. I am not going to justify any of this.
Immediately prior to the exculpatory closed-door session, James was buoyed by a show of support from community members at an open city council meeting. According to NBC5 DFW, dozens of city employees and residents arrived to stand by the briefly embattled city manager.
James said, "I feel blessed that all these people were here today came out, and I really appreciate the show of confidence, and I'm happy to be the city manager of the city of White Settlement."
White Settlement Mayor Ronald White appeared relieved the whole ordeal was quickly shelved. He said, "As far as I know, and as far as I'm concerned, it's over for now. I don't know that it wouldn't come up again, but I don't think so."
Shelley, the town's former fire chief–who resigned after only three months on the job–didn't join in on the celebration. In comments to local media, he said the decision was disappointing and that he had hoped for more transparency on the issue.
[image via screengrab/NBC5 DFW]
Follow Colin Kalmbacher on Twitter: @colinkalmbacher
Have a tip we should know? [email protected]