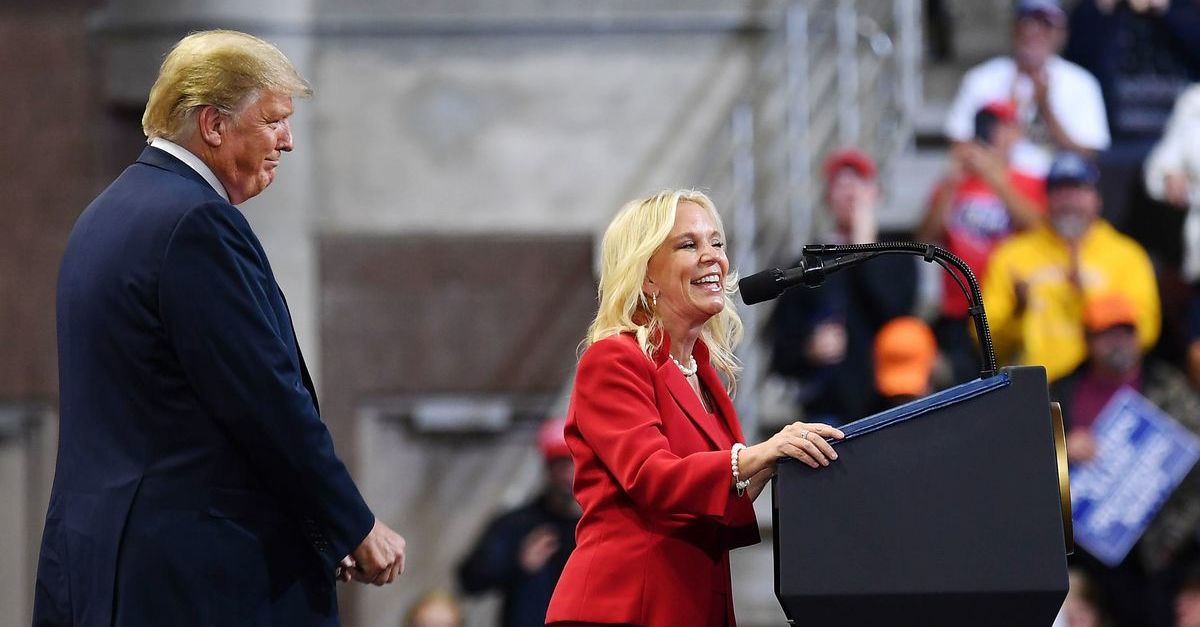 A Republican U.S. Senate candidate in Minnesota once compared Michelle Obama to a chimpanzee in a post on social media.
According to HuffPost, GOP candidate Karin Housley made the comparison in an attempt to attack the former first lady's posture when Obama met with Queen Elizabeth II of England in 2009.
In the April 2009 post, Housley wrote, on her Facebook wall:
Michelle is sooooo far from cool. Don't we expect our First Ladies to at least stand up straight? (And my dear sister, know the proper etiquette and DO NOT TOUCH THE QUEEN!)
Later on, Housley mused about the past in the comment thread on her own post. She wrote:
I do miss Nancy Reagan. Ronald even more. Speaking of Bedtime for Bonzo, I think even that chimp stood up straighter than Michelle.
Housley's post continued, seemingly acknowledging the racial slur at work.
"Uh-oh," she wrote, "someone is going to make a comment."
HuffPost pointed out the racially-charged nature of the comment, noting, "Comparing African-Americans to apes, even obliquely, as Housley did, has been a longstanding feature of racist American innuendo."
Housley's Facebook post was in reference to the 1951 B-movie, "Bedtime for Bonzo," a poorly-received film which starred then-actor and eventual governor of California and president, Ronald Reagan.
The film itself is largely remembered for the pop culture lampooning it and its lead actor received after Reagan assumed the White House. Punk rock bands the Ramones, Dead Kennedys and The Damned all made unflattering references to the movie in various albums and songs highly critical of the 40th president.
Housley's campaign insists the Michelle Obama-chimp comparison was taken out of context. Campaign spokesman Jake Schneider issued a statement to The Hill criticizing Housley's critics for dredging up the almost decade-old post. He said:
This is what the radical left does when they are losing–they attack Republicans so they don't have to come up with solutions to the problems Minnesotans are facing. Imagine if the media spent the same amount of energy investigating [Representative] Keith Ellison as they do digging into candidates' old Facebook posts and satirical columns from a decade ago.
Schneider is referring to the "narcissist abuse" allegation made by Ellison's former girlfriend, Karen Monahan, which Law&Crime has covered in separate pieces here, here and here.
Currently a state senator, Housley is challenging recently-appointed Senator Tina Smith–who took over the seat left by Al Franken's #MeToo-influenced early retirement after several groping allegations earlier this year. Smith is a member of Minnesota's Democratic-Farmer-Labor Party, one of two national variants of the Democratic Party. (The only other state without an official adjunct of the Democratic Party for state elected officeholders is North Dakota.)
Housley's campaign has shifted its focus to attacking Ellison in recent weeks. The GOP candidate previously called on the North Star State's attorney general to investigate Monahan's allegations and dismissed Ellison's own call for a congressional ethics inquiry into the matter.
In another comment on her original Facebook post, Housley wrote, "The flowers should be in bloom! Bring Michelle a bouquet, oh wait, she's started her own garden…and [sic] organic one. Just bring her a gift certificate to White House Black Market. I'm crackin' myself up."
[image via MANDEL NGAN/AFP/Getty Images]
Follow Colin Kalmbacher on Twitter: @colinkalmbacher
Have a tip we should know? [email protected]