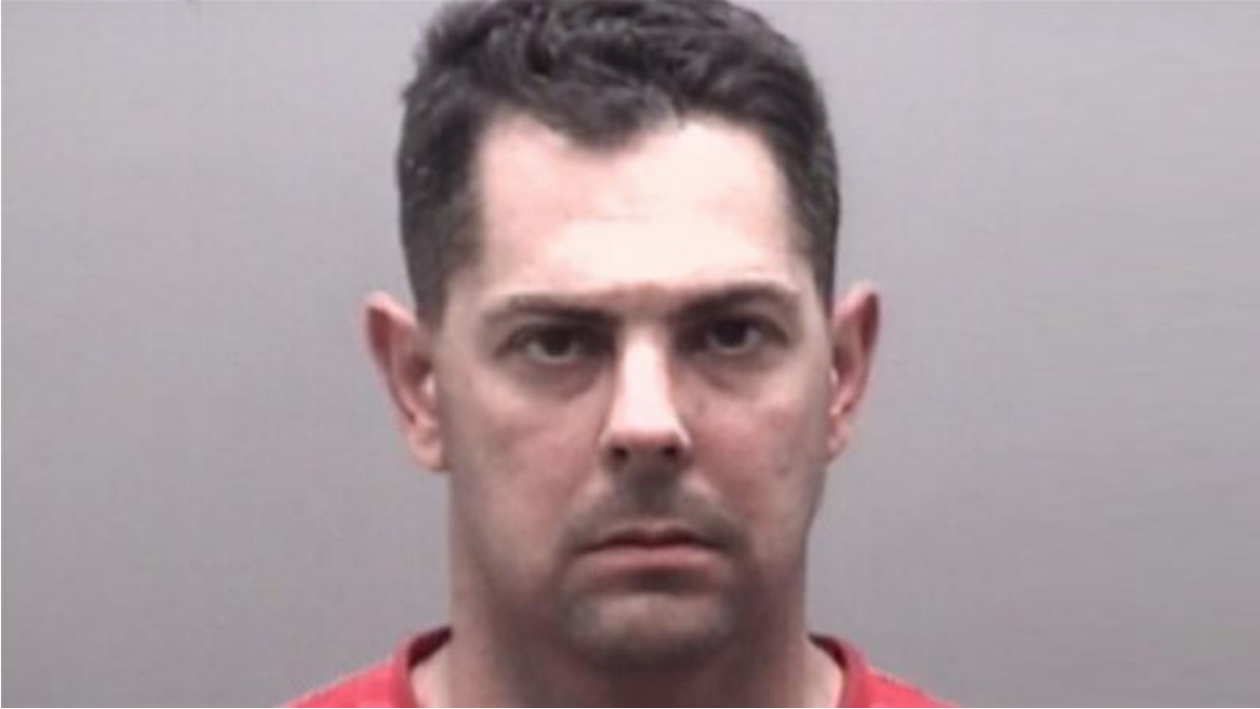 In the weeks leading up to the alt-right violence in Charlottesville, Virginia last year, an organizer by the name of "Tyrone" mused at length about the legality of using automobiles as weapons against activists engaged in civil disobedience.
Tyrone's real name, however, is Michael Joseph Chesny. At the time those deadly rallies were planned–and it should be noted, whether the organizers planned for said violence is currently the subject of litigation–Chesny was an active duty member of the U.S. Marine Corps.
In an online neo-Nazi message board, Chesny posted a right-wing meme containing an image of a combine harvester–a heavy piece of farm machinery used to cut (reap), beat (thresh) and clean (winnow) grains in a singular process. The meme's text reads, "Introducing John Deere's New Multi-Lane Protester Digestor." Chesny remarked on the post, "Sure would be nice."
In another post, Chesny asked, "Is it legal to run over protesters blocking roadways?" Chesny continued, "I'm NOT just shitposting. I would like clarification. I know it's legal in NC and a few other states. I'm legitimately curious for the answer."
ProPublica reported on the spate of vehicular homicide-inclined comments posted to that same message board in an August 28, 2017 article titled, "White Supremacists Joked About Using Cars to Run Over Opponents Before Charlottesville." Some of Chesny's comments were noted in that piece, but his identity remained a secret until very recently.
Anti-racist activist Emily Gorcenski outed Chesny in a March 10 post on Twitter.
Gorcenski lives in Charlottesville and her videos and Twitter feed copiously document many of the goings-on during the two "Unite the Right" rallies that have since become common knowledge. Indeed, Gorcenski was just feet away from Heather Heyer when James Alex Fields, Jr. allegedly rammed his car into her and took the 32-year-old socialist's life.
After various posts and chat logs of the rally planning were made public, Gorcenski delved into them, found threats against her life, and began doxxing the participants. In comments to Al Jazeera, she said:
I think law enforcement doesn't do a good enough job of informing the public about white supremacists in people's neighborhoods.
After identifying and publicizing one of the men who had threatened her, Gorcenski turned her attention to the man who went by "Tyrone."
First, she noticed that Tyrone had posted an image of a banner and said he had been "caught" hanging it from the top of a building. The Al Jazeera report notes:
The banner featured a logo for Generation Identitaire, a far-right, nativist and anti-immigrant movement in Europe. The acronym alongside it, "YWNRL", stands for "You Will Not Replace Us", a popular chant used by Unite the Right marchers in Charlottesville to signal fears over so-called "white genocide".
Then, Gorcenski noticed that Tyrone had posted about the consequences of his being caught. One poster asked if he was being charged for trespassing. "I'm going to court 9am eastern. We shall see," Tyrone wrote.
Next, Gorcenski performed a reverse image search and found the banner picture attached to a news story about two U.S. Marines who were arrested for hanging the banner. That story featured the mugshots of Michael J. Chesny and Joseph W. Manning. Gorcenski was getting closer.
Tyrone had also posted a birth announcement for his family. They were expecting twins. He captioned the image, "Reversing White Genocide, 2 at a time." Gorcenski checked Facebook. Chesny's wife had recently given birth to twins. Gorcenski found her man.
Chesny was discharged from the Marines over his racially hateful ties earlier this month.
Military officials told journalist Paul Abowd that Chesny was forced into "administrative separation" and subject to a "general discharge" in lieu of the court martial process.
[image via Alamance County Sheriff"s Office]
Have a tip we should know? [email protected]