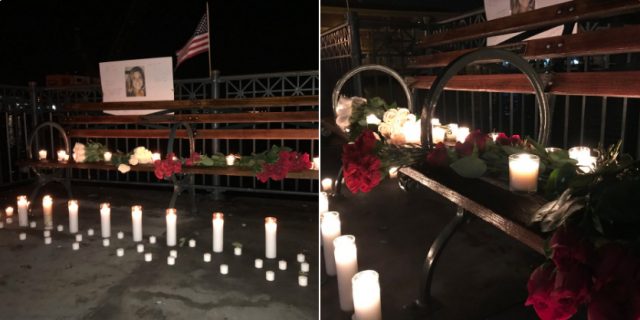 A memorial for Kate Steinle in San Francisco that was erected by white nationalists has been removed per her family's requests.
Steinle's parents have frequently expressed concerns about the politicization of their daughter's death by the alt-right, Trump supporters, and white nationalists.
On Saturday morning, the Steinle family officially requested that San Francisco Mayor Ed Lee remove the memorial. Mayoral spokesperson Deirdre Hussy released a statement released to the San Francisco Examiner after the memorial was excised from where it previously sat. She said:
The Steinle family placed a request with the Mayor's Office for the bench to remain as it was intended — a simple memorial in recognition of Kate and her spirit. However, we do have a city policy in place in regards to active memorials that Public Works enforced.
On Friday, a bench dedicated to Steinle's memory was altered by California-based white nationalist group Identity Evropa, who boasted on Twitter about their members adding to the original memorial.
Identity Evropa is known to be associated with other white nationalist organizations, including those who took part in the deadly "Unite the Right" rally in Charlottesville, Virginia last August.
White nationalists placed candles, flowers, and a large photograph of Steinle on the bench dedicated to her after Jose Ines Garcia Zarate was acquitted of murder and manslaughter charges related to Steinle's death. Steinle was shot and killed at San Francisco's Pier 14 on July 1, 2015.
Department of Public Works spokesperson Rachel Gordon said the removal of the memorial was simply an administrative decision made because its continued presence was in violation of city policy.
According to Gordon, memorials on city property are removed 10 days after a victim's service has been held–Steinle's memorial service occurred years ago. She said, "Whoever put that up didn't influence what we did, we just followed our procedure."
[image via screengrab]
Follow Colin Kalmbacher on Twitter: @colinkalmbacher
Have a tip we should know? [email protected]