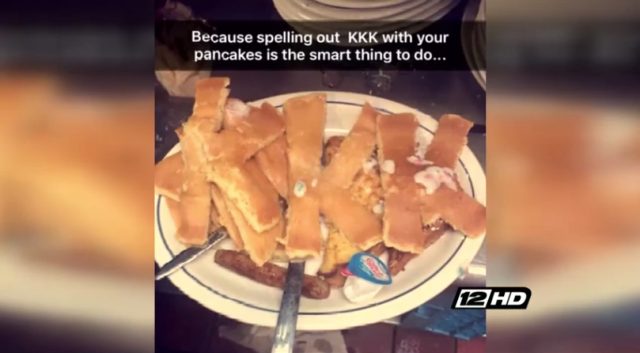 On the day before New Year's Eve, a black waitress at an IHOP in Texas discovered that white customers had used pancakes to send her a message of racial hatred.
Tenasha Ballard spoke with the local Fox affiliate, KXII News 12 about the incident. She said:
At the moment I'm like I don't believe this. I'm seeing this wrong. So I went to the tables at the front and said what do you see on this plate? What letters are these? And they said KKK. And I said I thought so.
According to Ballard, she had just finished waiting on four high school students at the Sherman IHOP where she works. Ballard left their table to get one of the students a to-go coffee cup but returned to find the students gone–and a plate full of pancakes cut into the letters "KKK."
Ballard took a photo of the offensive message using Snapchat and posted the image to Facebook. Then she went to bed. Ballard woke up to discover that her photo had gone semi-viral; being shared hundreds of times and prompting massive amounts of social media outrage.
Ballard continued, "I just can't get over it because these kids, like, we were just joking. And then it got serious and I'm like how. How? Like what was it besides my skin color that made you think this was going to be funny?"
In her initial Facebook post–since taken down–Ballard noted that the customers were wearing Bells High School letterman jackets. This detail led to accusations that the waitress was casting aspersions about the small town of Bells, Texas. Ballard pushed back against that round of victim-blaming. She said:
Everyone was trying to point blame like I'm calling out the town when I didn't. The kids called out their own town. For them to come out in their school colors and disrespect someone because no one is going to do anything then they knew that they could do that. They felt like they could.
Responding to a request for surveillance footage of the hateful incident, IHOP's corporate released a statement which reads, in part, "Any display of discrimination is against the IHOP brand values and the values that the franchisees of this location upholds."
Aside from the racially-based bigotry on display, Ballard says she shared the photo to address the disrespect paid to servers, waiters and waitresses on a daily basis.
She said, "Respect people. It's one of the things that I was always taught. If you don't have anything nice to say don't say it. Don't spell it in food. Don't say it."
[image via screengrab/Fox KX11 News 12]
Follow Colin Kalmbacher on Twitter: @colinkalmbacher
Have a tip we should know? [email protected]