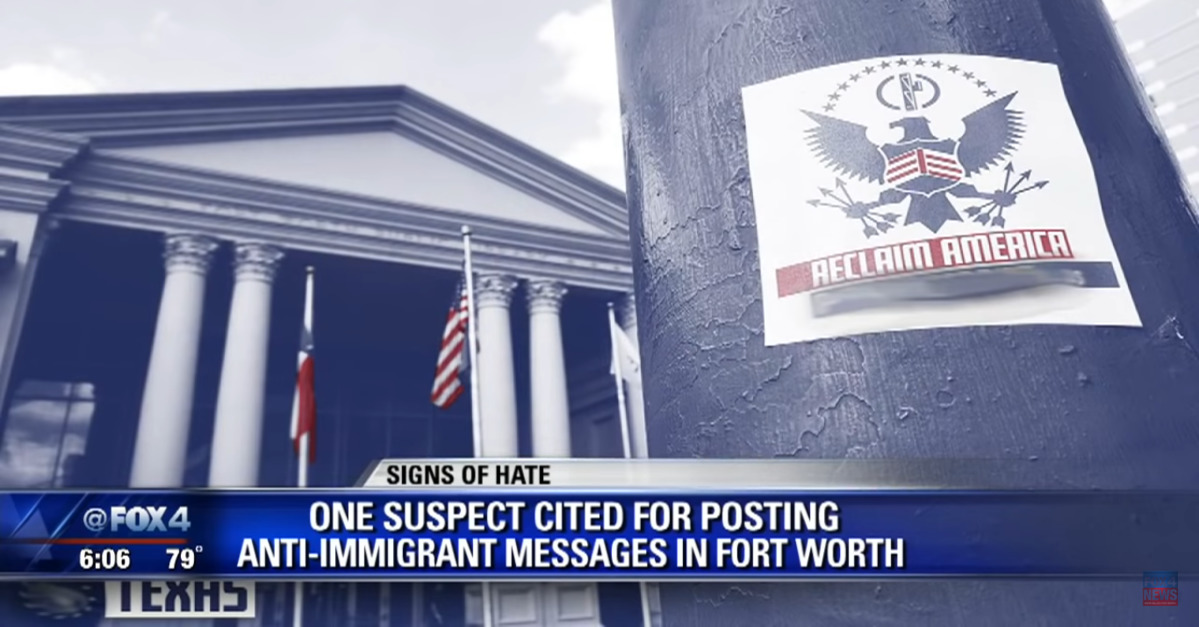 A self-declared leader of the "alt-right" in North Texas was recently mailed a citation in Fort Worth after posting hate-speech materials in the one-time cow town's downtown area.
According to the Fort Worth Star-Telegram, Thomas Ryan Rousseau is the leader of the alt-right and white supremacist group known as the Patriot Front.
The Dallas Morning News reports that Rousseau hails from the staunchly Republican suburb of Coppell and previously led a group known as Vanguard American Texas during the fatal "Unite the Right" rallies in Charlottesville, Virginia during the summer of 2017. Those rallies were met with fervent opposition by local anti-racists, anti-fascists and socialists but ultimately claimed the life of 32-year-old Democratic Socialists of America member Heather Heyer.
The Fort Worth Police Department (FWPD) cited Rousseau for placing signs, banners, stickers and other materials on public property without permission after reviewing surveillance footage.
The Patriot Front also claimed responsibility for distributing the materials on their Twitter page.
Essentially, Forth Worth considers Rousseau's posting of the hateful propaganda as tantamount to vandalism. FWPD Chief Deputy Robert Alldredge said the citation is a misdemeanor with a $500 maximum fine.
During a Fort Worth City Council meeting, FWPD Officer Buddy Calzada identified Rousseau to council members and the public. Alldredge later clarified that police worked with the city's legal department to find an ordinance so that Rousseau could be gifted the citation over the hate speech materials.
When asked about the distinction between First Amendment-designated free speech and criminal hate speech, Alldredge told the outlet that it depends on who happens to be reading the speech in question.
"For us, it's a fine line that we walk," Alldredge said.
The chief deputy also claimed that speech is protected so long as it does not incite violence or attack a particular group, according to the Star-Telegram.
"We still kind of have to protect the rights of everybody," he noted.
The materials were posted near Fort Worth's popular tourist destination Sundance Square and contained statements such as "Reclaim America," a pro-white supremacist call-to-arms, and "Better dead than Red," a popular anti-Communist slogan from the McCarthy Era.
In a separate incident, the Patriot Front is alleged to have hung a banner reading "Deport Them All" from the underside of a bridge in a majority Hispanic area on the city's South Side.
Grassroots immigrant's rights groups complained to city officials after the hate speech incidents occurred earlier this month.
United Fort Worth's Miranda Whittier said:
[The city] has created an environment where people feel it's acceptable. These are types of hate events that have to be met with very swift and definitive messages to denounce them to make sure people know they are not acceptable in our community.
After enduring some amount of criticism, Fort Worth's Republican Mayor Betsy Price said that she did not want the historic Wild West town to be known as a magnet for white supremacists.
"We don't want to be the platform for a hate group," Price said. "It's outrageous, it's awful."
[image via screengrab/Fox 4 News]
Follow Colin Kalmbacher on Twitter: @colinkalmbacher
Have a tip we should know? [email protected]