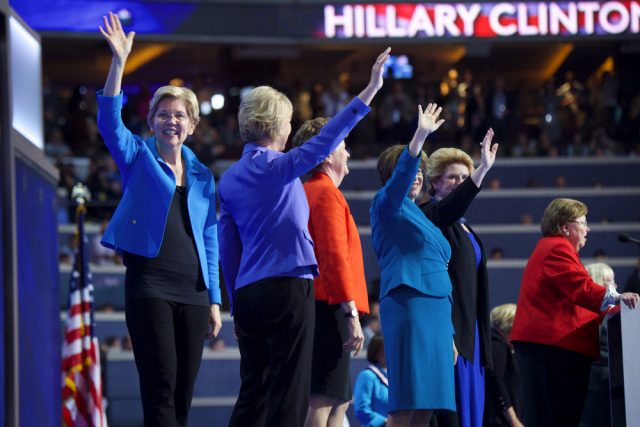 Happy Women's History Month! This year has already seen historic large-scale demonstrations celebrating women and demanding equal rights, starting with the day after President Trump's inauguration, when millions gathered on the National Mall and around the globe for Women's March events.
Yesterday, on International Women's Day, participants wore red to raise awareness, while women were encouraged to skip work and avoid buying anything for "A Day Without Women."
But 2016 didn't necessarily feature this positivity toward females — at least not female candidates. This election featured women competing in crucial battles that would determine party control in the Senate, and obviously the White House. And with tight races come lots of activity by outside spending groups, which aren't known to be the most friendly of voices.
OpenSecrets Blog dived into how these groups that can accept unlimited amounts of money acted toward male versus female congressional candidates. (We excluded presidential data from our analysis, since we already know that Hillary Clinton drew a tidal wave of negative ads.) Our research included spending by super PACs and political nonprofits for and against all candidates for the House and Senate, including primary candidates. Even if we looked at just those who made it to the general election (and included their primary funds), the trends we found were constant.
Outside groups almost always spend more ripping into candidates, as opposed to supporting them, no matter the party or gender. The only two cases that bucked the trend involved spending on third-party candidates: The male running for Senate, Edward Shlikas in Maryland, and two females running for the House (Carla Spalding in Florida and Miranda Allen in Kansas) faced more positive spending than negative.
"They have that role because it largely protects the candidate from having the negativity come from them," said Meredith McGehee, chief of policy, programs and strategy at Issue One. "If you're the candidate, you can build up who you are and what your platform is. You let the outside groups do your dirty work and you can always say, 'Hey, it wasn't me.'"
But women, on average, faced more unfavorable spending than men. Of Senate candidates, female Dems faced $3.4 million more on average in negative messaging than males did, while female Republicans faced $2.1 million more in adverse ads compared to their male counterparts.
In the House, the margins were much smaller, but less money was spent overall. Female Democrats running for the House were the subjects of $64,000 more in outside group attacks than their male counterparts, while Republican women saw $65,000 more negativity, on average.

*CRP data includes all primary and general congressional candidates from 2016
Apparently, some believe, society still finds it easier to pick on women than men. "The potential exploitable vulnerabilities are still higher for females than males, from what I see," McGehee said. "They don't like what they wear, they aren't acting ladylike. These subtleties, if you raise doubts, take hold a little more easily with women than with men."
And outside groups definitely target women (whether good or bad) more intensely in both House and Senate races. On average, a female running for Congress sees $1.4 million in combined positive and negative outside spending directed at her, versus $689,000 for males, or more than twice as much.
The groups spent the most in Senate races, pouring an average $8.2 million targeting female Dems and $5 million on average on GOP women. (Compared to $3.9 million and $3.1 million for males, respectively.)
Many of these 28 female candidates competed in high-profile, toss-up elections that groups hoped to turn their way, with five women appearing in the five most expensive races for outside groups.
For example, Deborah Ross (D) in North Carolina, a purple state, struggled against $24.3 million in outside attacks, out of the total $45.8 million these groups poured in. Her Republican opponent and the ultimate winner, Richard Burr, was the target of $17 million in negative messaging.
Nevada's contest between Catherine Cortez Masto (D) and Joe Heck (R) — a fierce battle for retiring Senate Minority Leader Harry Reid's (D) seat — brought in $73.4 million from outside spenders, with Cortez Masto winning despite $31.6 million of negative ads lobbed her way, compared to $26.1 million for Heck.
Gov. Maggie Hassan (D) and Sen. Kelly Ayotte (R) in Hew Hampshire faced $73.8 million in onslaughts from outside groups. Hassan won the seat after seeing less outside group opposition, $28 million to Ayotte's $36.7 million.
Democrat Katie McGinty's Pennsylvania race, which she ended up losing to Republican Sen. Pat Toomey, witnessed the highest spending by outside groups of any federal race, ever: $102.4 million. More than three-quarters of that was negative messaging. This is one contest where the male and female candidates drew almost equal amounts of negative spending; in fact, Toomey edged out McGinty on this front: She faced $39.8 million in opposition from groups like the Senate Leadership Fund and the Koch network's Freedom Partners Action Fund, compared to Toomey's $40.9 million from the Senate Majority PAC and Majority Forward.
Location matters too, of course; some states have more expensive media markets.
We also analyzed the party affiliation of the groups themselves, finding conservative groups spent an average of $12 million compared to liberal groups' $9 million in congressional races.
While Democrats may see themselves as the party of women (78 out of the 104 women in Congress are Dems), outside groups of both liberal and conservative persuasions spent more, on average, attacking women.
Blue groups spent an average of $4.1 million against Republican women running for Senate, more than they spent attacking male GOP candidates and more than they invested in positive messaging for candidates of either gender. Likewise with conservative groups, which spent an average of $6.6 million going negative on female Democratic Senate hopefuls.

*CRP data includes all primary and general congressional candidates from 2016
"Women are often the insurgent candidates, people who have not played the game up through the ranks and so they don't have some of that traditional support," McGehee said. "If the incumbent is a male and the challenger is a female, you would expect to see a lot more outside spending against the female."
And you do: Non-incumbent women running for the House face four times as much outside attack spending as men running to retain their seats, on average, while in the Senate, women trying to unseat an incumbent male drew almost three times as much negative spending.
Non-incumbent women running against non-incumbent men don't see quite the disparity in negative spending by outside groups, but it's still daunting: Twice as much spent against women as men in the House, on average, and one-and-a-half times as much in the Senate.
Only female House incumbents saw less attack spending by outside groups than their male opponents: $45,000, on average, compared with $242,000 in negative spending against non-incumbent men.
But in the Senate, the three veteran women running for re-election faced much more on average than male incumbents, probably due to the onslaught of attacks on Sen. Kelly Ayotte. Female senators saw an average of $12.2 million in opposition compared to incumbent males' $6.9 million average.
The onslaughts make for yet another hurdle women can expect to face when running for public office. "It's still very difficult for women to run in the current system, with the pure amount of money you need to have, the friends and contacts you have that can help fund your races," McGehee said. "In many cases when you're looking at who these ads are running against, they may be challengers with a powerful set of interests that want to protect incumbency."
This article was written Ashley Balcerzak for OpenSecrets.org, and reprinted with permission by LawNewz.com. Researcher Alex Baumgart and Douglas Weber also contributed to the report. The original version of the story appeared here. OpenSecrets.org is a nonpartisan nonprofit organization which tracks money in U.S. politics. Senior researcher Doug Weber contributed to this post. 
[Image via Gregory Reed/Shutterstock]
Have a tip we should know? [email protected]