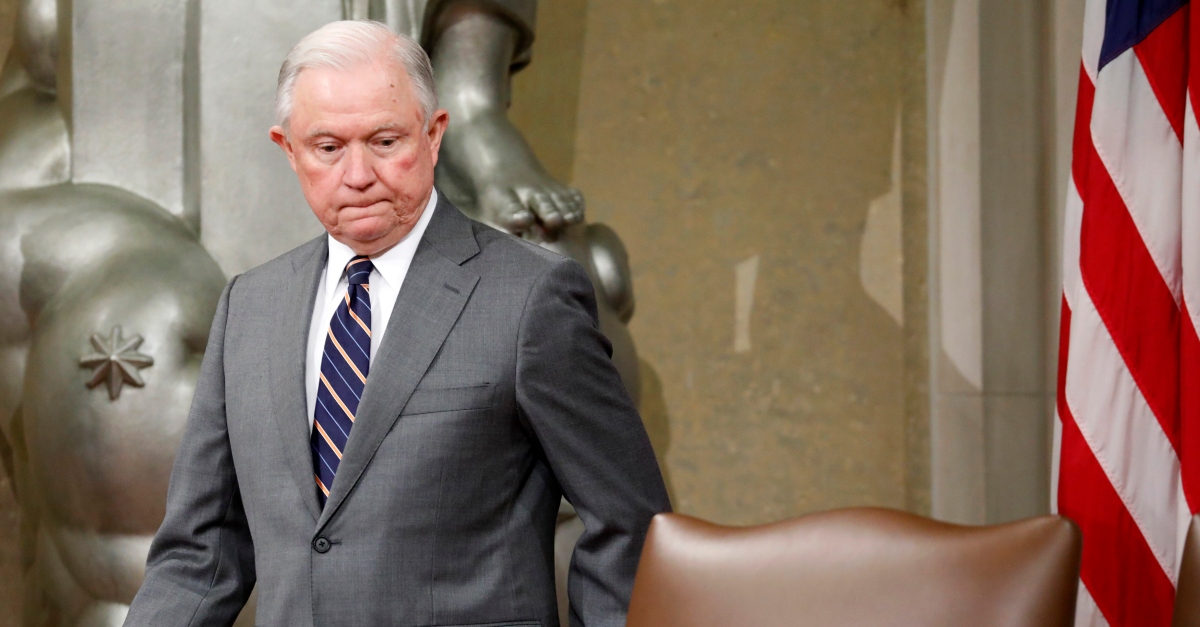 President Donald Trump often dumps on Attorney General Jeff Sessions. This is already known. Our commander-in-chief openly criticizes his top lawman for recusing from the Russia investigation. What's unclear is if and when the AG will step down, and who will replace him. POTUS isn't looking far, however, at least judging by this new Washington Post report. He talked with Sessions' chief of staff Matthew Whitaker about succeeding in the position, according to sources briefed on the conversation.
Caveat: The precise nature of this conversation remains unclear. Was the president committing to this idea? Would Whitaker run the Department of Justice as an interim replacement, or a permanent one? The article described the conversation as "nebulous," and a DOJ spokesman declined to comment in this report.
In any case, a Whitaker nomination wouldn't be entirely surprising. He served as U.S. Attorney for the Southern District of Iowa from 2004 to 2009. Something to keep in mind is a 2017 CNN op-ed, published before Whitaker rejoined the DOJ. He agreed with the president's claim that Special Counsel Robert Mueller would be going to far by investigating Trump family finances.
"It does not take a lawyer or even a former federal prosecutor like myself to conclude that investigating Donald Trump's finances or his family's finances falls completely outside of the realm of his 2016 campaign and allegations that the campaign coordinated with the Russian government or anyone else," Whitaker wrote. "That goes beyond the scope of the appointment of the special counsel."
It wouldn't be the first-time a chief of staff was chosen to succeed a cabinet position. John Kelly's right-hand woman Kirstjen Nielsen was tapped to replace him as Department of Homeland Security secretary.
As for Whitaker, White House officials are said to have previously looked at him to possibly replace Deputy Attorney General Rod Rosenstein, whose job security was, uh, called into question a little while ago. In this case, Solicitor General Noel Francisco would have been the one to take over the Russia probe. That probe had fallen on Rosenstein's lap after Sessions recused, citing previously undisclosed contacts with Russia's then-ambassador to the United States. Trump has railed about his AG's decision for a while now, and often ridicules him on Twitter and in the press.
Trump's public disdain for Sessions is something else, even for him.
"I don't have an attorney general," he told Hill.TV last month. "It's sad." He went as far as to criticize Sessions for the federal prosecution of two Republican congressmen.
Compare that to his behavior in an recent interview with NY Mag correspondent Olivia Nuzzi. The president insisted he was happy with his Chief of Staff John Kelly, who some have long suggested is on his way out of the administration. (Session was not mentioned in the article.)
The president hedged his words on whether his AG is long for the administration. He told Bloomberg in August that the Session's job is safe at least until the midterm elections.
[Image via Aaron P. Bernstein/Getty Images]
Have a tip we should know? [email protected]