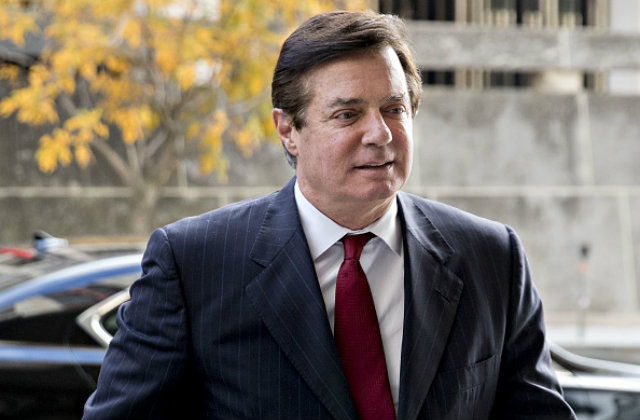 A D.C. grand jury issued a new superseding indictment against former Trump campaign manager Paul Manafort. This follows not only another indictment from a Virginia federal court for bank fraud and other charges, but also the plea deal by co-defendant Richard Gates.
In the new indictment, prosecutors said that in or around 2012, Manafort, with the help of Gates, got some former senior European politicians to take pro-Ukrainian stances. The idea was that these ex-pols, informally called the "Hapsburg group," would give apparently independent takes on the Ukrainian government, when in truth, they were actually paid lobbyists. In 2012 and 2013, prosecutors said, Manafort used offshore accounts to pay these ex-pols 2 million euros.
From the indictment:
MANAFORT explained in an "EYES ONLY" memorandum created in or about June 2012 that the purpose of the "SUPER VIP" effort would be to "assemble a small group of high-level European highly influencial [sic] champions and politically credible friends who can act informally and without any visible relationship with the Government of Ukraine."
Manafort and Gates were being charged in connection to their work for the Ukrainian government. Counts included money laundering. Gates, in the end, pleaded guilty to conspiracy, and to making a false statement to investigators on Feb. 1. Court documents said he lied by saying the Urkaine was not talked about in a 2013 meeting involving Manafort, a lobbyist, and a congressperson.
After the plea deal was announced, Manafort showed no signs of giving up his case. Quite the opposite. He released a statement promising to fight all charges.
NEW / Paul Manafort says Rick Gates did not have the "strength to continue the battle to prove our innocence" —> pic.twitter.com/2N3sDIDaqp

— Hallie Jackson (@HallieJackson) February 23, 2018
[Paul Manafort via Andrew Harrer and Bloomberg via Getty Images]
Have a tip we should know? [email protected]