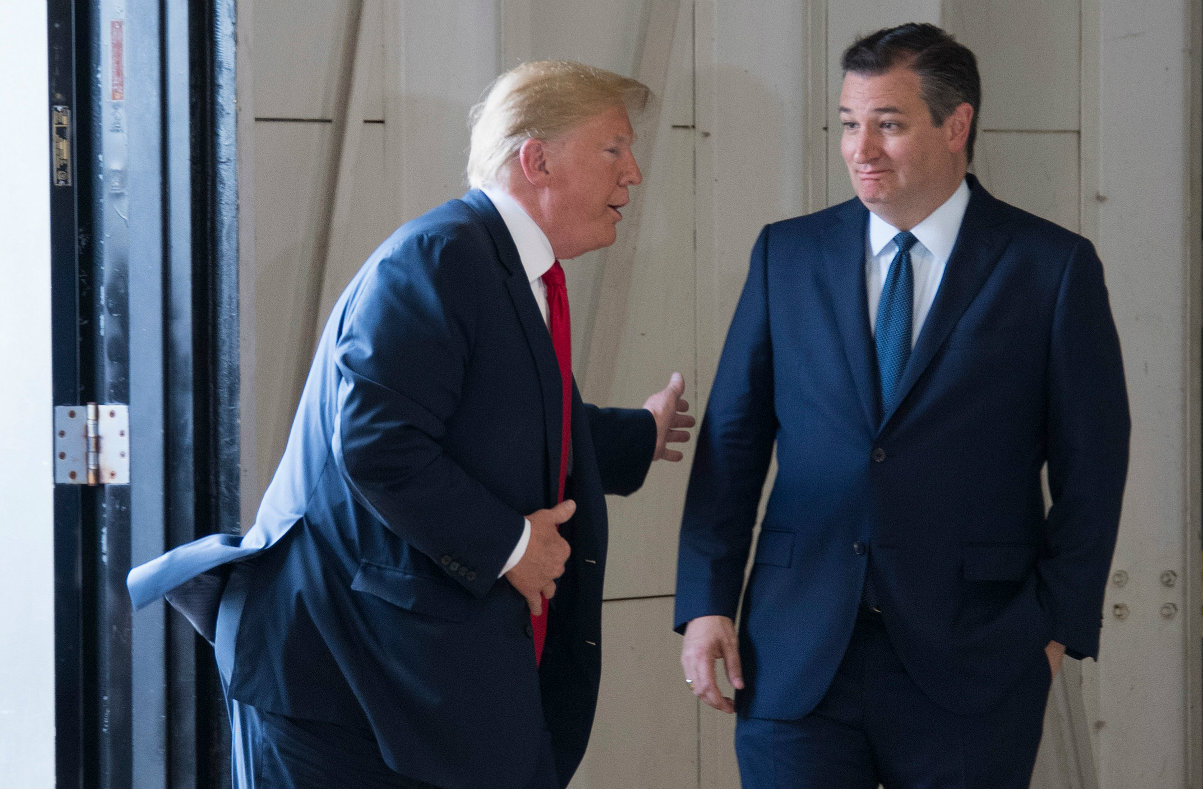 Sen. Ted Cruz (R-Texas) was asked Monday if he thinks President Donald Trump can pardon himself. After 18 seconds of silence, he balked, and insisted he didn't know about the subject. The question popped up after Trump lawyer Rudy Giuliani said Sunday that POTUS can "probably" pardon himself, and the head-of-state himself weighed-in on the issue, saying yes, he could do it.
Weekly Standard reporter Haley Byrd followed up with Cruz, and asked him if she agreed with that conclusion. According to her, Cruz was "silent for eighteen (18!) seconds before telling reporters it's not a constitutional area he's studied."
She had the audio to back it up. Byrd can be heard asking her question, and Cruz only answers after another person repeated the query. Byrd identified him as Washington Examiner reporter Robert King.
Alright, folks. Here's the audio pic.twitter.com/3UhsX3f8Jh

— Haley Byrd (@byrdinator) June 4, 2018
"That is not a constitutional issue I have studied, so, I will withhold judgement at this point," said Cruz, a Harvard Law School graduate and former Solicitor General of Texas.
King called the exchange "super awkward."
I was next to Cruz when this happened and kept walking waiting for him to answer. It was super awkward. I didn't knwo if he was searching for words to say or just wanting to wait us out. Finally I just asked again about it and he delivered the "not studied this" bit. https://t.co/3PyjQootuh

— Robert King (@rking_19) June 4, 2018
Bloomberg reporter Steven Dennis also weighed-in.
This might have been the most awkward 18 seconds in any scrum since I started covering Congress. https://t.co/28W5ibv86v

— Steven Dennis (@StevenTDennis) June 4, 2018
Very, very awkward. He waved his hand a few times in what I think were false starts?

— Steven Dennis (@StevenTDennis) June 4, 2018
Apparently, some aren't fans of the pardon question.
"There were lots of other awkward moments today for Republican senators," Dennis wrote. "They *hate* this topic."
The silence gave at least one person a good chuckle, however.
HAHAHHAHAHA. This is perfection. https://t.co/iLiyHIvmLd

— Chris Hayes (@chrislhayes) June 4, 2018
Well, that's Cruz's (non) answer. What say the people who did study this constitutional question? There doesn't seem to be a crystal clear consensus. For one, the courts have never addressed the question if a president can pardon himself. It's not like William Henry Harrison did it. Last July, even Trump's own attorney Jew Sekulow said it was an unsettled legal question. The courts would have to weigh in. Law&Crime columnist Elura Nanos previously argued that the president has the constitutional power to pardon himself. George Washington University Professor Jonathan Turley reached the same conclusion. Both, however, said self-pardon could cause Trump significant problems in the aftermath. For example, impeachment allegations.
Constitutional arguments against self-pardon can be summed up in a 1974 memo by Mary C. Lawton, an Acting Assistant Attorney General at the Office of Legal Counsel. The question came up in the days leading up to Richard Nixon's resignation.
"Under the fundamental rule that no one may be a judge in his own case, it would seem that the question should be answered in the negative," she wrote.
Update – June 5, 11:49 a.m.: Cruz criticized media coverage of his answer, in a tweet thread late Monday.
"Some dishonest journalists have attacked me for 'taking 18 seconds' to answer — without acknowledging that I was walking through the Capitol, late to a meeting, and simply ignoring a question that a reporter had called out at me (as senators do every single day in the Capitol)," he wrote. "When reporters chased me down the hall, and another asked the question again, I chose to answer."
Byrd defended her reporting. She said that every journalist in the scrum knew that hallway interaction was "an abnormal response" from Cruz:
A few things.
1. Obviously, the audio speaks for itself.
2. Every reporter who was in that scrum—people who have interacted with Cruz for years—came away from it knowing it was an abnormal response from him.
3. Our story is accurate. https://t.co/pDZHtmtMbQ https://t.co/zWQbu3LE4X

— Haley Byrd (@byrdinator) June 5, 2018
King backed her up.
"Walking with lawmakers in the Senate subway to ask them questions is also very routine," he wrote on Twitter. "Cruz knows this and deals with it every day. It wasn't anything out of the ordinary and the question was very appropriate."
As for the constitutional question, Cruz more than doubled down on his previous answer: He hasn't studied the matter, and he doesn't plan to.
"This is not a question one should answer based on knee-jerk partisanship, as opposed to careful constitutional analysis," he wrote. "As for me, I still haven't studied the issue at that level of detail, and I don't intend to — because this is nothing more than an academic debate. At this point, none of the investigations has demonstrated any criminal conduct needing to be pardoned, as much as those who hate the president might wish otherwise."
Earlier in the thread, he wrote that the constitution didn't place boundaries on whom the president can pardon, but this was an unsettled legal question.
"That text has no limitation on WHOM can be pardoned (although nobody can be pardoned from impeachment or for non-federal offenses)," he wrote. "However, in the 1970s, the Department of Justice did issue a legal opinion that the president cannot pardon himself, relying on the principle that nobody can be the judge in his own case. That legal principle has a long and venerable history, but it is not reflected in the constitutional text. Whether the Department of Justice opinion is right is an open legal question, with scholars on both sides of the political spectrum disagreeing in good faith."
[Image via JIM WATSON/AFP/Getty Images]
Have a tip we should know? [email protected]