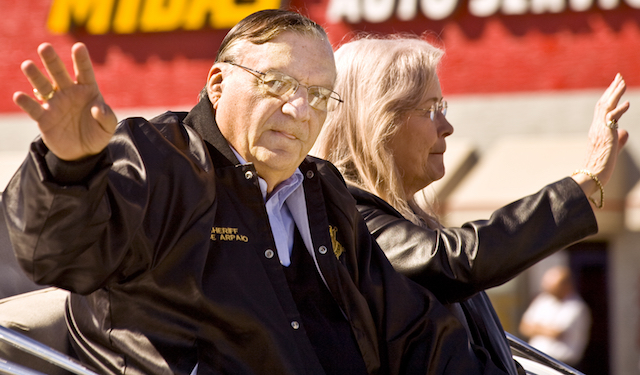 The adult son of Arizona's outgoing junior senator has filed a lawsuit against former Maricopa County Sheriff Joe Arpaio.
Austin Flake is suing Arpaio over a 2014 felony prosecution against Flake and his ex-wife, Logan Kindt. The younger Flake claims that Arpaio slapped him and his wife with animal cruelty charges in a bid to politically harm his father, Republican Senator Jeff Flake.
In June, 2014, 23 dogs died at the Green Acre Dog Boarding kennel when the air conditioning failed overnight. Flake and his then-wife were in charge of the dogs but left them at the kennel when they went on vacation in Florida.
Eventually, the case against the couple was dropped by the district attorney's office after multiple flaws in the investigation became apparent.
But not before Arpaio conducted surveillance on the Flake family home and examined Austin Flake's phone records, the malicious prosecution lawsuit alleges, all in an attempt to damage the senior Flake's political career.
The owners of the kennel pleaded guilty to animal cruelty and were ordered to serve a day in jail for each of the dogs who died–23 days total–and perform 230 hours of community service on top of three years' probation.
Attorney Stephen Montoya, who represents both Flake and his former wife, said, of Arpaio's apparently politically-motivated investigation:
It splashed their names across the internet as the murderers of 21 dogs. It really ravaged them emotionally.
The lawsuit is currently making its way through the court system.
U.S. District Judge Neil Wake dismissed one aspect of the lawsuit–a defamation claim against Arpaio, but did suggest that Arpaio's office lacked probable cause to charge the couple in the first place.
He wrote, "A factfinder could thus reasonably find that the prosecutors initially charged the Flakes based on pressure from Arpaio."
The suit goes to trial on December 5.
[image via shutterstock]
Follow Colin Kalmbacher on Twitter: @colinkalmbacher
Have a tip we should know? [email protected]