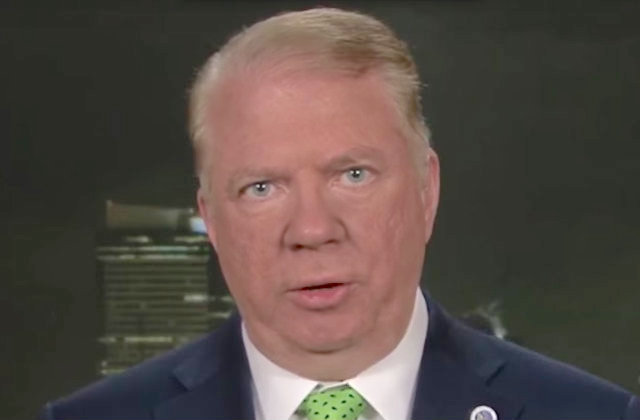 According to a new lawsuit, Seattle mayor Edward Murray "raped and molested" a homeless 15-year-old boy back in the 1980s. The alleged victim, named as "D.H." in the complaint filed Thursday at a Washington State court, professed to describe intimate parts of the then-32-year-old's body, such as his chest and genitals.
D.H.–who says he was homeless, on drugs, and a high school dropout–claims Murray paid him $10-20 for sex on multiple occasions.
"At times, the sex turned aggressive, beyond a point to which D.H. was comfortable and/or felt that to which he had agreed," states the lawsuit, obtained by The Seattle Times. All this time, Murray allegedly knew the teen was only 15. Washington's age of consent was, and remains, age 16.
In an interview, D.H. told the outlet he's stepping forward now because his father's recent death reduced his desire to keep it all a secret.
"I have been dealing with this for over 30 years," he said.
Murray, now 61, has emphatically denied these allegations through spokesman Jeff Reading. From a statement to the Times:
These false accusations are intended to damage a prominent elected official who has been a defender of vulnerable populations for decades. It is not a coincidence that this shakedown effort comes within weeks of the campaign filing deadline. These unsubstantiated assertions, dating back three decades, are categorically false. Mayor Murray has never engaged in an inappropriate relationship with any minor.
He has promised to fight this in court. If the case does get as far as a trial, two other men have said they're willing to testify. Jeff Simpson, now 49, and Lloyd Anderson, now 51, both told the outlet that Murray sexually abused them when they were underage, homeless teen boys.
Simpson and Anderson originally brought forward their allegations in 2007. Simpson in particular worked with a lawyer, and later calling news organizations and lawmakers to publicize his claim. At the time, Murray's attorney disputed the claim, and pointed out Simpson's and Anderson's criminal records. Simpson, who reportedly has kept his nose clean since 2004, has a record with burglaries, robberies, and drug dealing. Anderson was convicted for abusing a minor in 1998.
"I get it," Simpson told the Times. "I understand, my past is less than stellar," later saying, "People did think I was nuts and nobody wanted to believe it. But I felt I needed to tell the truth, finally tell the truth."
Murray, a gay, progressive Democrat who seeks reelection in 2017, has said he has no plans to resign.
[Screengrab via CBS News]
Have a tip we should know? [email protected]