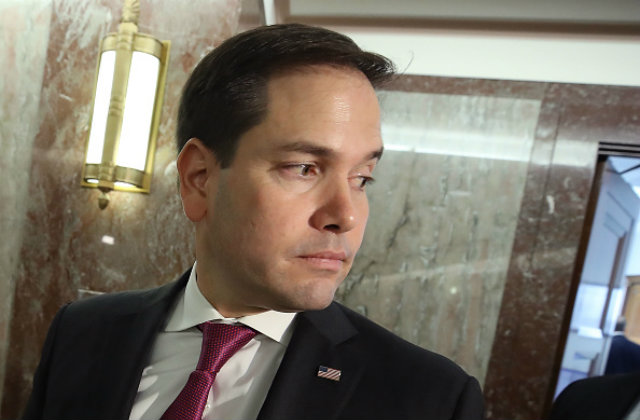 Details are sketchy, but Sen. Marco Rubio (R-Florida) fired his chief of staff Saturday over allegations of "improper conduct" with subordinates. He learned about the claims Friday afternoon, and worked with his general counsel to investigate it.
"By early this afternoon, I had sufficient evidence to conclude that while employed by this office, my Chief of Staff had violated office policies regarding proper relations between a supervisor and their subordinates," he said in his statement. "I further concluded that this led to actions which in my judgement amounted to threats to withhold employment benefits."
This statement didn't name the chief of staff, but that man's name is Clint Reed. Law&Crime sent a request for comment to a social media account in his name Sunday morning. He did not immediately respond.
Rubio's office will respect the alleged victims' requests and won't release anymore information, the statement said. They'll take the allegations to "the appropriate Congressional and Senate administrative offices" come Monday morning.
Besides that detail about the benefits threat, it's unclear what this "improper conduct" is supposed to be.
This news comes amid a great threshing among politicians (and staffers) accused of sexual misconduct. Congressmen like John Conyers (D-Michigan) and Rep. Trent Franks (R-Arizona) resigned over claims. Sen. Al Franken (D-Minnesota) also stepped down. So did Rep. Tim Murphy (R-Pennsylvania), a pro-life politician who allegedly had an affair with a woman and told her to get an abortion. Rep. Blake Farenthold (R-Texas), Rep. Ruben Kihuen (D-Nevada), and Rep. Patrick Meehan (R-Pennsylvania) won't run for reelection. Friday also brought news that Hillary Clinton only docked the pay of a faith adviser who allegedly sexually harassed a female staffer during the 2008 presidential campaign.
[Image via Mark Wilson and Getty Images]
Have a tip we should know? [email protected]