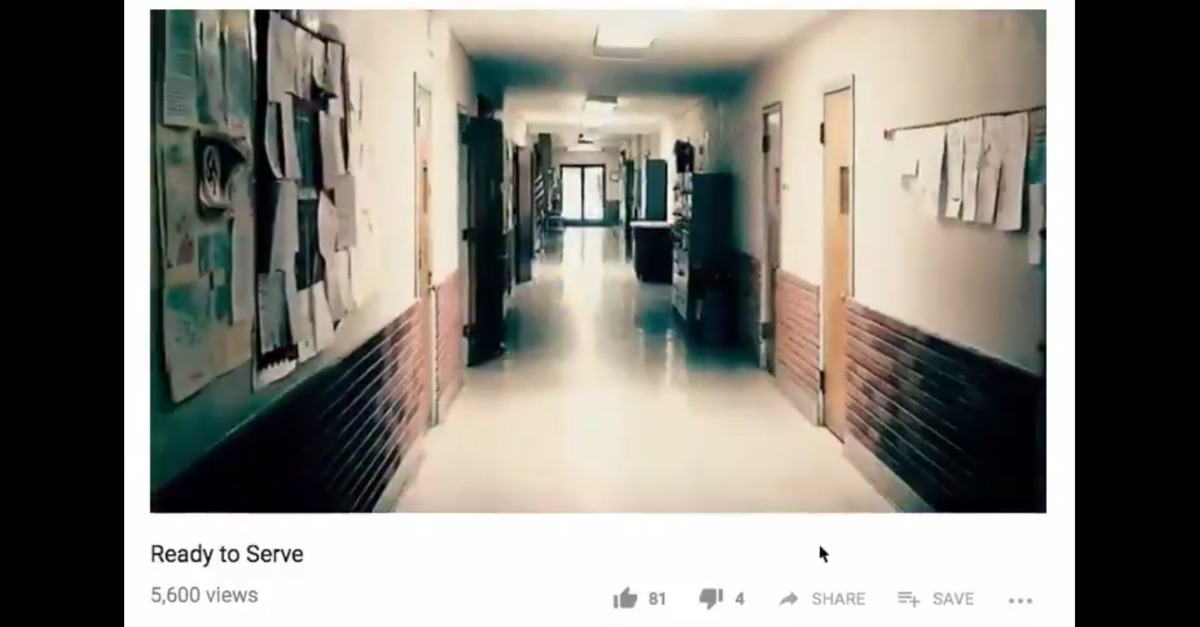 Republican U.S. Senate candidate in Michigan, John James, recently released a campaign advertisement that featured a swastika in the background of a school hallway. Now, after running the ad for nearly two weeks, he's been forced to apologize and retract it.
The television spot was released on October 2. Reaction to James' use of the Nazi Party symbol was furious and swift. The candidate's response to the controversy, however, took a bit of time.
James finally apologized for using the swastika in his "Ready to Lead" advertisement on Monday afternoon. In a statement, the GOP candidate said it was all just a big mistake:
I need to fess up and admit this was a terrible error on our part. We should have caught this error and we didn't and there is no excuse. I'm responsible for everything that our team does and fails to do. And I will do everything in my power to make sure this never happens again.
The Detroit Free Press notes that questions about the swastika from the media were initially ignored by the James campaign.
In his eventual statement, the GOP candidate continued to try and distance himself from the swastika image and what it represents. He noted, "As I've said before, I love everyone and I denounce hatred and bigotry in all of its forms."
The "Ready to Lead" spot was James' first campaign ad of the season and its release immediately overshadowed two recent debates between the GOP challenger and longtime incumbent Senator Debbie Stabenow (D-MI).
While Stabenow herself didn't seek to make hay out of the swastika image during the debates, Democratic Party officials in the Wolverine State took the opportunity to tie James' use of the hate symbol to President Donald Trump due to comments Trump made in August 2017. Those remarks were seen by many as supportive of violent white nationalists, white supremacists and neo-Nazis in Charlottesville, Virginia.
Michigan Democratic Party Chair Brandon Dillon said:
The sad reality is nobody would be assuming that this is anything other than an unfortunate coincidence, except for the fact that Donald Trump is president, and he has given aid and comfort to the kind of people who gravitate toward this symbol of hate.
Dillon continued, "I don't know whether [the swastika] was put there purposefully or what the context is … Unfortunately [James] has aligned himself with Donald Trump and all the baggage that he carries."
Other Michigan Democrats quickly jumped into the fray.
Jen Strayer Eyer is a veteran Democrat Party political consultant from Ann Arbor, Michigan. In a Facebook post, she accused James of attempting to subtly dog-whistle by using the Nazi Party symbol.
"There is no way a swastika was just there and nobody noticed it while filming," Eyer wrote. "That was an intentional subliminal message. Don't doubt that for a second."
According to James' campaign, the swastika image was culled from the stock photo service Shutterstock. According to the Deadline Detroit political blog, that excuse does, in fact, check out.
Progress Michigan is a left-of-center political group dedicated to electing progressive Democrats. In a statement to The Detroit News, the organization's Executive Director Lonnie Scott excoriated James for an apparently lax approach to vetting campaign advertisements.
"Making sure symbols of hate speech and genocide aren't in your campaign ads should be a pretty basic thing to figure out, but apparently not for John James," Scott said. "His team is either too lazy to spot check their ads, or they're willfully pushing out this type of imagery. Either way, it's a problem and shows James' lack of preparedness for the United States Senate."
In response to Democrats pointing out the swastika in his ad, James shot back, saying the attacks evidenced "how low people are willing to go" and a "desperate attempt to divert attention."
The "Ready to Lead" ad was removed from YouTube on Monday.
An archived version of the ad appears here:
See John James' TV ad featuring a Nazi swastika for yourself on his YouTube channel: https://t.co/SCC2ATCmdi – it's :11 in here (or watch vid clip here). Disgusting #misen pic.twitter.com/NCAX7kQTjo

— (@grahamdavis) October 15, 2018
[image via screengrab/John James for Senate]
Follow Colin Kalmbacher on Twitter: @colinkalmbacher
Have a tip we should know? [email protected]