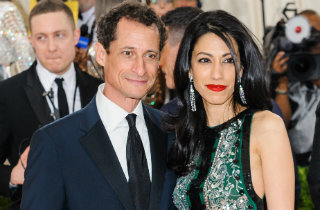 A new report released Monday morning complicates the latest in the Hillary Clinton email saga even further. As reported Friday, the newest emails were discovered while investigating former Congressman Anthony Weiner, the estranged husband of longtime Clinton advisor Huma Abedin. Now, Politico reports, Abedin is apparently telling friends that she has no idea why her husband would have her emails.
"[A] source familiar with Abedin's account" told Politico on Sunday that Abedin was telling those around her that she had no idea how her emails got on her husband's computer, and was "taken aback" by the revelation. The laptop computer in question was retrieved by the FBI a few weeks ago as part of an investigation into the allegations that Weiner was exchanging sexually explicit messages with an underage girl.
According to a Friday report for Newsweek by Kurt Eichenwald, Abedin's role in the email scandal is, in large part, based around her being the one to print out messages for Clinton. The former Secretary of State had an aversion to reading off a computer screen, so the emails would be printed by Abedin, her "gatekeeper," and then delivered securely. However, Abedin's email account comes into play because she had issues with printing from the State Department system, so she forwarded emails to either her personal Yahoo account or her work email on Clinton's now-infamous server.
[Photo: Shutterstock]
Have a tip we should know? [email protected]