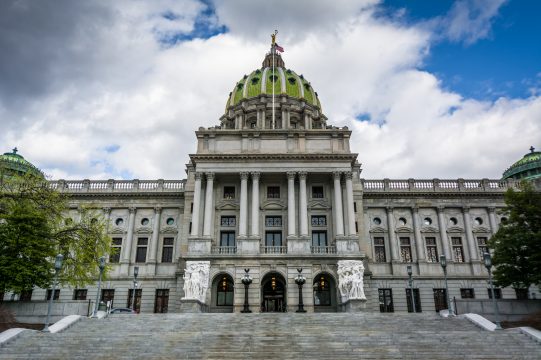 HARRISBURG, Pa. (AP) — After an emotionally charged and graphic debate, the state Senate approved legislation Wednesday that would make Pennsylvania the latest state to ban abortions at 20 weeks and restrict how the vast majority of second-trimester abortions are performed.
The bill passed the Republican-controlled chamber in a near-party-line vote, 32-18, although it faces a tough road to become law.
Democratic Gov. Tom Wolf, who supports abortion rights, has called the bill "radical and unconstitutional" and vowed to veto it. Substantial majorities in Pennsylvania's GOP-controlled House and Senate oppose abortion rights, but the Senate's 32 supporters are two short of the two-thirds majority needed to override a veto.
The bill still requires a vote in the House, where a similar version passed last year, with support just shy of a two-thirds majority.
The bill is based on model legislation from the Washington-based National Right to Life Committee and is making its way through the nation's most conservative statehouses and, potentially, Congress. In Pennsylvania, it is opposed by the state's largest doctors' group, the Pennsylvania Medical Society, and the Pennsylvania section of the American Congress of Obstetricians and Gynecologists.
Supporters maintained during more than two hours of debate that they were standing up for the humane treatment of the unborn. No hearing was held on the bill, and opponents attacked the lack of expert medical testimony on it as reckless and potentially carrying unforeseen and dangerous consequences for doctors and people facing difficult decisions.
The primary feature of the bill would ban elective abortions at 20 weeks from a pregnant woman's last menstrual period, compared with 24 weeks in current law. As many as 16 states have a similar ban, and an Ohio law will take effect in March, according to groups that track abortion laws.
The bill leaves in place exceptions to protect the mother's life or major bodily functions. It does not offer exceptions for pregnancies caused by rape and incest, or for serious fetal abnormalities.
Supporters say the 20-week limit reflects medical advances that make fetuses viable at earlier stages of pregnancy. Opponents say viability has barely budged in decades, and one opponent, Sen. Lisa Baker, R-Luzerne, her voice trembling, told of hearing from doctors that her unborn baby daughter, well after 20 weeks of pregnancy, would not live past birth because of a rare genetic condition.
The legislation also would ban a procedure it calls a "dismemberment abortion," described repeatedly by the bill's sponsor, Sen. Michele Brooks, R-Mercer, during floor debate as ripping a fetus apart in the womb while alive, and leaving it to bleed to death. Performing the procedure would expose a doctor to a third-degree felony, punishable by up to seven years in prison.
That spurred Democrats to attack the bill as "criminalizing abortion."
The term "dismemberment abortion" is not used by medical professionals, and opponents said the bill would effectively ban the dilation-and-evacuation procedure, the most common method of second-trimester abortion. Seven states have a "dismemberment" ban.
Brooks said the bill would ban the procedure while the fetus is alive, but not if the fetus is dead or killed by a saline injection. According to the American Congress of Obstetricians and Gynecologists, there is no evidence that inducing fetal death makes second-trimester abortions safer, and one Democratic senator questioned whether such an injection makes it less safe for the mother.
This article was written by Marc Levy, Associated Press.
[image Rena Schild via Shutterstock, Inc.]
Have a tip we should know? [email protected]