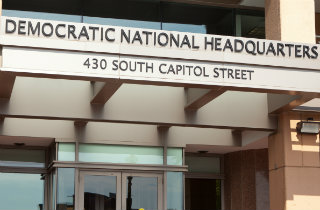 The Director of the National Security Agency, Mike Rogers, reportedly offered his opinion during a panel discussion over the weekend that the release of hacked emails from the Democratic National Committee did not affect the outcome of the presidential election.
According to The Hill newspaper, Rogers (not he be confused with former Republican Congressman Mike Rogers) addressed the issue on Sunday at the Halifax International Security Forum.
During a panel discussion, Rogers reportedly said, "I don't think in the end [the DNC document dump] had the effect that [the hackers] had hoped it might."
Some Democratic politicians have suggested the various email leaks impacted the election and cybersecurity firms hired by the DNC linked the attack to Russia.  The Office of the Director of National Intelligence and the Department of Homeland Security also signed a joint statement last month accusing Russia of trying to interfere with the elections.
Rogers reportedly did not specifically link the hack to Russia, but he has previously gone on record stating a "nation state" was behind the hack.
The article says Rogers' is believed to be a top candidate to serve as the Director of National Intelligence in the upcoming Donald Trump administration, and seems to suggest that might be a reason for his reluctance to blame Russia.
The Director of National Intelligence, or DNI, is in charge of overseeing all of the agencies that make up the United States Intelligence Community.
Separate reports published over the weekend suggest that top members of the Obama administration's national security team, including current DNI James Clapper, recently asked President Obama to remove Rogers from his current position as NSA Director due to performance concerns.   Those requests for his removal reportedly came before the election.
[image via NSA]
Have a tip we should know? [email protected]