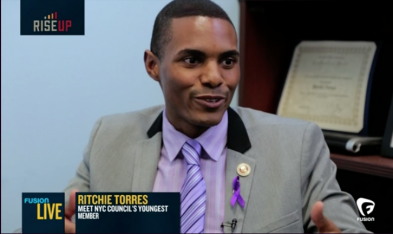 Vote or Die. Rather, Vote or Be Shamed. New York City Councilman Ritchie Torres plans to use guilt to encourage city denizens to rock the vote and exercise their civic duty, according to an exclusive new report by the New York Daily News.
The 27-year-old Democrat from the Bronx proposed legislation that would require the Board of Elections to send all eligible voters in New York's five boroughs a "voter history" card that would indicate how many elections people have participated in. The bill is now being considered in the City Council.
Torres has also expressed interest in adding a grade on voter cards to shame voters. In January, LawNewz's Rachel Stockman covered the legally dubious voter "shaming" mailer card sent out by Ted Cruz's campaign. Torres' legislation would promote a shaming technique widely denounced by voters and state officials after the Iowa Caucus, albeit in the spirit of civics rather than deception.
"As far as I'm concerned, true democracy exists not when people can vote, but when people do vote," Torres told the Daily News.
Ritchie Torres made history in November 2013 when he was voted to the city council. At just 25, Torres became the youngest and first LGBT black-latino member of New York's City Council.
[h/t NYDailyNews]
[Screengrab via Fusion]
Have a tip we should know? [email protected]