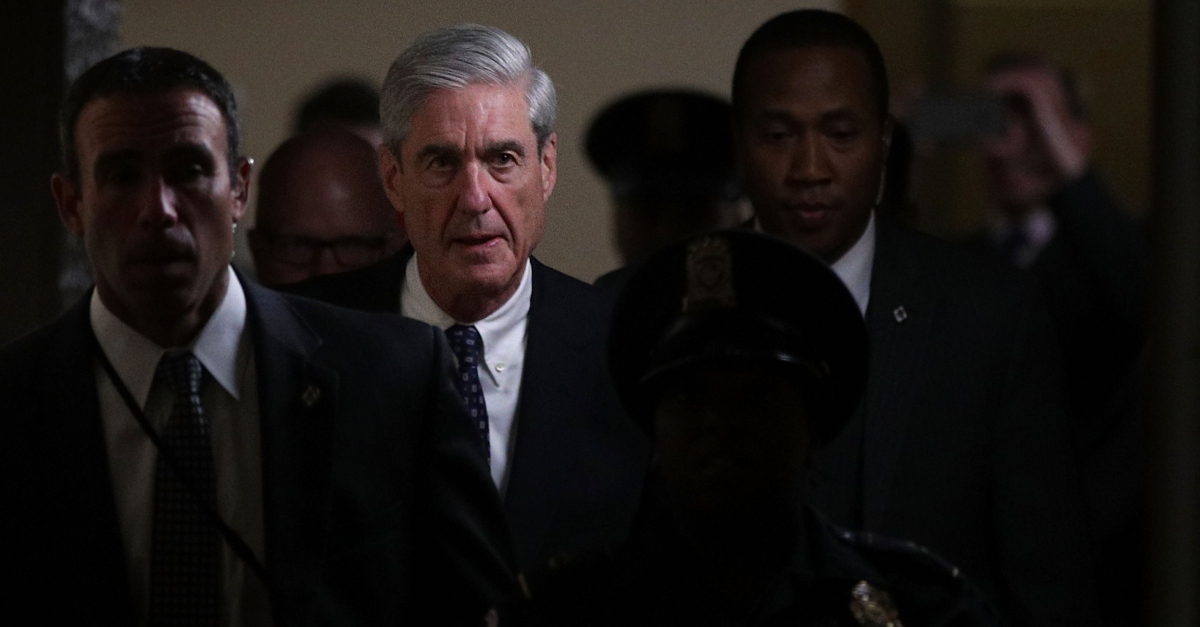 U.S. Attorney General William Barr has released his summary on Special Counsel Robert Mueller's report on Russian collusion in the 2016 presidential election.
Here's the full version:
here's the 4-page letter DoJ sent to the Judiciary Committee leaders with topline findings from the #mueller report pic.twitter.com/ki0lP4sy4j

— Katie Benner (@ktbenner) March 24, 2019
Mueller said he didn't find that any Trump campaign officials "conspired or coordinated" with the Russian government in interfering in the 2016 presidential election, according to Barr's letter.
The special counsel also declined to decide whether the president committed obstruction of justice:
The Special Counsel states that "while this report does not conclude that the President committed a crime, it also does not exonerate him."
According to Barr's letter, Barr and Deputy Attorney General Rod Rosenstein concluded that the evidence developed during this investigation "is not sufficient to establish that the President committed an obstruction-of-justice offense. Our determination was made without regard to, and is not based on, the constitutional considerations that surround the indictment and criminal prosecution of a sitting president."
Barr promised Congressional leaders on Friday that he'd review the document, and possibly provide his advice on Mueller's principal conclusions as soon as this weekend." He said Sunday that this process is ongoing.
The release of Barr's advice will all but certainly spark political friction over the report, and how much of it will be shown to the American public. Barr previously suggested to the Senate that the entire report may not be made public.
House Speaker Nancy Pelosi said in a conference call on Saturday that she wouldn't agree being told details of the Mueller Report in a classified setting, according to three sources in a POLITICO report.
"As I said in my statement, I am going to make as much information available as I can, consistent with the rules and regulations that are part of the special counsel regulations," he said in his confirmation hearing. As Law&Crime Senior Editor Ronn Blitzer examined, this gives him some wiggle room not to release the entire report, if any.
President Donald Trump and his allies have repeatedly called the Mueller probe a "witch hunt" by Democrats, but they also met news with some cheer with it seemed like Mueller wasn't seeking anymore indictments against Trump campaign officials.
Rep. Jim Jordan tells @GStephanopoulos Democrats "don't think this Mueller report is going to be the bombshell they all anticipated it was going to be, so now they're launching all kinds of other charges, all kinds of other investigations" https://t.co/7MhQbzRQ4b pic.twitter.com/Qo8Z8VkZtj

— This Week (@ThisWeekABC) March 24, 2019
"They don't think this Mueller report is going to be the bombshell they all anticipated it was going to be," said Rep. Jim Jordan (R-Ohio, 4th District).
Dems suggest that the report might still somehow be damning against the president.
.@RepAdamSchiff on the report this AM on ABC: "I think Mr. Giuliani would be wise to wait until the report is made public before making any pronouncements about vindication. And likewise, people should wait to determine just how incriminating it is."

— Maggie Haberman (@maggieNYT) March 24, 2019
Note: Updated to better reflect the contents of Barr's letter.
[Image via Alex Wong/Getty Images]
Have a tip we should know? [email protected]