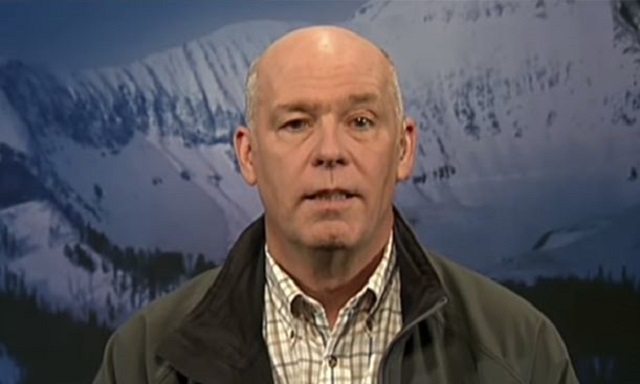 BILLINGS, Mont. (AP) — A Montana congressman misled investigators about his assault on a reporter the day before he was elected and claimed that the "liberal media" was "trying to make a story" out of it, according to documents released Friday.
U.S. Rep. Greg Gianforte, a Republican, told an officer in the aftermath of the attack that Guardian newspaper reporter Ben Jacobs had grabbed him by the wrist and pulled both of them to the floor, according to notes from a Gallatin County sheriff's officer who interviewed the politician the night of the attack.
Multiple witnesses contradicted that account, and Gianforte later pleaded guilty to misdemeanor assault. The attack occurred the day before his victory in a May 25 special election, by which time many voters already had cast ballots by mail.
More than 100 pages of documents, photos and audio from the investigation were released under a court order following requests from The Associated Press and other news organizations.
The documents include interviews with members of a Fox News crew who were in the room with Gianforte and Jacobs at the politician's Bozeman campaign office. They said Gianforte became enraged over what he perceived as biased coverage before body-slamming Jacobs, throwing him to the ground and punching him.
Gianforte staffer Josh Elle — the candidate's driver — told investigators that he was in an adjacent room when he heard a commotion and looked into the interview room. Elle told investigators that Gianforte appeared to be striking the reporter with closed fists before someone in the room closed the door.
Another worker said Gianforte and others on the campaign had been complaining earlier in the day about "duplicitous" campaign coverage by the Guardian and Buzzfeed.
Gianforte told Sgt. Scott Secor in an interview that Jacobs had interrupted as the Fox crew set up for an interview and "started interrogating in a very intensive way."
"I probably shouldn't do it but I reached out for his phone … he grabbed my wrist, he spun and we ended up on the floor … so he pulled me down on top of him," the sergeant quoted Gianforte as saying.
In the hours after the assault, Gianforte's campaign spokesman, Shane Scanlon, issued a statement that also blamed the attack on Jacobs, saying the reporter had grabbed the candidate's wrist. The records released Friday show that Gianforte first gave the misleading account to authorities.
He didn't appear in public until his victory party the next night, when some in the crowd cheered him over the confrontation. Gianforte publicly apologized to Jacobs and told supporters he wasn't proud of his actions.
His spokesman, Travis Hall, insisted on Friday that the documents contained "nothing new."
"No one was misled, and anyone who says otherwise is mistaken. Greg took responsibility for his actions and is focused on serving the people of Montana," Hall said in an emailed statement.
Gallatin County Attorney Marty Lambert said he was aware of Gianforte's comments to investigators but did not consider additional charges such as obstruction of justice because authorities were focused on the assault allegation.
"When the police are investigating a case, suspects of crimes will say misleading things, and apparently that's exactly what happened here on the part of both Mr. Gianforte and his campaign," Lambert said.
"It is not a crime per se to lie to the cops," added Lambert, a Republican. "The main thing here is he was charged with assaulting Ben Jacobs and pled guilty to that."
Gianforte paid a $385 fine and completed 40 hours of community service and 20 hours of anger management counseling. He also donated $50,000 to the Committee to Protect Journalists.
The assault happened too late in the campaign to affect the outcome of the election to replace Ryan Zinke, who resigned to become President Donald Trump's Interior Department secretary.
Gianforte is up for re-election next year and has filed to run. Six Democrats have lined up to challenge him.
The congressman unsuccessfully fought a judge's order for him to be booked by law enforcement and photographed like other defendants. In October, Gallatin County District Judge Holly Brown ordered the release of Gianforte's mug shot, which is sure to be used as fodder by Democrats in the run-up to the election.
[image via screengrab/Fox News]
Have a tip we should know? [email protected]