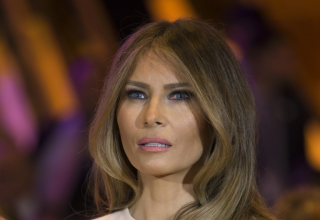 On Monday morning, LawNewz was sent the following statement from Melania Trump's counsel about her ongoing defamation lawsuit against the Daily Mail and Maryland-based political blogger Webster Tarpley:
Statement on behalf of First Lady-elect Melania Trump

Melania Trump appeared today with her counsel in the Montgomery County Circuit Court in Rockville, Maryland, for a scheduling conference in her defamation lawsuit against the Daily Mail and Webster Tarpley.

Mrs. Trump was not required to attend the court conference, but chose to do so, to meet the Judge, meet opposing counsel, and show her commitment to the case.

Mrs. Trump looks forward to seeing the case to a successful conclusion.

Mrs. Trump was represented in court today by Charles J. Harder, Esq. of Harder Mirell & Abrams LLP, Los Angeles, CA and Donna E. McBride, Esq. of Miller, Miller & Canby, Rockville, MD.
The case in question deals with posts/articles referencing a report from Suzy, a Slovenian magazine, which claimed that the soon to be First Lady had worked as an escort when she first arrived in New York as a young model. Both sites have issued retractions, but Trump and lawyer Charles Harder (best known for representing Hulk Hogan against Gawker) still pushed on. It should be noted that the Mail article, the more high profile of the two, did make a concerted effort to frame the Suzy report as something that should be taken with a grain of salt, while Tarpley's took it at closer to face value.
As for the statement, it's absolutely correct that the plaintiff attending an early scheduling conference like this is out of the ordinary. These are typically lawyer-only events, but clearly she wanted to go.
[Photo: Shutterstock]
Have a tip we should know? [email protected]