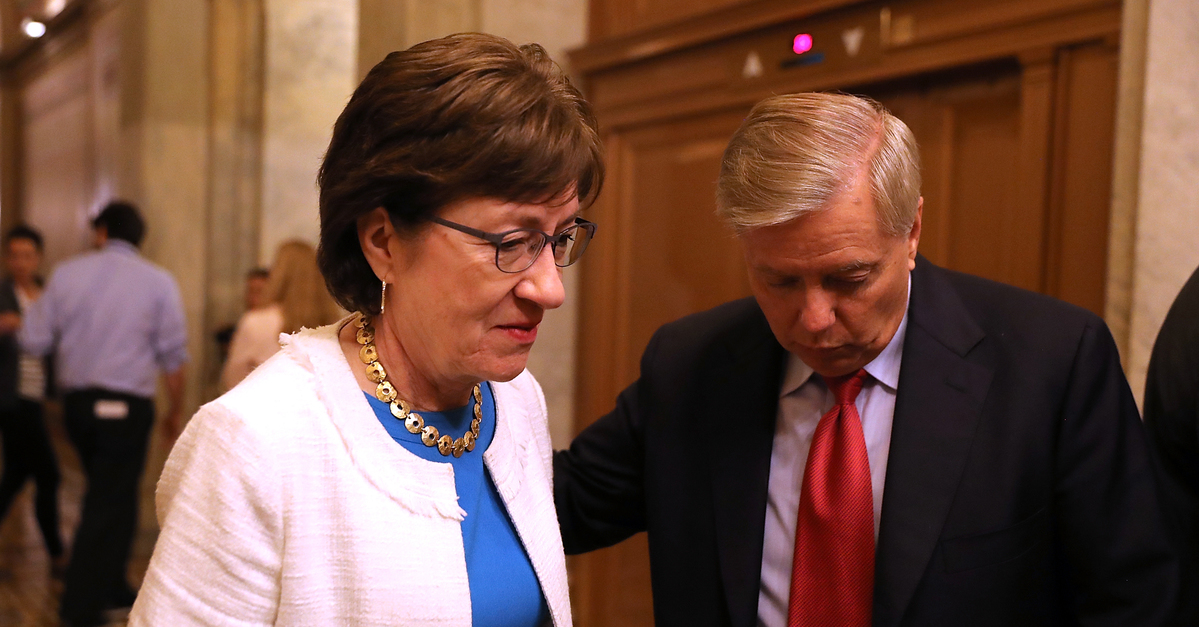 Brett Kavanaugh playing the role of a Supreme Court justice is now a fait accompli. Throughout the contentious battle for and against his controversial nomination, both Democratic and Republican Party voters notched statistically significant levels of increasing interest in the midterm elections.
Democrats and progressives, however, already have their sights set on the 2020 Senate elections. Two of the most vocal GOP players during the Kavanaugh affair, Lindsey Graham (R-SC) and Susan Collins (R-Maine), have already attracted respective challengers.
Graham distinguished himself during the Kavanaugh confirmation process by loudly intoning against his Democratic Party colleagues in the Senate, calling the re-hearing focused on sexual assault allegations leveled against Kavanaugh by Dr. Christine Blasey Ford "an unethical sham."
Stepping up to challenge Graham in the aftermath of that speech is former 2016 and 2018 Democratic Party congressional candidate Mal Hyman.
A professor of sociology at Coker College in Hartsville, South Carolina, Hyman ran unsuccessfully against Representative Tom Rice (R-SC) in 2016 and was narrowly defeated in the Democratic Primary for the chance at a re-match in 2018, losing to Democratic nominee Robert Williams by less than 100 votes.
Hyman considers healthcare a human right and supports Senator Bernie Sanders' (I-VT) call for a "Medicare for All" system based on the Canadian model. On his campaign website, Hyman outlines the efficiency of the Canadian system and takes aim at the GOP, noting:
Conservative Canadian businessmen will not give up their system because it is good for business, lowers their national debt, and is run by the provinces. The Republican alternatives are breathtakingly cruel–taking hundreds of billions from Medicaid to give more tax breaks to the very wealthy.
Hyman also supports raising taxes on the wealthy to support a massive infrastructure development plan, noting that America spends "less on infrastructure than most industrialized societies, which make us less competitive and less safe."
The already-announced candidate also casts himself as a fervent defender of women's rights–including the right to an abortion–and supports paid family leave. "As a proud father of two daughters, I truly believe the future is female," Hyman writes, evoking a popular t-shirt slogan.
A CrowdPAC website set-up for Hyman takes stock of Graham's behavior during the Kavanaugh affair, and calls out the South Carolina senator for his attacks on Democrats:
Lindsey Graham, in order to protect the interests of his corporate donors, went on an insane tirade against a rape victim and threathened to sic false charges of rape against any Democratic supreme court nominee.

On top of that, a rape victim confronted him and he callously responded, "You should have called the police (13 year ago)."
Readers are likely familiar with the CrowdPAC model of funding political campaigns. Collins expressed dismay at the heavily-funded effort against her over the Kavanaugh debacle, likening the fundraiser for her eventual Democratic Party challenger to a form of "bribery."
As of now, that campaign has already raised in excess of $3 million for Collins' as-of-now undecided 2020 opponent–and appears to be increasing by an average of roughly $1,000-per-minute. Those funds will be triggered for the 2020 campaign only if and when Collins votes in favor of Kavanaugh for the Supreme Court.
Former president Barack Obama's national security advisor Susan Rice drew a flurry of Twitter retweets on Friday after suggesting she might be interested in running against Collins. Rice, who owns a home in Maine, later dialed back the speculation by saying that she wasn't actually making an announcement.
Rice, were she to run, would likely invite some amount of distrust from the progressive activists leading the anti-Collins campaign. Rice is a fervent promoter of war and the interventionist and illegal policy of regime change. Rice supported the Iraq War and the Libya War and unsuccessfully lobbied the Obama administration to make an extreme intervention in the Syrian Civil War as well, but this was ignored.
Beyond the Rice speculation, Collins already has at least announced opponent.
Dr. Cat London is a family medicine physician who also supports Medicare for All. She began running against Collins earlier this year. In a press release on Saturday, directly invoking Collins' lengthy pro-Kavanaugh floor speech from Friday afternoon, London wrote:
Susan Collins laid out her reasons for ultimately supporting a nominee for Supreme Court Justice that has proven himself to be a partisan politician without the demeanor appropriate of the highest court in the land…
London's press release continued, "A partisan political operative who commits perjury and conducts himself as Kavanaugh did is unfit to serve on the Supreme Court. The majority of Maine let Collins know we felt this way and wanted her to vote no. It was her duty as our representative to uphold that. She has failed in her job. I am ready, willing and able to replace her."
[image via Justin Sullivan/Getty Images]
Follow Colin Kalmbacher on Twitter: @colinkalmbacher
Have a tip we should know? [email protected]