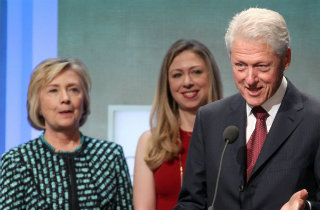 On Sunday, one of the newest emails hacked from the Gmail account of John Podesta, Hillary Clinton's campaign chairman, contains a very serious allegation: Doug Band, the former head of the Clinton Foundation, appears to be accusing Chelsea Clinton of misappropriating resources from the charity, including for her wedding. Chelsea had reportedly been forcing Band out of the organization for a few months, suggesting that he was using the charity to boost his own consulting business, and this was seemingly his way of striking back.
The January 4, 2012 email chain starts with this message from Band:
I just received a call from a close friend of wjcs who said that cvc told one of the bush 43 kids that she is conducting an internal investigation of money within the foundation from cgi to the foundation

The bush kid then told someone else who then told an operative within the republican party

I have heard more and more chatter of cvc and bari talking about lots of what is going on internally to people

Not smart
Podesta replies with a quip:
You are perfecting your skills for understatement.
Everything up to this point had previously been released on Friday, but the new email picks up when Band drops the big allegations about Chelsea Clinton, which he also sent to Clinton aide Cheryl Mills and Virginia governor Terry McAuliffe:
I learned from the best

The investigation into her getting paid for campaigning, using foundation resources for her wedding and life for a decade, taxes on money from her parents….

I hope that you will speak to her and end this

Once we go down this road….
Two weeks later, Band sent this email about Mark Mezvinsky to the same recipients plus Hillary aide Justin Cooper. In it, he alleges that Mezvinsky was doing the same thing he and his wife were accusing him (Band) of doing:
Marc mez had an idea to put together a poker night for the foundation to raise money

His raising money for his own fund hasn't been going well and he has cvc making some calls for him to get mtgs with some clinton people

Marc has invited several potential investors and a few current business ones to the poker night. I assume all are contributing to the foundation, which of course isn't the point. What is the point is that he is doing precisely what he accused me of doing as the entire plan of his has been to use this for his business which he is
LawNewz has reached out to both the Hillary Clinton campaign as well as the Clinton Foundation for comment, and will update this article should either issue a statement. It should be noted that on Sunday morning, Jennifer Palmieri, Clinton's communications director, tweeted that any late Wikileaks emails of note were likely fakes:
Blake Hounshell of Politico asked Palmieri what exactly she was basing her claim on, to which she replied that the letter from last month that blamed Russia for the hacks was her source:
Those who replied to the tweet, including one of Wikileaks' official accounts, pointed out that the letter did not actually question the legitimacy of the emails. The portion of the letter that directly mentioned the email hacks referenced only their origins, not their content.
[Photo: Shutterstock]
Have a tip we should know? [email protected]