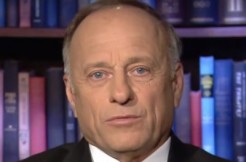 In a radio show interview on Tuesday, Congressman Steve King (R-Iowa) said people should resist the Obama administration's guidelines which say schools should allow transgender students to use the bathroom matching their gender identity.
"We should call for civil disobedience here," King said. "And there's no reason for us to follow an unconstitutional edict from the president, who is on his way out the door."
It's unclear what he precisely means by "civil disobedience." LawNewz.com reached out to Congressman King, and we are awaiting a reply.
King made the comment while talking to radio show host Simon Conway. He claimed the bathroom guideline was due to increased funding for the U.S. Commission on Civil Rights, and the hiring of "more personnel."
"More personnel needed to find more things to do, and that is the root of this school policy or where Obama got it from," King said.
You can hear an excerpt of the interview here, obtained by BuzzFeed:
King already blasted the federal guideline on Saturday, saying the legalization of same-sex marriage made it possible.
"So now we've got to submit to five members of the Supreme Court and one president and simply let them change the protocol of the civilization that goes back to Adam and Eve?" he said on Caffeinated Thoughts Radio, a Christian, conservative show. "And I'm going to say, society will capitulate because they didn't fight on marriage."
–
Follow Alberto Luperon on Twitter (@Alberto Luperon)
Have a tip we should know? [email protected]