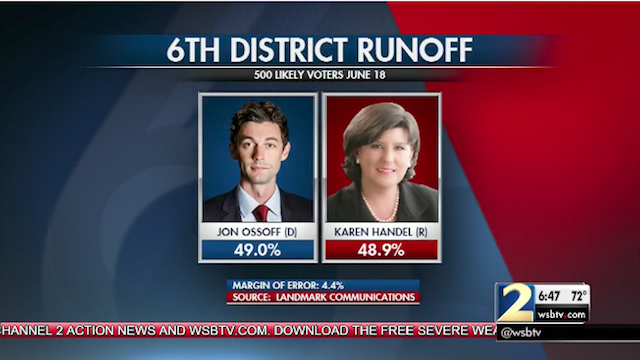 Two public interest watchdogs have filed complaints with the Federal Communications Commission (FCC) alleging TV stations in the Atlanta area failed to comply with campaign finance laws during the recent special election in Georgia's Sixth Congressional District.
Spread across six formal complaints, Issue One and the Campaign Legal Center (CLC) accuse WPCH-TV and WSB-TV of ignoring their legal responsibilities under the Communications Act and FCC regulations. The two stations are accused of failing to force three Democratic Party and GOP-linked entities to fully and accurately fill out mandatory disclosure documents known as National Association of Broadcasters (NAB) agreement forms.
The groups in question are the National Republican Congressional Committee (NRCC), Patriot Majority USA and the House Majority PAC. The NRCC is a political committee and national 527 group. Patriot Majority USA is an organization comprised of both a Super PAC and a 501(c)(4) designated social welfare organization. The House Majority PAC is a Super PAC dedicated to helping the Democratic Party attempt to win congressional elections.
According to a press release issued by the watchdogs:
"On their NAB agreements, the groups falsely claimed the advertisements were not "a political matter of national importance," which meant the groups failed to disclose required information such as the office, candidate and/or issue in question. It is time to set the record straight."
In the complaints, Issue one and CLC allege that the three partisan organizations spent in excess of $600,000 airing political advertisements in favor of and against Karen Handel and Jon Ossoff during the most expensive House race in U.S. history.
Specifically, the watchdogs claim each organization lied about whether their advertisements contained "a message relating to any political matter of national importance." That question is located on the aforementioned NAB forms and was answered in the negative by each of the outside spending groups.
In the press release issued to highlight the six complaints, CLC's Brendan Fischer said:
"Stations that air political ads have an obligation to ensure that viewers have relevant information about who is attempting to influence their vote. The FCC must take action to protect the public's right to basic information about the political ads that flooded Georgia's airwaves during this year's special elections."
LawNewz reached out to WSB-TV and WPCH-TV for reaction to the filings but no response was forthcoming at the time of publication. This post will be updated if and when a response is received.
[image via screengrab]
Follow Colin Kalmbacher on Twitter: @colinkalmbacher
Have a tip we should know? [email protected]