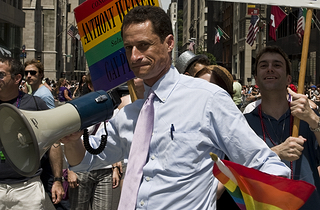 On Friday afternoon, additional details surfaced about the FBI's reopened investigation into Hillary Clinton's use of a private email server as Secretary of State. The New York Times is reporting that those emails were discovered while the FBI was investigating Anthony Weiner's sexting scandal involving an allegedly underage girl. Weiner's wife is top Clinton aide Huma Abdein.
According to the report, the emails were found on "seized electronic devices" taken from Weiner and Abedin. This presumably stems from the month-old allegations that Weiner was exchanging sexually explicit messages with an underage girl. At the time, Weiner issued this statement:
I have repeatedly demonstrated terrible judgement about the people I have communicated with online and the things I have sent. … I am filled with regret and heartbroken for those I have hurt. … While I have provided the Daily Mail with information showing that I have likely been the subject of a hoax, I have no one to blame but me for putting myself in this position. … I am sorry.
More on this as it develops.
Update: 4:10 p.m. ET: CNN is running a graphic that says "Sources: Emails not Clinton's, discovered in Anthony Weiner investigation."
Update 3:49 p.m ET: Here's the Clinton campaign's statement on the investigation being reopened:
Full Clinton campaign statement on the Comey letter, via @johnpodesta pic.twitter.com/cpmXDYimDx

— Phil Mattingly (@Phil_Mattingly) October 28, 2016
[Photo: Shutterstock]
Have a tip we should know? [email protected]