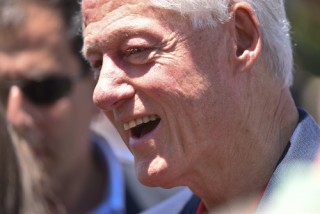 With an incredibly tight race in Massachusetts for the Democratic primary, every vote really does count. On Tuesday, former President Bill Clinton was ginning up all of the support he could for his wife, Hillary Clinton, but he may have gone a little too far this time.  There are new concerns that Mr. Clinton violated a rule that forbids the solicitation of a vote within 150 feet of a polling location. After this happened, the Hillary Clinton's campaign was "reminded" not to solicit a vote near a polling location by the state's secretary of state, according to Boston.com. However, election officials in Massachusetts say no official complaints have been filed, according to CNN.
President Bill Clinton spent 45 minutes at a polling place in West Roxbury, Massachusetts, according to local reports. And get this, he actually walked INSIDE the polling place, escorted by Mayor Marty Walsh.  That's a no-no. A woman inside the polling place asked for his picture. Clinton appeared to realize this might not be the smartest move.
"As long as we're not violating any election laws," he told her. Clinton waved and reportedly saluted voters and volunteers.
"We had to remind some of our poll workers that even a president can't go inside a work a polling place," Willliam F. Galvin, the Massachusetts secretary of state, told The New York Times in an interview.  Apparently, Galvin had to call ahead to Mr. Clinton's next stop to remind poll workers of the rules.
Massachusetts election rules prohibit the following:
Within 150 feet of a polling place as defined as 960 CMR 53.03 (18) (c), no person shall solicit votes for or against, or otherwise promote or oppose, any person or political party or position on a ballot question, to be voted o at the current election
Here is video from WCVB Reporter Sera Congi where you can clearly see President Clinton inside the polling location:
Fmr President Bill Clinton and @marty_walsh Meeting election workers in West Roxbury #wcvb#SuperTuesdaypic.twitter.com/BiHK3eGSoc

— Sera Congi (@seracongi) March 1, 2016
"He can go in, but he can't approach voters," Mr. Galvin told the Times. "We just took the extra precaution of telling them because this is not a usual occurrence. You don't usually get a president doing this."  This could be splitting hairs — because it could easily be argued that Mr. Clinton's mere presence inside a voting location is a solicitation of a vote itself.
"Just meeting people doesn't constitute campaigning," Briak McNiff, spokesman for the secretary of the commonwealth of Massachusetts told CNN. "We received no information that anything like that happened."
Have a tip we should know? [email protected]
Rachel Stockman - Editor in Chief / On Air Host