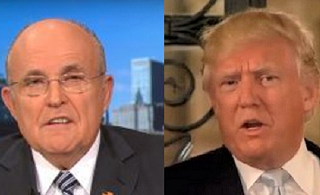 It was a bold move.  When the states of Washington and Minnesota sued President Donald Trump on Jan. 30, they alleged that Trump's travel ban was based on his intentional anti-Muslim bias, citing public statements by Trump and his advisor Rudy Giuliani.
Trump "intended to disfavor Islam and favor Christianity," the Washington v. Trump lawsuit alleged.
The unusual legal strategy paid off in federal court in Seattle, where U.S. District Judge James Robart cited evidence of Trump's alleged religious bias during a hearing and issued an order Feb. 3 temporarily halting enforcement of Trump's travel ban.
And now the allegations of Trump's intentional anti-Muslim intent seemed to gain traction during the Ninth Circuit Court of Appeals hearing Tuesday.
The Ninth Circuit is deciding whether to overturn Judge Robart's order and reinstate Trump's Jan. 27 executive order banning immigrants and refugees from seven predominately Muslim countries from traveling to the United States.
Department of Justice Attorney August Flentje stumbled into legal quicksand when he complained that Judge Robart relied on the media reports of Trump's public statements about banning Muslims and favoring Christians as evidence of his alleged religious bias.
"It is extraordinary for a court to enjoin the president's national security determination based on some newspaper articles and that is what has happened here," Flentje argued.  "That is a very troubling second-guessing of a national security decision made by the president."
"Stop, Stop," interjected Ninth Circuit Court of Appeals Judge Richard Clifton. "Do you deny that statements attributed to the then-candidate Trump and his presidential advisors, most recently Mr. [Rudy] Giuliani, do you deny those statements were made?"
"No," Flentje answered. The DOJ attorney later admitted, "Those are in the record."
Judge Clinton said that if  Trump and Giuliani made the statements cited in the lawsuit, "it is potential evidence" of bias.
Flentje was hit with another question about religious bias when Ninth Circuit Judge Michelle T. Friedland asked him, "What if the order said 'No Muslims?'"
"If there were an order that prevented the entry of Muslims . . . I think that raises establishment clause First Amendment issues," Flentje conceded. "But that's not the order we have here."
Trump Administration officials argue that Trump's executive order does not discriminate against Muslims because the order does not mention Muslims or Islam and President Barack Obama listed the seven banned countries as countries "of concern" for terrorism.
Washington and Minnesota counter that Trump's executive order is different from President Obama's list because it specifically says that the United States "will prioritize" future refugees from the seven countries who are members of "a minority religion."  It is well known that Christians are in the minority in the seven countries.
In addition to the the language of Trump's order, the Washington and Minnesota lawsuit alleges the following evidence of Trump's intentional "animus" towards Muslims:
Several public statements made by then-candidate Trump about banning Muslims from the United States, in one case promising "a complete and total shutdown of Muslims entering the United States."
President Trump's Jan. 27 interview with the Christian Broadcast Network  stating that his travel order would favor Christians.
Giuliani's Jan. 28 statement on Fox News that Trump instructed him to set up a "commission" to enact a "Muslim Ban" "legally."
Although the Ninth Circuit is not currently deciding the merits of the lawsuit, it must decide whether Washington and Minnesota are "likely to succeed on the merits" of their lawsuit, which means the appellate court must consider Washington's and Minnesota's allegations of unconstitutional religious bias by Trump, among other legal issues.
The Ninth Circuit hearing was conducted in front of the panel of Judges Friedland, Clifton, and William Canby Jr.  All three judges peppered DOJ attorney Flentje and Washington Solicitor General Noah Purcell (who also represented Minnesota at the hearing) with questions on several issues, including the states' legal standing to bring the lawsuit on behalf of immigrants residing in those states
Purcell conceded that the President has broad powers to control immigration and protect national security, but argued that the First Amendment forbids intentional government discrimination based on religion.
At least 40 lawsuits have been filed challenging Trump's executive order. While most alleged that Trump's order violated the First Amendment ban on government favoritism towards one religion over another, Washington v. Trump is one of the few to cite the Trump and Giuliani public statements about Muslims and as evidence of Trump Administration's intentional religious bias.
It is possible that the Ninth Circuit will rule that the states of Washington and Minnesota cannot show a likelihood of success based on their lack of standing — their right to sue — for alleged bias, and that only individuals can sue for bias.
But that does not mean that allegations of the Trump Administration's alleged anti-Muslim intent will disappear from the courts.
A
lawsuit
filed by the Council on American-Islamic Relations (CAIR) also alleges intentional bias by Trump and cites the Trump and Giuliani statements about banning Muslims. The lawsuit was filed on Jan. 30 in the U.S. District Court in the Eastern District of Virginia (Alexandria).
CAIR's Sarsour v. Trump lawsuit was filed on behalf of individual Muslims living in the United States who likely have standing to allege bias and challenge the portions of the Trump immigration impacting their ability to travel outside the United States.
Editor's Note: This story has been updated to include the Sarsour v. Trump lawsuit.
Have a tip we should know? [email protected]