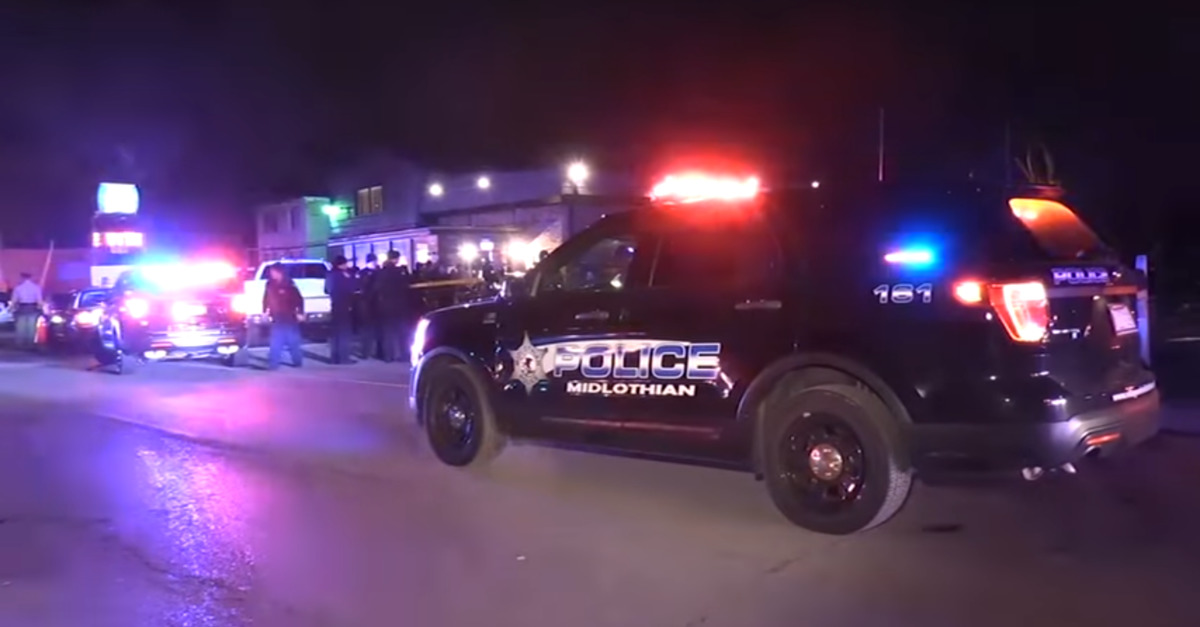 A police officer in Illinois shot and killed the wrong man over the weekend, according to witnesses at the scene. The man who was killed–a black man–was actually a hero. The cop apparently thought he was a criminal.
Chicago's WGN reports that armed security guard Jemel Roberson, 26, quickly put an end to a drunken shootout at Manny's Blue Bar in the Village of Midlothian, Illinois at around 4:00 a.m. on Sunday.
Security guards initially requested that a rowdy group of men leave the bar because they'd been drinking too much and an argument ensued. One of those men then apparently returned with a gun and opened fire on the establishment–prompting a 911 call. Roberson returned fire and likely saved countless lives in the process.
After that, Roberson apprehended one of the members of the drunken group and kept the man in custody.
Witness Adam Harris explained the unfortunate turn of events after that:
He had somebody on the ground with his knee in his back, with his gun in his back like, 'Don't move,' Everybody was screaming out [as police arrived], 'Security!' He was a security guard. And they still did their job, and saw a black man with a gun, and basically killed him.
Midlothian authorities are keeping mostly mum about the shooting and Roberson's death. So far, they've released few details about the incident except to confirm that it happened and the total number of people affected: four others received non-life-threatening injuries–including the alleged shooter.
"A Midlothian officer encountered a subject with a gun and was [shot by the officer]," Midlothian Chief of Police Daniel Delaney told the outlet. "The subject the officer shot was later pronounced deceased at an area hospital."
Roberson was known to his community as a church-going musician with plans to become a police officer himself one day. Before he was killed, Roberson regularly played keyboard and drums.
Faith leaders railed against local police for killing their friend and flock member.
"Every artist he's ever played for, every musician he's ever say besides, we're all just broken because we have no answers," said Reverend Patricia Hill of Purposed Church in Chicago. "He was getting ready to train and do all that stuff, so the very people he wanted to be family with, took his life."
Reverend LeAundre Hill, also of Purposed Church, offered a more systemic critique.
"Once again, it's the continued narrative that we see of shoot first, ask questions later," Hill said.
The Cook County Sheriff's Office is looking into the original bar shooting. Midlothian police have outsourced Roberson's death to state authorities.
"It is the policy of the Midlothian Police Department to utilize the Illinois State Police Public Integrity Task Force for any officer-involved shootings so we can ensure transparency and maintain public trust," Chief Delaney told the Chicago Sun-Times.
Law&Crime reached out to Chief Delaney and the Midlothian Police Department for additional comment and clarification on this story–specifically regarding the racial allegations leveled by witnesses–but no response was forthcoming at the time of publication.
[Image via YouTube screengrab]
Follow Colin Kalmbacher on Twitter: @colinkalmbacher
Have a tip we should know? [email protected]