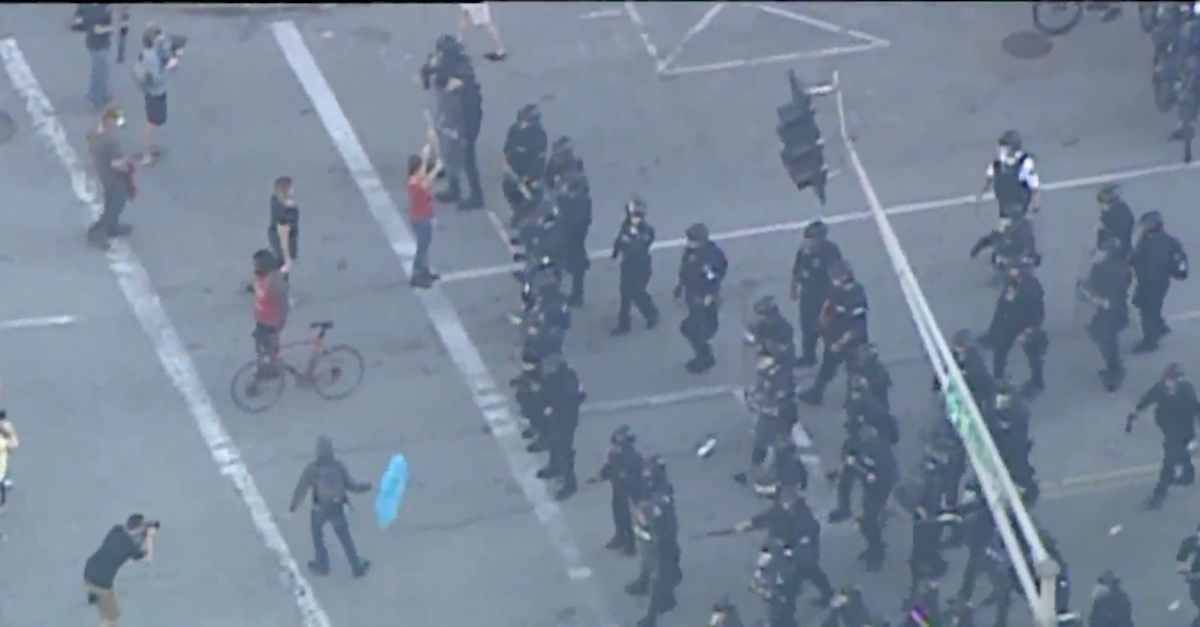 Newly-unsealed search warrant documents in the case of four St. Louis police officers detail the account of an undercover officer who claims they assaulted him in 2017. Officers Dustin Boone, Randy Hays, Christopher Myers, and Bailey Colletta are facing charges related to the alleged assault of Officer Luther Hall during a protest.
An affidavit from FBI Special Agent Darren Boehlje says that Hall was undercover with his partner, "documenting protest activity and property destruction" during demonstrations that took place after former officer Jason Stockley was acquitted for the shooting death of Anthony Lamar Smith, according to the St. Louis Post-Dispatch.
The affidavit says that Hall fled from uniformed officers who were firing bean bag rounds, mace, and pepper balls into the crowd, when he was separated from his partner. The affidavit says that police gave an order to disperse beforehand, but Hall didn't hear it.
While Hall was trying to get away, the affidavit says, one officer ordered him to the ground. When he was on his knees, the document says, Hall was picked up, slammed to the ground, then punched, kicked, and hit with sticks.
"Hall described it as a 'free for all,'" the special agent said in the document.
Hall allegedly suffered multiple herniated disks and a hole in his lip that needed three layers of stitches. He told someone at police headquarters that the cops "beat the (expletive) out of him like Rodney King," the affidavit says.
The document says that Hall didn't want to blow his cover by telling police who he was, but he was able to make eye contact with someone who recognized him. That person was able to have SWAT officers take Hall away.
Hall was holding a phone and a camera at the time, court documents say. One officer allegedly threw the camera to the ground, but the affidavit says that Hall was "actively recording" what was happening on his cell phone. It remains to be seen how much of the incident, if anything, could be seen from the phone recording.
Court documents also describe texts between Hays and Boone, including Hays saying after the alleged attack, "the ass whooping can be explained. The camera thing can't and we weren't a part of that."
The search warrants were used to examine the text messages and accounts of the officers involved.
Boone, Hays, and Myers are charged with deprivation of Hall's constitutional rights, as well as conspiracy to obstruct justice, with Myers also facing a charge of destruction of evidence. Colletta's charge is related to allegations of lying to a grand jury.
A status conference in the case is currently scheduled for February 25.
[Image via Fox2 St. Louis screengrab]
Have a tip we should know? [email protected]