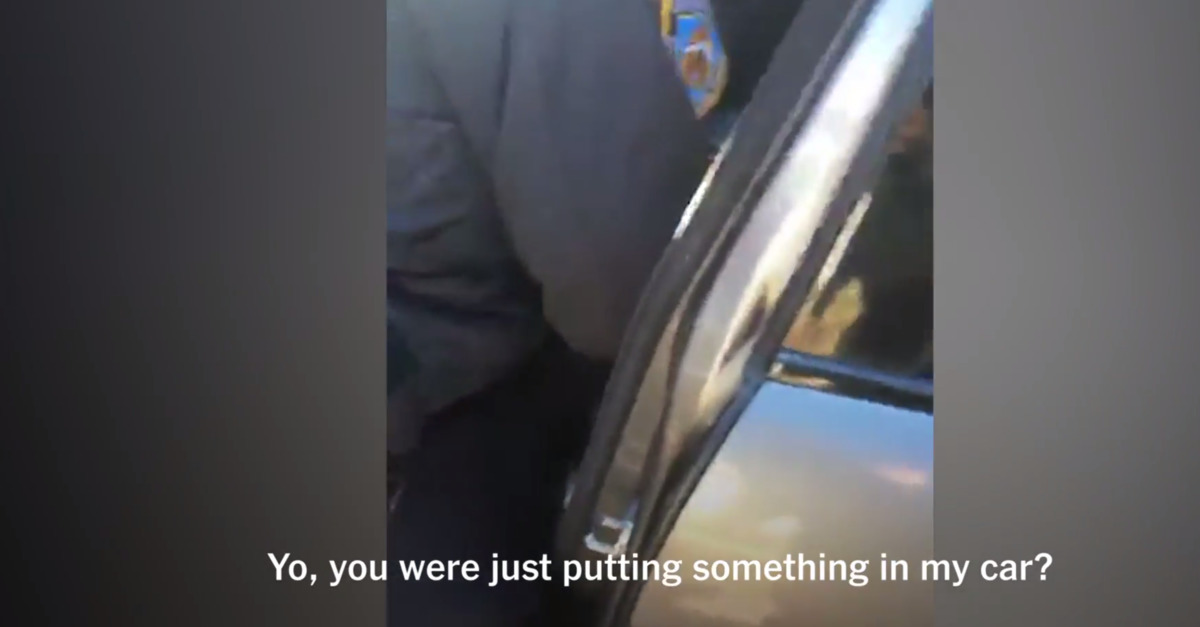 Two members of the New York City Police Department (NYPD) recently accused of planting false evidence have the support of their superiors while criminal justice advocates are outraged.
According to the Staten Island Advance, lawyers with the Legal Aid Society are asking the district attorney's office to prosecute Police Officers Kyle Erickson and Elmer Pastran after body camera footage obtained by the New York Times shows Erickson allegedly planting marijuana in a young black man's car, according to the man who was ultimately arrested. The group also wants each officer's prior arrests and convictions scrutinized in light of the video.
The letter alleges that the footage "revealed criminal acts and misconduct by NYPD officers planting false evidence, arresting an innocent person, making false sworn allegations and assisting in the prosecution of manufactured charges."
In the video, Officer Erickson searches the rear of a BMW and finds nothing. His partner, Office Pastran had previously searched that area before saying "back seat looks pretty clear." Erickson then shifts to searching the front seat area.
"We've got to find it," he says. "We have to find something. You know what I mean?"
At this point, Erickson's body camera shuts off for an unexplained reason. Erickson says there was a technical difficulty of some sort. After over four minutes without video, the body camera comes back and Erickson appears to discover a small, half-smoked joint in his possession. He says the joint was still burning in the backseat when he found it.
Lasou Kuyateh screams that Erickson planted the marijuana. Kuyateh was eventually arrested for obstructing the investigation criminal possession of marijuana. He insists that he was framed by the two officers. The Legal Aid Society agrees with Kuyateh, alleging that the video shows Erickson placing "a small object into an area in the back of the car." The scene from the video, however, is not clear on this.
But the video was problematic enough that in October, all the charges were dropped after the footage was shown to a judge.
Now, advocates want the cops in question to face consequences for their actions.
"I expect officers be held responsible for this criminal action. I think Staten Island is entitled to that," said Chris Pisciotta, the attorney in charge of the Staten Island Legal Aid Society. "We cannot condone illegal acts by police to bring false charges against members of our community."
The NYPD and local prosecutors disagree and are standing by their men.
"There was no evidence that the officers conducted anything but a lawful stop, performed a consensual search, and had probable cause to arrest the defendant," Detective Sophia Mason of the NYPD's Deputy Commissioner for Public Information office told the outlet.
"Allegations against responding officers were determined to be unfounded," said a spokesperson for Staten Island District Attorney Michael E. McMahon.
"I am disheartened by the initial action by the NYPD," Pisciotta told the Advance. "These are their videos. I don't understand how they can't go forward with an investigation."
[image via screengrab/New York Times]
Follow Colin Kalmbacher on Twitter: @colinkalmbacher
Have a tip we should know? [email protected]