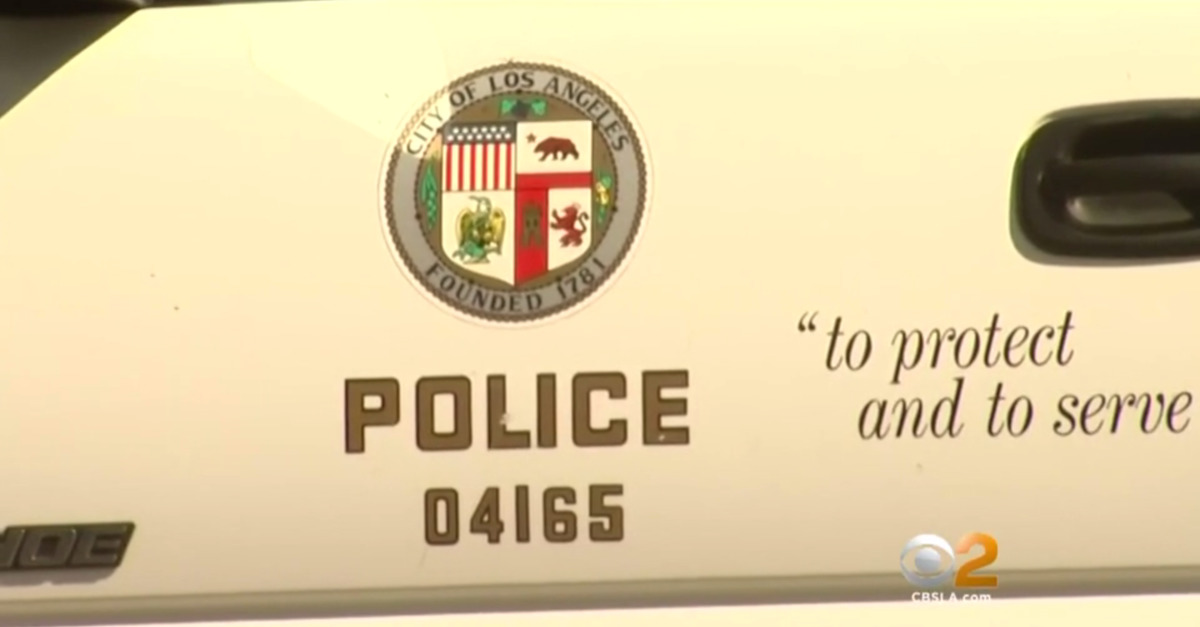 A female detective with the Los Angeles Police Department (LAPD) has filed a temporary restraining order against a senior LAPD officer over allegations that he distributed revenge porn of her after an alleged romantic entanglement went awry. And the detective in question is linked to another LAPD sex scandal from earlier this year.
According to local ABC affiliate KABC 7, Robbery-Homicide Division Detective Ysabel Villegas claims she was involved with Officer Danny Reedy for five years. Then, she says, things started going south. Villegas claims that Reedy began to physically abuse her in 2016–allegedly hitting her in the head twice. Villegas also claims that Reedy raped her twice in 2017.
Villegas apparently broke things off soon thereafter. But after that, the detective alleges, Reedy distributed explicit photographs of her without her consent.
According to Villegas, Reedy distributed those images to multiple members of the LAPD in an attempt to shame and humiliate her because he was upset about their alleged breakup.
One text message, allegedly sent by Reedy to Villegas, reads: "Retire now…I'll make sure you do..you won't be able to look anyone in the eyes soon."
Reedy, for his part, denies the allegations.
Attorney Michael Williams represents the accused officer and says that his client never took any photographs of Villegas, doesn't know who took them or distributed them–and that Reedy and Villegas never had a long-term relationship to begin with.
In comments to KABC 7, Williams also dismissed the validity of California's controversial revenge porn law.
"Even if he did it–and I'm not saying he did–it's academic anyway if one voluntarily participated in such photographs," Williams told the outlet.
Villegas is being represented in her action against Reedy by attorney Lisa Bloom. Bloom correctly noted that under the current law, distribution of revenge porn is illegal in California.
Under California law, anyone "who intentionally distributes the image of the intimate body part or parts of another identifiable person, or an image of the person depicted engaged in an act of sexual intercourse," is guilty of the misdemeanor offense of disorderly conduct–or revenge porn.
"She alleges that it was a very abusive relationship. That he physically assaulted her on a number of occasions–hitting her on the head for example. That he took explicit photos of her without her consent and that he threatened to expose her. Post those photos on social media and send them out to other people if she left the relationship," Bloom told the local CBS affiliate.
LAPD Public Information Director Josh Rubenstein noted that while the department is typically prohibited from commenting on personnel matters, Reedy is currently assigned home duty.
One additional wrinkle: Ysabel Villegas is currently married to Jorge Villegas—the former LAPD assistant chief who abruptly resigned in November over allegations that he was engaged in an improper sexual relationship with a subordinate officer.
There are currently no indications that any of the various allegations from the two separate sex scandals are related.
A hearing on the Villegas-Reedy restraining order is currently scheduled for January 15.
[image via screengrab/CBS LA 2]
Have a tip we should know? [email protected]