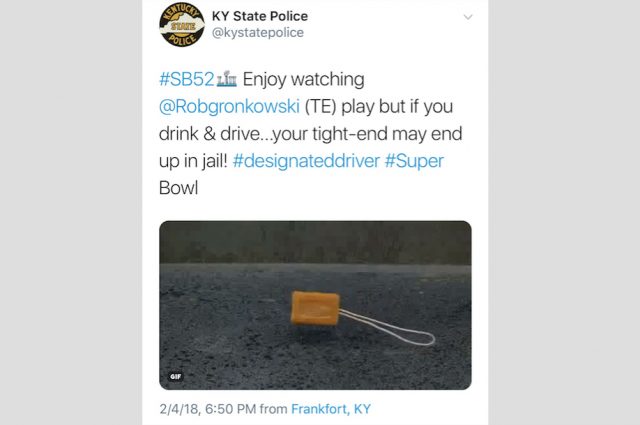 Kentucky State Police are being heavily criticized after sending out a Super Bowl-oriented tweet that attempted to discourage drunk driving by making light of America's prison rape epidemic.
Sent out on Sunday, the tweet reads:
Enjoy watching Rob Gronkowski (TE) play but if you drink & drive … your tight-end may end up in jail!
The text was accompanied by an image of a dropped Soap on a Rope. As Kirsten West Savali noted in an article for The Root, jokes about "Don't drop the soap" while in prison are ubiquitous aspects of the American conversation regarding prison rape. Savali also notes that much of what passes for said conversation is actually highly racialized.
Meanwhile, as noted by Natasha Lennard in an article for The Intercept, prison rape has yet to be subject to the much of any exacting scrutiny in the aftermath of the Harvey Weinstein allegations and the ongoing #MeToo movement's focus on sexual misconduct due to prisoners being unable to seriously voice their concerns.
And those concerns are real. According to a 2012 report by the U.S. Department of Justice, in excess of 200,000 inmates are sexually assaulted, abused or raped in U.S. prisons each year–half of that abuse allegedly comes at the hands of prison guards or staff. Only 10 percent of those instances are ever investigated. And only one percent of prison guards or staff are ever punished for their crimes.
The Kentucky State Police waded into those statistics with not-quite-vague references to both soap-dropping and being forced into anal sex. Slowly realizing the optics of cops rooting for rape–the tweet stayed up for almost two hours–the tweet was then deleted and apology was issued–after Kentucky's Secretary of State Alison Lundergan Grimes demanded such an apology.
The Kentucky State Police then penned the following tweet just a few hours later. They wrote:
The Kentucky State Police apologizes for the inappropriate tweet that appeared on our Twitter feed earlier tonight. Making light of sexual assault is never acceptable, and we apologize for the distress this tweet caused, particularly to the victims of these heinous crimes. KSP is committed to protecting against sexual assault and fighting for justice for victims. This tweet–made by an individual employee–does not represent KSP or our mission.
And, in absolutely unrelated news, the Kentucky State Police issued the following tweet earlier Monday afternoon:
RT: NOW HIRING: KSP Telecommunicator positions in the Post 4- Elizabethtown area. For more information contact Joey Mattingly, Telecommunications Shift Supervisor at (270) 766-5078.
Link to job: https://t.co/LvbPHV3jNz pic.twitter.com/dZSEAm2AdX

— KY State Police (@kystatepolice) February 5, 2018
[image via screengrab/Twitter/Kentucky State Police]
Follow Colin Kalmbacher on Twitter: @colinkalmbacher
Have a tip we should know? [email protected]