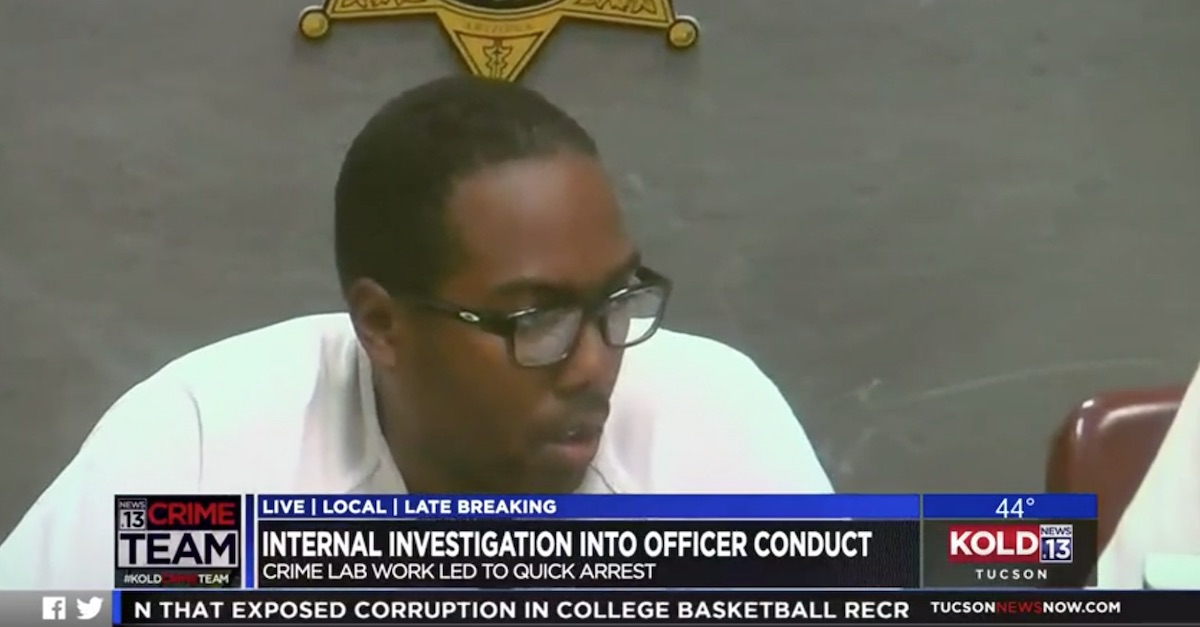 Warning: graphic details below.
Richard Daniel, a 33-year-old police officer in Tuscon, Arizona, is accused of demanding oral sex from a woman he was investigating in exchange for not taking her to jail. The graphic court documents reveal that the judge has found "reasonable cause to believe that such offense was committed" and that Daniel "committed it." That's not all the documents say: They say that there was what we'll call "DNA proof" on the floor of the residence that Daniel had sexual contact with the woman.
The story goes that Daniel was investigating an incident at a 7-Eleven on Jan. 13, after the suspect was reported to have had a confrontation with a cashier. The woman apparently asked Daniel not to take her to jail and he allegedly asked what she "would do for him."
"He asked [redacted] to give him oral sex," the documents say. "[Redacted] said [redacted] did not want to do that."
"He asked [redacted] to have sexual intercourse with him. [Redacted] lied to him and said [she] was pregnant so that [she] would not have to have sex with him," the documents continue.
After additional dialogue, the woman "agreed to take him up to [her] apartment to give him oral sex," claiming that "[she] and [her] husband used to be 'swingers.' and [she] only needed to ask if it was OK." It is alleged that her husband was informed of Daniel's request, "said he didn't care" and left the apartment to figure out what happened at the 7-Eleven.
After that, Daniel allegedly got into a bed, "took his penis out of his pants" and demanded oral sex rather than a "hand job."
"[She] put his penis in [her] mouth and he ejaculated into [her] mouth," the documents say. "[She] spit the ejaculate onto the floor next to [her] bed. Officer Daniel took tissue and wiped up the ejaculate from the floor." This would turn out to be a key detail, according to police.
Daniel allegedly left the apartment and the woman apparently didn't tell her husband about what happened. The husband called 911.
Investigators who arrived on scene observed that there was "no visible ejaculate on the floor." However, swabs of the floor yielded a DNA sample that was a confirmed match to evidence obtained from Daniel's locker, the documents say:
A search warrant was issued on his locker at a police facility, and inside investigators located condoms and crumpled up tissue containing an unknown substance.

Forencsic testing was conducted on 1/19/19. Sperm was located in the swabs form the floor next to [the woman's] bed inside her apartment. DNA testing confirmed that the sperm was a match to Officer Richard Daniel's DNA.
According to KOLD News 13, Daniel, who worked at the police department for three years, was arrested on Jan. 20 and faces felony charges of unlawful sexual conduct by a police officer and tampering with evidence. Daniel has been placed on leave without pay and has been served a termination notice.
Daniel was booked at Pima County Jail and released pending a hearing.
[Image via KOLD News 13 screengrab]
Have a tip we should know? [email protected]