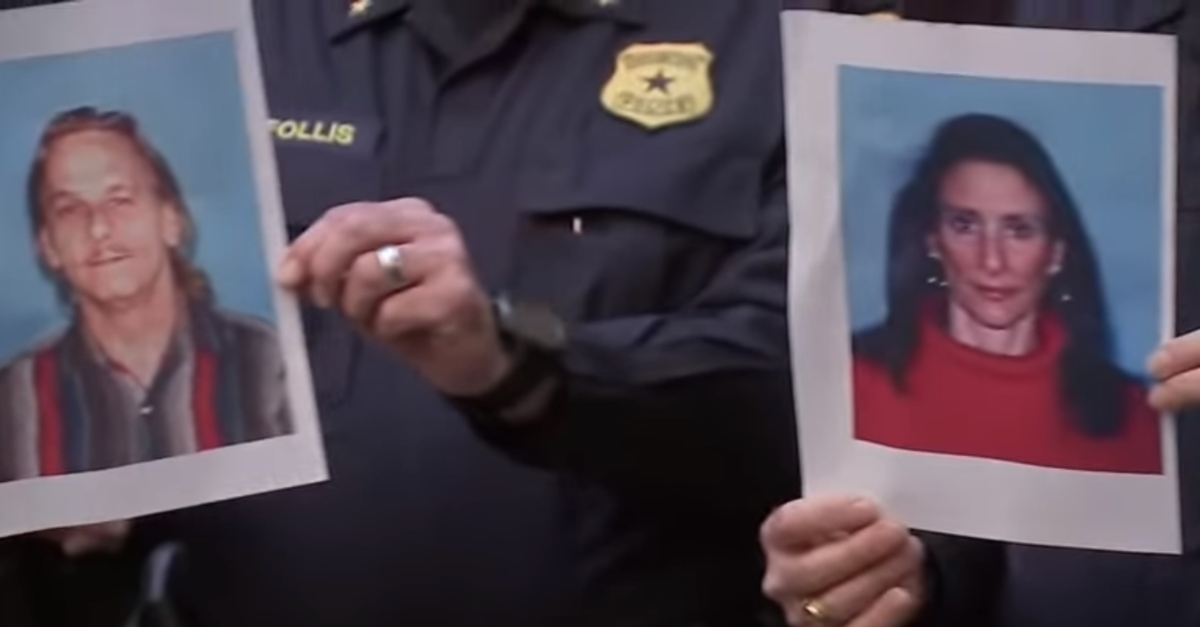 A veteran narcotics agent allegedly lied about using confidential informants before sending several police on a no-knock raid that left two people dead.
According to the Houston Chronicle, Houston Police Chief Art Acevedo said the initial lie–about using two separate confidential informants to purchase heroin from two falsely-accused drug dealers–led the department to obtain and execute a falsified search warrant.
Detective Gerald Goines is the officer in question. And now he's likely to be charged with a crime.
"We know that there's already a crime that's been committed," Acevedo said at a press conference on Friday. "It's a serious crime when we prepare a document to go into somebody's home, into the sanctity that is somebody's home. It has to be truthful, it has to be honest, it has to be factual. We know already there's a crime that's been committed. There's high probability there will be a criminal charge."
While serving that warrant, 59-year-old Dennis Tuttle, 58-year-old Rhogena Nicholas and the couple's pitbull were shot and killed by police. Neighbors immediately voiced shock and disgust at the Houston Police Department's (HPD) initial claim that Tuttle and Nicholas were involved with the sell of black tar heroin.
"It's always just them two and their three dogs," one neighbor told local CBS affiliate KHOU . "There was never traffic at that house. Never."
"They never had company," neighbor Robert Antu told the outlet. "I had just seen him walking the dog (before the shooting). He looked fine to me. I said hello and everything. Man, all of a sudden just like that. Ten minutes later, all the shooting went down."
As Law&Crime previously reported, Goines was immediately relieved of duty after the incident. The Chronicle on Friday reported that undercover Officer Steven Bryant was also asked to surrender his badge after the ill-fated raid.
Both officers were identified in an affidavit related to a search warrant that was recently made public.
According to the initial alleged falsified warrant, Goines wrote that he witnessed a controlled buy at the couple's home by one of his confidential informants. Per Goines, the informant claimed to have purchased heroin and also saw a 9mm handgun inside the house. Goines also claimed that Bryant identified the "heroin" purchased from the Tuttle-Nicholas house.
But that's not what Bryant told internal police investigators.
Instead, Bryant said, he retrieved two bags of heroin from Goines' own police car after another officer told him to do so. Bryant eventually admitted that he had no idea where the two bags of heroin came from and that he had never seen the bags before retrieving them from Goines' car.
In two separate interviews with investigators, Goines later claimed he used multiple confidential informants to conduct the controlled buys. HPD investigators have yet to locate any of Goines' alleged informants, according to an affidavit by Officer R. Bass.
"When I joined this police department I told my people that if you lie you die," Acevedo said. "I've been here over two years and you will not find anyone here that has a sustained dishonesty violation who is a member of this department."
All of Goines' prior cases will now be reviewed in light of his alleged lies about the incident that ended with two people dead for no reason.
In addition, the entire 175-person narcotics division of HPD will be subject to an "extensive audit" in order to assess whether there are any other Goines-like officers among its ranks.
Acevedo noted that Assistant Chief Pedro Lopez was tasked with this inquiry "to make sure that we're not being myopic, that we look at our entire narcotics operation out there, in terms of the street level units, and they'll be conducting a very extensive audit."
Harris County District Attorney Kim Ogg said her office was investigating the matter.
"After a thorough review, our Civil Rights Division prosecutors will present this case to a grand jury to determine if any criminal charges are warranted," she told the Chronincle.
Former Houston Police Chief Charles A. McClelland said the consequences shouldn't stop with Goines alone.
"If I was chief, I would also ask the FBI to conduct its own independent investigation," he told the outlet. "Everybody at HPD needs to be held accountable–from Goines' supervisors all the way to the chief of police."
[image via screengrab/ABC 13]
Have a tip we should know? [email protected]