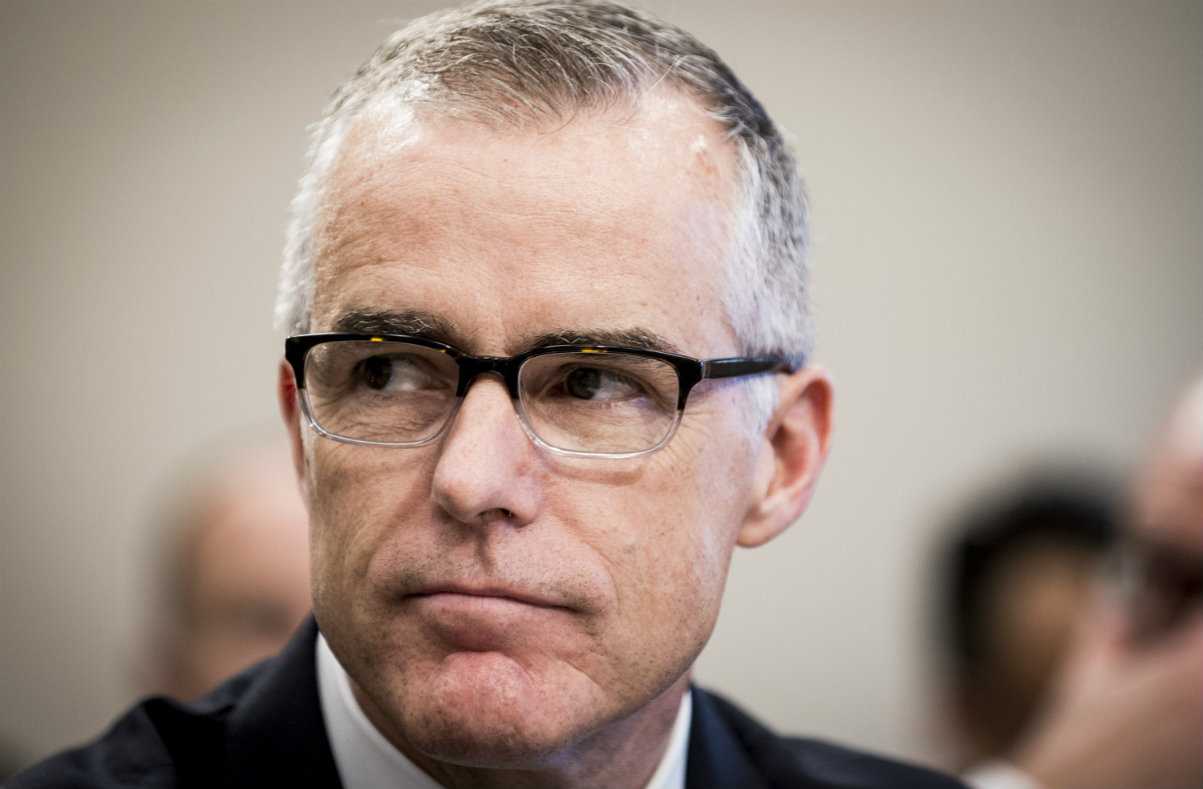 Well, we had to expect that there'd be at least some litigation-flavored fallout over that nasty Andrew McCabe firing; ousting the guy a day before his planned retirement and thereby yanking away his health and retirement benefits was a signature Trump display of one-upsmanship.
It looks like David L. Snyder, counsel for McCabe (much like we at Law & Crime), knew that the defamation lawsuit McCabe initially threatened wasn't really the way to go. As an alternative, he's trying his hand at a different kind of claim. Instead of suing for some version of "Trump Shouldn't Have Fired My Client," Snyder has brought a Freedom of Information Act ("FOIA") lawsuit on behalf of McCabe against the Department of Justice and the FBI; in it, Snyder alleges that the agencies have violated FOIA by failing to turn over the documents that purportedly formed the basis for McCabe's termination. He now seeks court intervention to force the government to turn over various documents from the FBI and the Office of the Inspector General.
The lawsuit demands internal documents, including FBI and OIG manuals and policy implementation guides, alleging that those things are non-exempt "records" within the meaning of FOIA. According to the allegations, the government's failure to turn over these materials so far, "constitutes a continuing pattern and practice of violating the proactive disclosure requirements of FOIA."
McCabe's move to demand, "Really? You fired me the day before my retirement because I broke some rules? Then show me those rules!" would be pretty clever if it had any chance of actually working. The problem is, though, that by the time this lawsuit sees the light of the courtroom, the memory of McCabe's having been untimely ripped from the FBI will be quite distant indeed.
FOIA claims are notoriously slow, most taking years to process. Law & Crime spoke with attorney and FOIA expert Mark Zaid, who explained:
"McCabe absolutely has a legal right to any non-exempt documents and this lawsuit is a proper way to challenge the withholdings, but delays are common and expected as FOIA requests are processed first-in, first out and there are many, many requests ahead of his. It is unfortunate that McCabe, or any requester, has to resort to litigation to enforce their legal rights but that is the requirement in the current climate."
Snyder might well have a valid basis for requesting that a court order the FBI and the DOJ to turn over the requested materials to his client, but it's not likely to be an easy win even when the case does finally get before a judge. Federal agencies are required to disclose information requested under FOIA, but not if that information falls under statutory exemptions; interests such as national security and law enforcement are just such exemptions that could encompass the manuals McCabe now seeks.
Attorney and national security law expert Bradley Moss commented to Law & Crime:
"Mr. McCabe is about to face the cruel reality of being on the outside of the FBI trying to pry out information through FOIA. The manuals and procedures for which he is asking are likely to be withheld, at least in part, to protect law enforcement investigative methods and techniques."
The irony here doesn't seem to be lost on FOIA afficionados. A former FBI official suing the FBI for failing to turn over documents that, had he still been leading the FBI, he'd likely have failed to turn over feels like some kind of litigation version of an M.C. Escher sketch.
I wonder how many FOIA requests Andrew McCabe slow-rolled or killed when he was at FBI. https://t.co/EkOLbRpDpk @dailycaller

— Chuck Ross (@ChuckRossDC) June 13, 2018
Its just got to stink when the FBI and DOJ doesnt supply documents, then you have to take them to court…maybe even do a FOIA. I have this feeling of deja vu..oh…wait.. "Andrew McCabe"

— djzap (@debjjdh) June 13, 2018
I think the firing of McCabe was likely legally justified but was done in a petty and vindictive way. I also am playing the world's tiniest violin for his complaints about FOIA delays.

I would LOVE to see the internal memoranda where he championed FOIA reform at the FBI. https://t.co/qmSAcWnk6s

— Bradley P. Moss (@BradMossEsq) June 13, 2018
We'll certainly keep you posted on this lawsuit. Check back some time in the early 2020s.
This is an opinion piece. The views expressed in this article are those of just the author.
Elura Nanos - Columnist & Trial Analyst, Law & Crime; CEO Lawyer Up