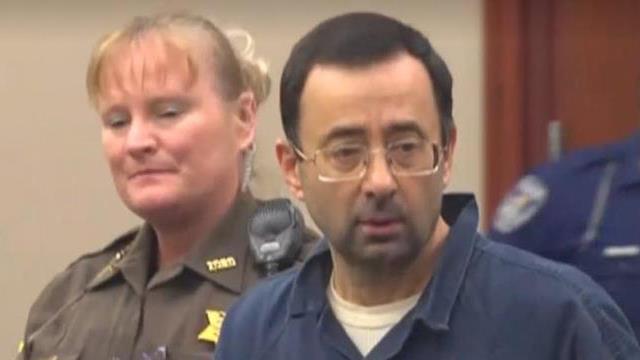 As former USA Gymnastics and Michigan State doctor, and convicted child sex abuser, Larry Nassar faced his seemingly never-ending stream of accusers during his sentencing hearing (resulting, today, in him getting 175 years in prison), a very consistent, predictable, and extraordinarily lazy media narrative has emerged…
This whole nightmare is just like what happened at Penn State with Jerry Sandusky, or maybe, given the much larger number of accusers, it is even worse.
I totally understand how people who only read headlines, and blindly buy whatever they are told by a news media which is no longer competent enough to be trusted on complex and emotionally-charged stories, would come to this conclusion. After all, both Nassar and Sandusky worked for large college athletic programs, both were accused of sexual abusing lots of teenage kids over an extended period of time, and both led to their respective former employers being suspected of a massive cover up.
However, as someone who has studied the "Penn State Scandal" more intensively than anyone in the world over the last six years, I know this comparison to be completely illegitimate. I literally laughed at one headline in the New York Post which declared, "Michigan State Officials Shrug at Nassar Case: It's No Sandusky," because that is absolutely true, just for reasons that are very different than they undoubtedly perceive.
The two cases actually have almost nothing in common. In fact, the Nassar case exposes the absurdity of the entire Penn State/Sandusky media narrative.
Here are just some of the key elements that the Nassar scandal has which did not happen in the Sandusky case:
Nassar was found to have lots of child porn. Sandusky had absolutely none of any kind.
Nassar quickly pled guilty. Sandusky never even considered a plea bargain and still strongly maintains his innocence, this despite having almost no chance of ever getting out of prison.
Nassar used a legitimate medical procedure to get his victims naked and fool everyone that he wasn't doing anything wrong. While he did very occasionally shower in semi-public places with some of them, Sandusky had no similar ability to get heterosexual teenage boys to do the same, and was not even accused at trial of using drugs or alcohol to ply his victims.
As proven by the porn, Nassar clearly has a sexual orientation to girls. There is no evidence, other than the accusations themselves, that Sandusky has a sexual orientation towards boys.
Nassar's wife immediately filed for divorce. Sandusky's wife, who knew all of his accusers extremely well, is still his strongest supporter, making long trips to visit him in prison every week.
USA Gymnastics paid at least one very high-profile victim lots of money to sign an NDA, long before Nassar was convicted. No one ever even asked for money from Sandusky or Penn State to keep quiet.
Nassar had over 150 victims willing to be known and to speak publicly, forcefully, and passionately about their abuse. Only a handful of Sandusky accusers have ever made themselves known publicly, none have ever expressed remotely similar emotion, and all of them did so with an extreme financial motive.
As for the cover-up allegations, I am quite positive that there was no cover-up at Penn State. Contrary to media perception, no one was even ever convicted of such a charge (the three Penn State administrators were only convicted, illegitimately in the view of the jury foreman, of one count of misdemeanor child endangerment). There is also no evidence, in my mind, nor any logic, to suggest that there was a cover-up.
While I believe there are literally a thousand data points which contradict the Penn State cover-up myth, the one that is easiest for people to understand is this:
When the only person (then part-time graduate assistant coach Mike McQueary) who ever came directly to Penn State to complain about the retired Sandusky, the school's wide receivers job had just opened up two days earlier. This was a gig Mcqueary badly wanted, however he did NOT get the position.
Had there been any kind of Penn State cover-up on behalf of FORMER assistant Sandusky, the FIRST thing that would have transpired is that McQueary would have gotten that job and been urged to keep quiet. Neither of those things ever came close to happening.
While I would like to learn more, I also doubt that there was a proactive cover-up at Michigan State (though I am less certain about USA Gymnastics). There simply was no motive for a school to protect a sex abuser because he was helping with athletes in non-revenue sports which very few people even care about on the college level.
Interestingly, Michigan State is responding to all of this in a VERY different and MUCH stronger manner than Penn State did, and I believe that, while they are getting some short-term criticism for it, this could end up working to their advantage.
The number one thing people don't understand about the "Penn State Scandal" is that PSU completely panicked in firing legendary head football coach Joe Paterno, who was actually a very key prosecution witness and was initially praised for his handling of the situation. This caused those who run the school to have a perverse incentive to curl up into the fetal position and take blame for things which the school had nothing to do with, and which likely never even happened in the first place.
Because Michigan State lacks a Joe Paterno figure to drive massive media coverage beyond today's sentencing, I am predicting that the NCAA does not rush to judgment like they did with Penn State.
Sometimes evil people are just unfortunately able to get away with horrible acts. It sure seems like Nassar had the perfect set up to do exactly that in this case. Thankfully, he no longer does.
John Ziegler hosts a weekly podcast focusing on news media issues and is documentary filmmaker. He has long written about what he believes were the flaws in the case against Jerry Sandusky. You can follow him on Twitter at @ZigManFreud or email him at [email protected]
This is an opinion piece. The views expressed in this article are those of just the author.