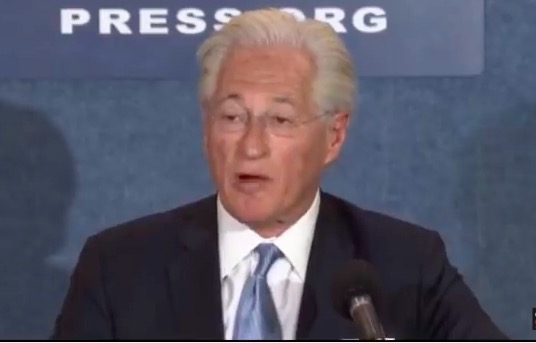 Well, that didn't take long. Last week, I mentioned that Twitter was predicting Marc Kasowitz's impending ethical probes, and the complaints are already rolling in.
Anyone can file a bar complaint against any attorney, including Marc Kasowitz. I suspect someone is already looking into it. cc: @funder

— (((TonyD))) (@Dogger55) June 9, 2017
So far, we have one complaint filed by the Campaign for Accountability, a nonprofit government watchdog group; this one (you can read it here) was filed with the Washington, D.C., Office of Disciplinary Counsel, Board on Professional Responsibility and is about Kasowitz's alleged unlicensed practice of law in DC. The other complaint (available here) was filed by Neal Goldfarb, senior attorney with Butzel Long, with the disciplinary committee of New York – the bar of which Kasowitz is a member, and it calls Kasowitz out for two separate ethics violations.
The complaints seem to be the direct result of a recent New York Times article. According to the article, Kasowitz did something really, really stupid. In his capacity as Donald Trump's personal lawyer, he gave other people legal advice that was bad for them, but good for his client. According to the article, Kasowitz advised White House aides to discuss the Russian investigation as little as possible. When aides asked him whether it was time for them to hire their own private lawyers, he told them it "wasn't necessary."
For non-lawyers, this may not sound so bad. But lawyers in almost every jurisdiction must take the MPRE (the Multistate Professional Responsibility Examination) – an entire bar exam devoted just to ethics. To anyone who has passed that exam, Kasowitz's behavior raises major red flags. One of the cardinal rules of legal ethics is that an attorney never, ever discusses legal matters with anyone he or she knows is represented by counsel. It is a big rule. And it's one that lawyers rarely forget, because it's an ethical rule that protects lawyers almost as much as it protects clients. It's this rule that prevents us from having to field phone calls from friends who are three years into matrimonial litigation and who want us to second-guess every move their divorce lawyer has made in the process. It's this rule that prevents a lawyer in the courthouse hallway from pulling a criminal defendant away from his lawyer to offer services at a cheaper rate. Once a person is represented by counsel, that person becomes untouchable by other lawyers. White house aides are already represented for professional by the White House Counsel's Office. When Kasowitz gave them advice about what to say and what not to say, he was undeniably intruding onto another lawyer's turf.
To make matters much worse, the guidance Kasowitz gave these aides was, in my opinion, terrible advice that was clearly unethical to give. Right after the "don't talk to people who have their own lawyers," rule, law students learn the next ethical commandment: never advise someone not to get a lawyer."
Don't believe me? Here's the text of the New York State Rule of Professional Conduct 4:3:
"The lawyer shall not give legal advice to an unrepresented person other than the advice to secure counsel if the lawyer knows or reasonably should know that the interests of such person are or have a reasonable possibility of being in conflict with the interests of the client."
Even if Kasowitz had momentarily forgotten that the White House aides already had their own lawyers, he should have remembered that it's never okay to tell an unrepresented person not to get a lawyer. Okay, not never. But definitely not when the lawyer represents someone with obviously adverse interests. There is literally no way in Hell Kasowitz didn't realize that the White House aides could say something that would reflect badly on Donald Trump. Of course the White House aides should confer with the White House Counsel's office. And for any aide who has concerns that go beyond the bounds of that relationship, of course he or she should seek private counsel. Kasowitz's self-serving assurances are nothing short of questionable.
To make matters worse, the meeting in which Kasowitz gave his absurd legal advice to people respresnted by another lawyer, was in D.C. – a jurisdiction in which Kasowitz apparently isn't even licensed. D.C. Bar Rule 4.3 states: "a lawyer shall not practice law in a jurisdiction where doing so violates the regulation of the legal profession in that jurisdiction."
The regulation of the legal profession in D.C. requires that the attorney either be admitted to the D.C. bar, or be admitted pro hac vice (this temporary and limited license to practice is the standard way that attorneys are permitted to practice in jurisdiction to which they are not admitted). Kasowitz is not a member of the D.C. bar, and has not filed the appropriate application to be admitted pro hac vice.
By all accounts, Marc Kasowitz is an accomplished New York civil lawyer. But his attempt to be all things to all people in the Trump administration could get him in trouble. He's in the wrong jurisdiction, giving bad advice to people he shouldn't be talking to the first place. He is as wildly out of his depth at handling an international criminal investigation in D.C. as his client is at running the country. Kasowitz's decision to go down with the U.S.S. Trump is inexplicable; the "advice" he gave the White House aides is even more puzzling in that Kasowitz can't even blame his client for missteps that are squarely his own.
This is an opinion piece. The views expressed in this article are those of just the author.
Elura Nanos - Columnist & Trial Analyst, Law & Crime; CEO Lawyer Up