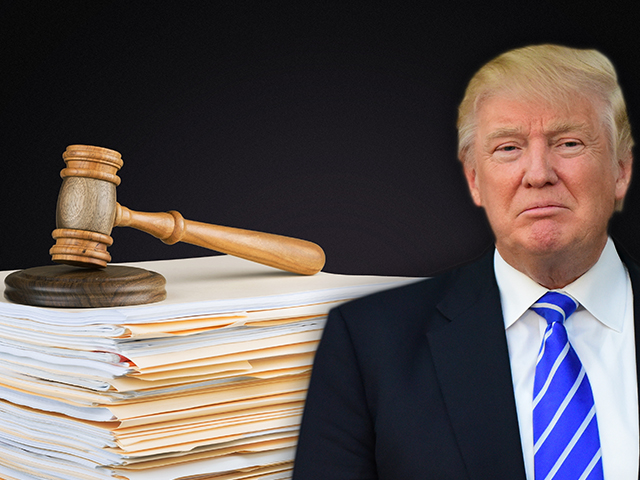 Remember when we told you that then Republican candidate Donald Trump wouldn't actually sue The New York Times and the others he claimed wronged him during his election? Well, so far, it appears we were right. As we predicted, Trump wouldn't want to go through with the potentially embarrassing discovery and the expense only to inevitably lose.
"I am willing to bet anything that either Trump won't sue, or if he does, he will later withdraw the suit. He simply can't have this case go into discovery where he would have to answer all sorts of questions, much less a trial. And he won't," LawNewz.com's founder Dan Abrams said way back in October when asked about Trump's legal threats against The New York Times. As for his threatened lawsuits against the women who accused him of sexual assault,  LawNewz.com columnist Elura Nanos penned a piece in October titled, "Trump Isn't Going to Sue His Sexual Assault Accusers, and Here's Why."  It's now February, and with Trump fighting off dozens of other executive order-related lawsuits in court and dealing with a constant barrage of negative headlines, I think we can safely say Nanos and Abrams were right. Trump has no plans to sue. The threats were merely pre-election posturing to fight back against a slew of bad press. Trump most likely never had any intention of filing them, but the threats seemed to ease the concerns of the American public enough to get him elected.
Trump's empty threat against The New York Times
About a month before the election, Trump pledged to take legal action against The New York Times for their "false" news story providing details from women who accused Trump of sexually assaulting them.  At the time, multiple news outlets reported that a lawsuit was "imminent" and that Trump's attorneys were drafting up papers.
On the same day the Times article was published, Trump's attorney wrote a demand for a retraction.  "We hereby demand that you immediately cease any further publication of this article, remove it from your website and issue a full and immediate retraction and apology," Trump's attorney Marc Kasowitz said in his letter to the Times.
Trump promised he would come forward with evidence that the two women in the piece were not telling the truth. So what's this proof that Jessica Leeds, the woman who says she was assaulted by Trump on a plane, is lying? The Trump campaign offered up a British man who claims he was sitting across from the accuser on the plane ride in the 1980s. Anthony Gilberthorpe told The New York Post that Leeds was all over Trump and that "she wanted to marry him." Only thing, this "witness" also had a bit of a troubled history himself. He, apparently, once admitted to supplying underage age boys to British politicians. Needless to say, The New York Times never retracted the article, the newspaper never apologized for what was written but still Trump never sued.
Trump's empty threat against the women who accused him of sexual assault. 
During a rally in Pennsylvania on October 22nd, Trump said, "all of these liars will be sued after the election is over." He was referring to the dozens of women who accused him of sexually assaulting them after a shocking Access Hollywood tape came to light. This came shortly after porn star Jessica Drake claimed that during a golf tournament he invited her to his room and kissed her.  Trump steadfastly denied all of the claims leveled at him, and promised to take legal action. Well, it's been ample time since the election, and Trump has made no indication that he will actually follow through on that promise either.
Interestingly, one of his alleged victims, Summer Zervos, the former Apprentice contestant, did file a lawsuit against Trump, claiming that the President defamed her by calling her a "liar" during his campaign press events.  Zervos claims that Trump kissed and groped her in a Beverly Hill hotel room and in New York  in 2007.  "As I was about to leave, he again kissed me on the lips," Zervos said.
"It was Donald Trump who was lying when he falsely denied his predatory misconduct with Summer Zervos, and derided her for perpetrating a 'hoax' and making up a 'phony' story to get attention," the lawsuit says.
Trump's wife, Melania, has, on the other hand, followed through with her promise to sue bloggers, and newspapers who accused her of being a high-end escort. Last week, First Lady Melania Trump agreed to settle her defamation lawsuit with the blogger reportedly agreeing to pay Trump a "substantial sum," according to a statement from Melania's attorney, Charles Harder. The blogger, Webster Tarpley, also agreed to issue an additional apology for the posts. Her case against The Daily Mail is still ongoing.
As for President Trump, don't count on him following through on any of his election lawsuit promises. With his administration already facing dozens of lawsuits and dealing with one PR crisis after the next, Trump has his hands full.
This is an opinion piece. The views expressed in this article are those of just the author.
Rachel Stockman - Editor in Chief / On Air Host