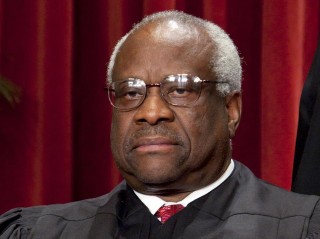 The National Museum of African American History and Culture opened as part of Washington, D.C.'s Smithsonian Institution in September. While the new museum was not able to include exhibits on every major African American figure, the lack of any real inclusion of Supreme Court Justice Clarence Thomas has drawn attention.
Senator Ted Cruz wrote a letter to the Smithsonian's leadership on Monday, seeking a greater presence for the conservative jurist. He points out that the only mention of Thomas, the second black man to sit on the Supreme Court, is in reference to the sexual harassment accusation against him from Anita Hill during his confirmation process. Hill's accusation, Cruz points out, was dismissed by the Washington Post and ultimately the Democratic Senate that confirmed Thomas.
I have to agree with Cruz here. Thomas grew up in segregated Georgia and is now celebrating 25 years on the nation's highest court. His story, as Cruz puts it, is "uniquely compelling in the annals of United State history, African-American or otherwise."
Even Thomas' critics — and I'm often one of them — can appreciate his intellect and significance on the Court, even while disagreeing with him. Since Justice Antonin Scalia's passing, Thomas is the most staunchly conservative voice on the Supreme Court, making him all the more significant. Opposing views lead to more well-reasoned arguments and decisions on both sides of an issue. Thomas has been nothing but consistent in his interpretation of the Constitution, and his presence forces liberal justices to be sharper in their reasoning.
Some, such as Professor William Jacobson in his blog, blame liberal decision-making for diminishing the conservative Thomas. Jacobson wrote, "Thomas has been all but written out of the history books, so to speak, part of a decades-long effort to demean and trivialize Thomas because he's a conservative jurist."
As Cruz notes, however, the Supreme Court in general appears to have been passed over in the new museum. Even, Thurgood Marshall, the first black justice, is only mentioned in reference to being an attorney in the Brown v. Board of Education case that outlawed segregation in schools. Regardless of whether Thomas' near-exclusion from the museum is a political decision or a lack of appreciation for the Supreme Court and the accomplishments of justices in general, a change is in order.
Cruz's letter cc'd fellow Republican Charles Grassley, as well as Democrats Patrick Leahy and Chris Coons. He follows Senator Tim Scott, who previously submitted a similar letter. I should hope that members of both parties will push for greater recognition of Thomas' accomplishments, so that others may appreciate and draw inspiration from them in the future.
Ted Cruz Letter to Smithsonian Justice Clarence Thomas
This is an opinion piece. The views expressed in this article are those of just the author.