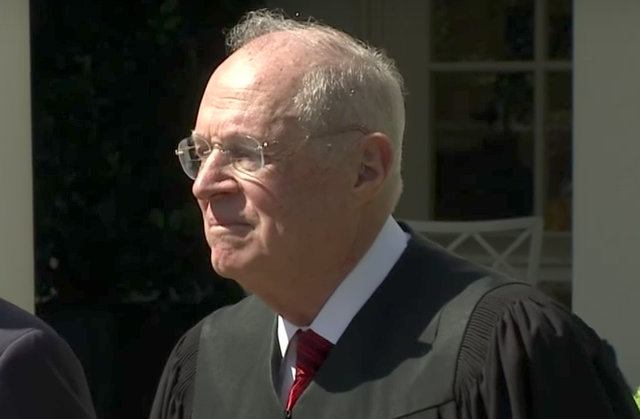 This past April, the Seventh Circuit made a major step in protecting LGBT people from workplace discrimination; that ruling set a chain of events in motion that is now about to land before the Supreme Court. And for those who've been following along at home, that's a good thing, because Justice Anthony Kennedy is still on the bench and hasn't faded into retirement as quickly as homophobes had hoped.
Here's what's going down. In April, the Seventh Circuit Court of Appeals, in a 8-3 decision, ruled that discriminating against a person because of his or her sexual orientation is the same thing as discriminating against that person because of his or her gender. In ruling that a university violated Title VII when it discriminated against a professor for being a lesbian, Judge Diane Wood explained that:
"A policy that discriminates on the basis of sexual orientation does not affect every woman, or every man, but it is based on assumptions about the proper behavior for someone of a given sex."
In other words, homosexuality is simply an example of gender non-conformity; firing a woman who is married to another woman is, legally, no different from firing her for refusing to wear dresses, or for not knowing how to cook and sew. While a rule like that has the potential to be controversial (there are complex legal issues that could stem from understanding sexual orientation as something you do instead of as something you are) – in the context of workplace discrimination, it's unquestionably the right call.
The Eleventh Circuit, however, disagrees. When Jameka Evans, a lesbian, filed a lawsuit against Georgia Regional Hospital for discriminating against her because of her sexual orientation, the Court affirmed the District Court's denial of her claim and denied Evans' en banc petition asking that the full Court rehear the case.
Lambda Legal is seizing on the split in the circuits and taking this interpretive issue up to the Supreme Court, while there's still time. Greg Nevins, Counsel and Employment Fairness Strategist for Lambda Legal, released the following statement about the case:
"We plan to take this to the Supreme Court. This extremely troubling decision does not slow the momentum that is building behind our efforts to combat employment discrimination against lesbian, gay and bisexual workers in the courts. We will continue to press the legally correct argument, recognized by so many other courts, that the Civil Rights Act protects all workers against sexual orientation discrimination, whether they are gender-conforming in particular ways or not."
It's not just 7 versus 11, either. The Second Circuit also has a place in the mix. This past May, the Second Circuit granted en banc review in Zarda v. Altitude Express — the case of a New York skydiving instructor fired from his job because he was gay. Bottom line, it's time. SCOTUS needs to set the record straight (no pun intended) and clarify that no employer is going to get around federal anti-discrimination laws by saying that a person's sexual orientation is different than that person's gender. Jameka Evans is going to win up at the highest bench, and the ripples will be heard in workplaces around the country.
Here's why:
First, we've still got Justice Kennedy up there.   While he's a Reagan-appointed semi-conservative, Kennedy has been central to all the important gay-rights decisions. Given his voting history, Kennedy's vote is a predictable one here. Second, a ruling in Evans' favor is far from conceptually groundbreaking. This isn't gay marriage. This isn't legitimizing gender identity.  This is calling discrimination out for what it is. Saying that one's sexual orientation is inextricable from one's gender is hardly a stretch. Lastly, this is not a case that creates tension between two arguably equal powers in the way that Masterpiece Cakeshop, for example, does. In Masterpiece, there's that whole "baking a gay cake violates my religion" nonsense. But in this case, there's not even that leg to stand on. This one is just about the definition of discrimination – not about the right to discriminate in certain circumstances.
This case will not be Lambda Legal's first rodeo. In Lambda's petition (available here) to the Eleventh Circuit, it made the argument it knows is irresistible to SCOTUS: that same-sex relationships are legally analogous to interracial relationships.
"[I]f Title VII protects from discrimination a white woman who is fired for romantically associating with an African-American man, then logically it should also protect a woman who has been discriminated against because she is associating romantically with another woman, if the same discrimination would not have occurred were she sexually or romantically involved with a man.
That logic worked in Obergefell v. Hodges, and it'll work again – because it's consistent with basic common sense. While the Eleventh Circuit's decision against Jameka Evans is packed with wrong-footed logic, its sanctioned homophobia will likely play an important role in what's to come. SCOTUS is almost guaranteed to see the split among the Circuits as a rift that must be settled – particularly when viewed in light of recent precedent and the upcoming religious freedom cases. This is one case for which the justice delayed may have actually ensured that justice won't be denied.
This is an opinion piece. The views expressed in this article are those of just the author.
Elura Nanos - CEO, Lawyer Up; Columnist & Host, Law & Crime