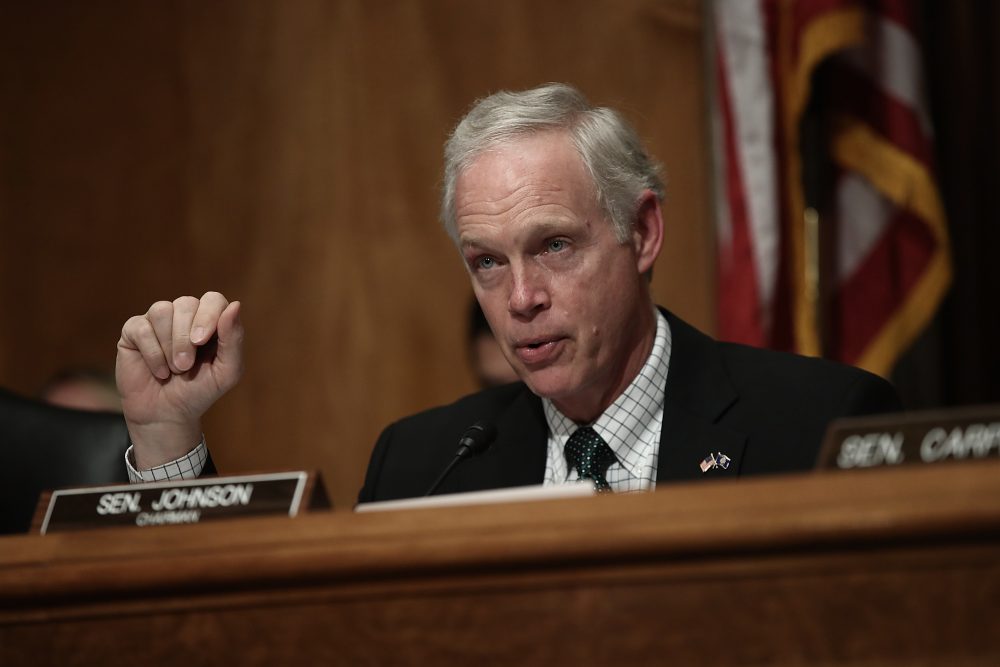 Sen. Ron Johnson has been digging into Hillary Clinton's email server since 2015, so it's no surprise he's been rutting over the text messages exchanged between reported FBI lovers Lisa Page and Peter Strzok and using those messages as proof to suggest the entire justice community is biased against Republicans, Conservatives, and similar people who fight wars while cutting taxes and expanding benefits. While the Bennett Brauers of the world might be noting that Johnson, the long-time hunter, now claims his own party was the hunted, there are other procedural issues with his investigation that seem a bit hypocritical.
At two points in Johnson's "Interim Report" on the "Clinton Email Scandal and the FBI's Investigation of It," released this week, Johnson twice chastises the failure of a direct interview processes to either get information or, perhaps more accurately, to skewer people. In one instance, the report says of the FBI:
A more rigorous investigat

ion might have utilized

its full authority (including use of an empaneled grand jury) to compel testimony and

obtain evidence.
And, in another area of the report:
The FBI did not use a grand jury to compel testimony and obtain the vast majority of

evidence, choosing instead to offer immunity deals and allow fact witnesses to join key

interviews.
The head-scratcher here is that Johnson also says this about his own committee:
The Committee has never held a hearing because the Chairman was not interested in creating a media frenzy show trial. Chairman Johnson simply wanted to get the facts, establish the truth, and hold people accountable.
Johnson's report specifically states that his committee prefers to function via the use of "oversight letters" instead of "hearings."  Let's examine the difference.
An oversight letter, at least according to the definition used by Rep. John Culberson of Texas, is a document sent to a federal agency "requesting clarification, additional information, or changes to their policies."
Such letters are frequently used, but they don't allow for the sort of direct, face-to-face, question-and-follow-up probing that is probably necessary in a case like this.
What's a bit weird here is that Johnson is telling other people to more or less do what he has refused to do himself.  The excuse of not wanting a "media frenzy" is, frankly, no excuse, since the content of Johson's report this week created a frenzy without a hearing due to its release of additional Page/Strzok text messages. Besides, what's the issue with a so-called "media frenzy"?  The term is pejorative, but at its core is a seething sense that the press ought not be interested in vigorously examining and disseminating information about the way our government works. That is undemocratic.
Johnson has accused the FBI and the Justice Department of "unusual management" of its investigation into Clinton's emails, "intrusion into the electoral process," and has echoed "charges of politicization" against both institutions.
Answers should be demanded. Asking questions of agencies through letters, rather than individuals through hearings, at this point might be futile. Putting people in the hot seat might be the only way to adequately probe their biases or to get explanations. Indeed, the framers of the Confrontation Clause knew what communications theorists have since affirmed through research:  most communication is nonverbal.
Using letters, not hearings, allows Johnson to engage in a lot of speculatory question-asking and not a lot of answer-receiving. In the wake of that procedural tactic, the "media frenzy" Johnson claims he wants to avoid has resulted in multiple interpretations of some of the Page/Strzok text messages. If the ultimate goal here is indeed to prove or disprove whether bias exists, another tactic might be necessary — unless the ultimate goal here really is speculation, followed by undermined credibility, followed by lingering questions that remain not fully answered and facts which remain hidden.
This is an opinion piece. The views expressed in this article are those of just the author.
Aaron Keller - On Air Host