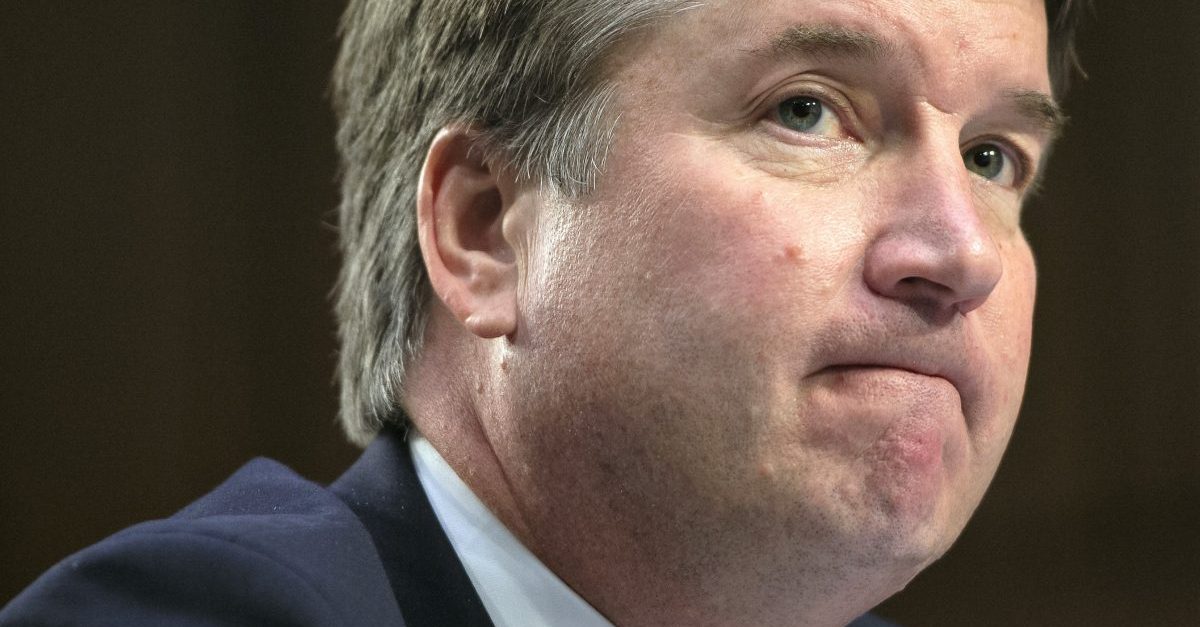 This week, SCOTUS heard oral arguments in the case of Terance Martez Gamble, a convicted robber whose case has major implications for Paul Manafort, Michael Cohen, and Donald Trump. SCOTUS hasn't handed down a ruling yet, but if the justices' bench questions are any indication, things are not going well for Team Trump.
The case brings up the concept of separate sovereignty within the context of exceptions to double jeopardy. That's a lot of legalese, so here's how it all works. Gamble, a convicted felon, was pulled over for a broken taillight; Alabama cops searched his car and found marijuana and a handgun, which lead to Gamble's state conviction for possession of the contraband. Unusually, during the Alabama's prosecution, Gamble was also charged with the same crime, based on the same incident, under federal law – a charge that added three years to his sentence.
If you're thinking that prosecuting the same person for the same crime twice sounds like a no-no, you'd be right. The U.S. Constitution guarantees a right against double jeopardy – and that's exactly what this kind of successive prosecution constitutes. There's one detail that matters here: Constitutional protection against double jeopardy only guarantees that a person won't be prosecuted twice by the same sovereign.
That means that Alabama couldn't prosecute twice, nor could the feds prosecute twice – but that each could have one go at Terance Gamble without offending Constitutional guarantees. Unfair as that seems, it makes sense if one considers that Alabama (as is each of our states) is a separate entity with its own legal sovereignty. Our American system of government is based on the principle that even our strong federal government isn't universally superior to the sovereignty of the individual states. This brings us to Donald Trump and his inner circle.
As we at Law & Crime have detailed in the past, several states already have plans to prosecute Cohen, Manafort, Trump and others in the event they receive pardons for federal crimes. A win for Terance Gamble is a win for anyone seeking protection from successive prosecutions. But despite Trump having already appointed two justices to the high bench, things aren't looking too good for him on the double jeopardy front.
SCOTUS heard oral arguments on the Gamble case earlier this week. Right from the start, Chief Justice John Roberts just wasn't having Gamble's arguments against separate sovereignty – calling them out for being un-American:
Your leading authority is a foreign prosecution in England…

And the argument on the other side, which has some traction, I think, is that it would be quite unusual or surprising for the new American republic to look to Europe in a question like that…
Justice Stephen Breyer didn't seem impressed either; he was unmoved by arguments from Gamble's counsel to overturn a centuries-old principle of law:
… I'm not going to say you're absolutely wrong, but three times, the Court has considered your arguments…
Justice Samuel Alito jumped in with a pretty poignant example. He presented a hypothetical situation in which a group of American tourists are murdered by terrorists while abroad. The terrorists get prosecuted overseas, but the prosecution is done badly and the terrorists get acquitted. "And your position," Justice Alito asked, "is that there could not be a prosecution here in the United States under the statute enacted by Congress to permit the prosecution of individuals who murder Americans abroad?"
Ouch. Likening anything to terrorism is never a good sign for those advocating broader protections for criminals.
While Gamble's lawyer tried to deflect, even Justice Brett Kavanaugh wasn't buying it:
Well, we do have to reach that question because your position logically would extend to Justice Alito's hypothetical, and if prosecution is the party of the national security efforts of the United states, federal prosecution, then your position would substantially hamper those national security experts.
The position most likely to help President Trump – that it's time to get rid of separate sovereignty for double jeopardy purposes – seems only to have been appealing to Justices Ruth Bader Ginsburg and Neil Gorsuch. Gorsuch commented, "I can't think of another case where federalism is used, as Justice Ginsburg indicated, to allow greater intrusions against the person, rather than to protect more against them." Gorsuch is certainly correct that this case brings up a rather unusual conflict between individual rights and states' rights – but it's unclear whether that'll be enough for him to cast a vote to eradicate separate sovereignty.
After much talk about "Obama judges" and "Trump judges," one thing is pretty clear: even a presidential appointment doesn't guarantee loyalty in all matters with potential to help the president. State sovereignty has always been a bedrock conservative value. It's the basis for many legal positions involving religious freedom, gun rights, abortion, and discrimination. Although double jeopardy is just one context in which state sovereignty is relevant, conservative justices won't easily vote to erode the fundamental concept of federalism – even if doing so would help their benefactor.
[Image via SAUL LOEB/AFP/Getty Images]
This is an opinion piece. The views expressed in this article are those of just the author.
Elura Nanos - Columnist & Trial Analyst, Law & Crime; CEO Lawyer Up