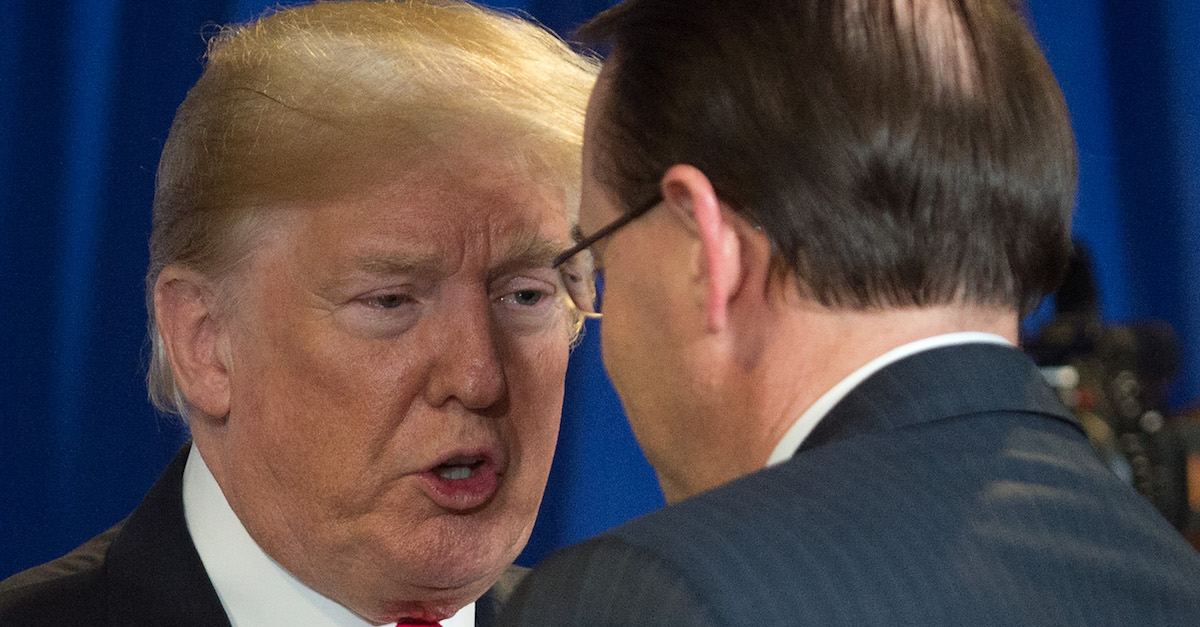 Deputy Attorney General of the United States Rod Rosenstein closed a keynote speech on Thursday by quoting a proverb that is unmistakably applicable to President Donald Trump.
Rosenstein, who appointed Robert Mueller as special counsel to investigate Russian interference in the 2016 election and any links to Trump campaign, was giving a speech discussing developments related to the Foreign Corrupt Practices Act (FCPA). In the Southern District of New York on Thursday, Trump-appointed U.S. attorney Geoffrey Berman announced the results of the "third installment in a trilogy of cases arising from an almost $1 billion bribery scheme that reached the highest echelons of the Uzbekistan government and was orchestrated by some of the largest telecommunications companies in the world. " He was referring to Russian Telecommunications company Mobile Telesystems PJSC.
It was in the context of this case and other achievements like it that Rosenstein offered remarks on "FCPA enforcement developments."
"It is fitting that one of my final speeches in this job is about promoting compliance and preventing corruption. I started my legal career as a public corruption prosecutor," Rosenstein began. "I planned to spend a few years representing the United States before entering the private sector. That was almost 30 years ago."
Along the way, he brought up President Trump, and said that Trump "issued a proclamation last year that summarized what the rule of law is about."
"It said that 'we govern ourselves in accordance with the rule of law rather [than] … the whims of an elite few or the dictates of collective will,'" said Rosenstein. It's an interesting reference coming from a person who has been accused of offering to wear a wire to record Trump and/or suggesting invoking the 25th Amendment to remove him from office. Rosenstein has, of course, denied this.
At the end of his speech, Rosenstein turned his attention to ancient wisdom that appears to strike pretty close to home for the president.
"Finally, in the spirit of promoting a culture of integrity, I want to leave you with the wisdom of this ancient proverb: if you desire to know a person's character, consider his friends," he said, in one of his last acts as Deputy AG. "You can help protect your business by using caution when selecting associates and by ensuring appropriate oversight. Always make sure that you can stand proudly with the company you keep."
Needless to say, a number of President Trump's "friends" at the Trump Organization and otherwise have been under investigation and/or implicated in crimes. Trump's former lawyer Michael Cohen, Trump Org CFO Allen Weisselberg, Trump Org Executives Ron Lieberman and Matthew Calamari, A.M.I. CEO David Pecker, and Donald Trump Jr., to name a few.
The same was–and continues to be–true of Trump campaign members Paul Manafort, Rick Gates, Roger Stone, Michael Flynn, George Papadopoulos, and so on.
[Image via SAUL LOEB/AFP/Getty Images]
This is an opinion piece. The views expressed in this article are those of just the author.