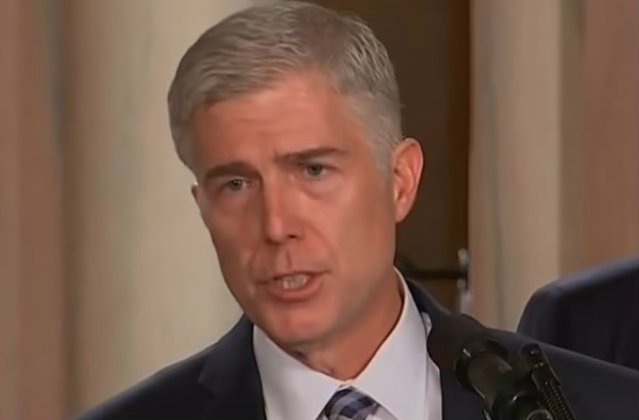 Monday will begin a week of Gorsuch-palooza before the Senate Judiciary Committee. The first day will be entirely devoted to feats of pontification by various Senators, and we'll have to wait until Tuesday when Judge Gorsuch gets his turn in front of the mic. Compared with the hearings of other Trump-appointees, such as Betsy DeVos (who arguably knew less about the agency she was appointed to run than any appointee in history) or Rick Perry (who actually proposed eliminating the agency he was nominated to lead), that of Neil Gorsuch won't feel nearly as much like theater of the absurd.
Judge Gorsuch is certainly qualified for SCOTUS based on education and professional experience. Plus, he had bipartisan support for his confirmation to the 10th Circuit less than ten years ago. In administrations past, the fact that a would-be justice had actual experience as an actual judge would be a starting point for nominations. Under this one, it feels like nothing short of a major win. Given POTUS' priorities, Jeanine Pirro or Andrew Napolitano seems more of a shoe-in for reprising Justice Scalia's role than would anyone from the 10th or any other Circuit.
There's no chance, though, that any Democratic senators or left-leaning onlookers will give up their votes easily for Gorsuch. He's an analytical Scaliaphile, he's a champion of religious liberty (even in its gnarled Hobby-Lobby form), he's literally written a book that denounces abortion and euthanasia, and he's got no love for the independence of federal administrative agencies. In more than a few ways, Gorsuch is a nightmare for liberals.
For an interesting change of pace in 2017 confirmation hearings, Republicans will be standing behind their nominee based on Gorsuch's very real qualifications. Today, Senator Orin Hatch preemptively criticized those who would dare to argue against Gorsuch's confirmation on the basis of his ideologies:
"Liberals will tie themselves in knots claiming that Gorsuch is some sort of fringe jurist, that his views place him on the far flank of the federal judiciary. But any honest observer will concede that these accusations are complete bunk."
Sure, we could easily replace "Gorsuch" with "Garland" in that sentence and have an entirely different conversation, but we'll refrain. Still, Democrats know that Gorsuch's confirmation hearing stands well apart from the hearings for the Trump cabinet. Democrats won't be bringing up any decades-old stories of racism, or shady business dealings. But they will have to bring up something–and that's where strategy comes into play. Democratic senators will use their grandstanding time on Monday to make some points, both with the committee, and with the public at large. The problem, however, is that politically-charged issues like abortion and gun control aren't a slam-dunk for Dems. And where there is splintering, there is trouble. Just ask Bernie Sanders.
Earlier this week, after Politico called out the lack of unity among those opposing Gorsuch's nomination, a coalition of progressive organizations came together and issued a joint statement reminding Democratic leadership that "this fight is not about defensive electoral politics, it's about our rights as Americans and our democracy as a whole."
Such a broad and dramatic characterization of the dangers of adding Gorsuch to the bench works best when paired with a well-calculated financial (as opposed to social) issue around which Democrats of all persuasions can rally. That issue? Campaign finance. While House Democrats may not get to vote on Gorsuch's confirmation, more than 100 of them sent a letter this week urging senators to bring up the Citizens United v. Federal Election Commission case. That case, which allowed for massive campaign contributions by super PACs, is the probably the best spear Democrats can throw at Gorsuch. Framing anti-Gorsuch arguments around campaign finance allows Democrats to bring up an issue important enough to inspire outrage, but dry enough to avoid intra-party divisiveness.
Maryland Congressman John Sarbanes has been leading the charge since Gorsuch's nomination was announced back in February explained:
"Judge Gorsuch believes that it should be easier for wealthy donors to buy influence in our politics and harder for most Americans to vote and participate in the democratic process. I hope my Senate colleagues will scrutinize Judge Gorsuch's record on these issues in the weeks to come."
And after sending that letter to the Senate, Rep. Sarbanes branded campaign finance a key issue a news conference call this past Tuesday:
"[Gorsuch] hasn't written a lot explicitly on this topic, but he's written enough to signal that he seems to be moving in the wrong direction here. That's why it's so important that these questions get put to him in his confirmation hearings."
While Gorsuch's confirmation is almost a foregone conclusion, there is bound to be drama. This week, stacks of petitions were dropped off to all 100 Senate offices, each containing 850,000 signatures of individuals opposing Gorsuch's confirmation. Sen. Elizabeth Warren (D-Mass.), and Senate Minority Leader Chuck Schumer (D-N.Y.) were already front and center in anti-Gorsuch events this week outside the Supreme Court. As we prepare for a week of all things Gorsuch, we'll see if Democrats continue to coalesce around campaign finance. While even such a united front likely won't block Gorsuch's confirmation, it may be a beacon of unity to come.
[Screengrab via ABC]
This is an opinion piece. The views expressed in this article are those of just the author.
Elura Nanos - Columnist & Trial Analyst, Law & Crime; CEO Lawyer Up