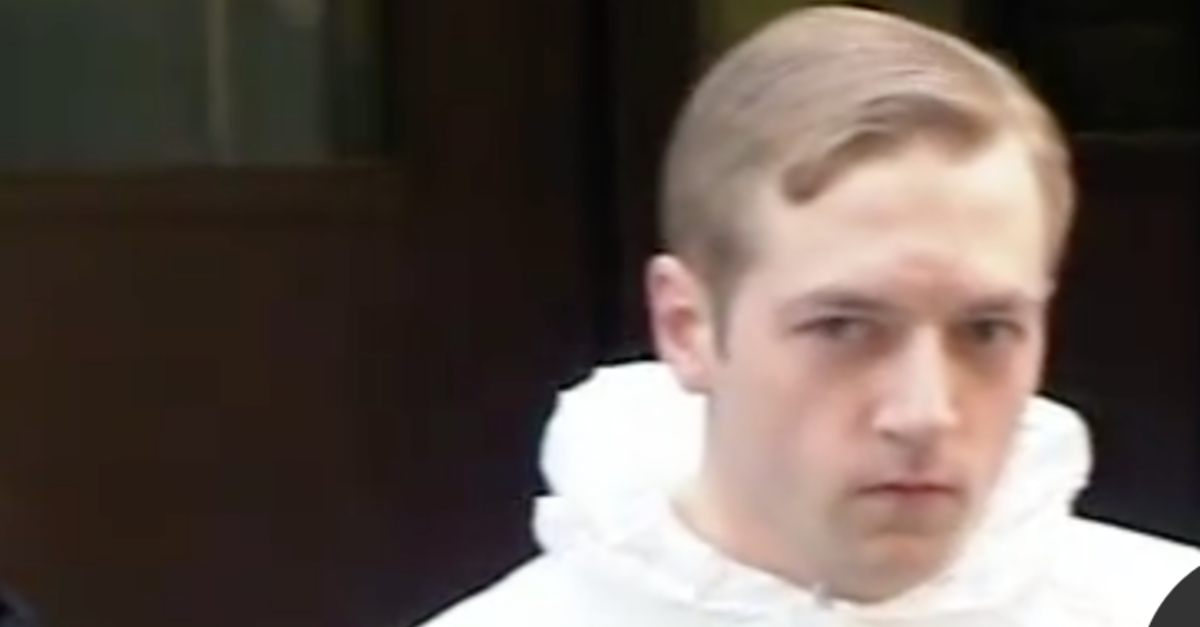 New York State just called out white supremacy for what it is – terrorism. In 2017, then-28-year old James Harris Jackson traveled to New York and prowled the streets for several days in search of black victims to "start a race war." To further Jackson's violent agenda, he fatally stabbed Timothy Caughman with a sword.
On Wednesday, the Caughman murder case came to a conclusion with Jackson pleading guilty to Murder in the First Degree in Furtherance of an Act of Terrorism, Murder in the Second Degree as a Crime of Terrorism, Murder in the Second Degree as a Hate Crime, and Criminal Possession of a Weapon in the Fourth Degree. He is expected to receive the maximum sentence of life in prison when he is sentenced next month.
HAPPENING NOW IN COURT: the first-ever conviction of a white supremacist on terrorism charges in New York history. James Jackson is allocuting to the racist execution of Timothy Caughman, and is expected to spend the rest of his life in prison.

— Cyrus Vance, Jr. (@ManhattanDA) January 23, 2019
Caughman was a 66-year-old black man, a beloved New Yorker, and a patriot.
Standing on line waiting to vote I love america pic.twitter.com/jVAeLXtUAq

— timothy caughman (@timrock715) November 8, 2016
When Jackson was arrested, he told detectives that he had traveled from his home in Baltimore to New York to kill black men as a, "declaration of global total war on the Negro race," and to dissuade white women from engaging in interracial relationships.
Given the brutal underlying facts of Timothy Caughman's murder, classifying the crime as "terrorism" was not specifically necessary to ensuring that Jackson would be subject to maximum penalties; Jackson could have been convicted of First Degree murder with or without being deemed a terrorist. However, the classification is far from meaningless.
In declaring Jackson's race-motivated violence terrorist activity, Manhattan District Attorney Cyrus Vance, Jr. is sending the message that crimes carried out in the name of white supremacy will be treated not only as attacks on their direct victims, but also as attacks on New York's entire civilian population.
DA Vance on this historic conviction pic.twitter.com/shTJbnUN86

— Cyrus Vance, Jr. (@ManhattanDA) January 23, 2019
Under the applicable statute in New York, which mirrors the FBI guidelines to define terrorism, Murder in Furtherance of An Act of Terrorism is a murder committed "with intent to cause the death of another person," when the violent act was intended to, "intimidate or coerce a civilian population," "influence the policy of a unit of government by intimidation or coercion," or, "affect the conduct of a unit of government by murder, assassination or kidnapping."
Under the statute, therefore, no meaningful distinction exists between violence committed against a government for political reasons or that committed against an individual for racist ones. Terror is terror, regardless of the motivation for the underlying hate.
DA: This won't bring back Timothy Caughman, a beloved NYer who was executed for being black. It won't reverse the alarming rise of white nationalism in America. It is, however, the loudest message that a civil society can send to would-be terrorists.https://t.co/DBWXVO8inV pic.twitter.com/dkIVBPgg2J

— Cyrus Vance, Jr. (@ManhattanDA) January 23, 2019
As Vance explained, such a moniker would not bring back victims, but would constitute, "the loudest message that a civil society can send to would-be terrorists."  In 2019 America, in which "Unite the Right" and similar white supremacist rallies have garnered an unnerving amount of popular support, New York's declaration is the correct message at the correct time.
[image via ABC screengrab]
This is an opinion piece. The views expressed in this article are those of just the author.
Elura Nanos - Columnist & Trial Analyst, Law & Crime; CEO Lawyer Up