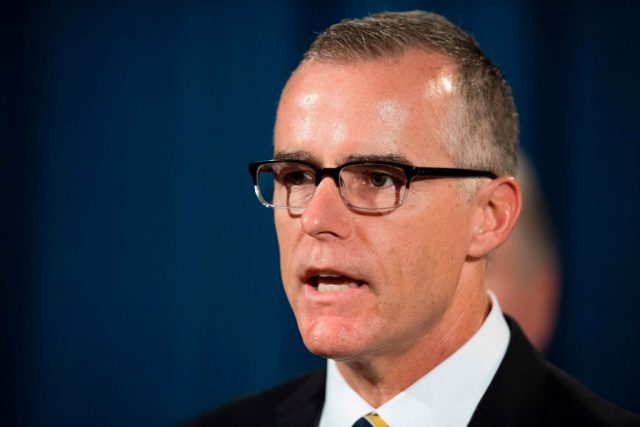 The sudden resignation of FBI Deputy Director Andrew McCabe took many by surprise on Monday, but with more information coming out, it appears likely that it's connected to memos regarding Justice Department practices. FBI Director Christopher Wray reportedly indicated in a message to staff that McCabe's departure is connected to an upcoming DOJ Office of the Inspector General (OIG) report about the handling of the investigation of Hillary Clinton's private email server. Also looming is a GOP memo by Rep. Devin Nunes (R-California) regarding DOJ and FBI practices that a House Committee recently voted to make public.
The whole situation looks eerily like a reverse, almost mirror image of the departure of former FBI Director James Comey. After President Donald Trump fired Comey, information from a now-famous memo that Comey wrote leaked to the press. That memo alleged that in conversations between Trump and Comey, the president made suggestions and requests of Comey that, if true, are questionable at best, and obstruction of justice at worst.
Now, McCabe's sudden exit — barely more than a month before he was eligible for full retirement benefits — comes soon before other memos are about to come out. The difference is that this time, the memos could be full of information that incriminates McCabe and the FBI, supporting claims that Trump and other Republicans have been making for months.
The OIG's investigation brought to light text messages between Peter Strzok, an FBI agent who once served on Special Counsel Robert Mueller's probe of Trump campaign ties to Russia, and DOJ lawyer Lisa Page. The texts include some negative comments about Trump by Strzok, leading to accusations that the Russia investigation was tainted by anti-Trump bias. Republicans are counting on the OIG's report, and the Nunes memo revealing a left-leaning political agenda within the FBI and the Justice Department as a whole. McCabe's departure right before everything is expected to hit the fan doesn't look good for the FBI.
One thing the McCabe and Comey situations have in common? The OIG report deals with the handling of the Clinton investigation, which was one reason given for Comey's firing. When Trump first fired Comey, critics (myself included) blasted the president, saying the Clinton-related claims were nonsense and it was really all about Trump trying to block the Russia investigation. We could find out soon, however, that both might be true.
[Image via JIM WATSON/AFP/Getty Images]
This is an opinion piece. The views expressed in this article are those of just the author.